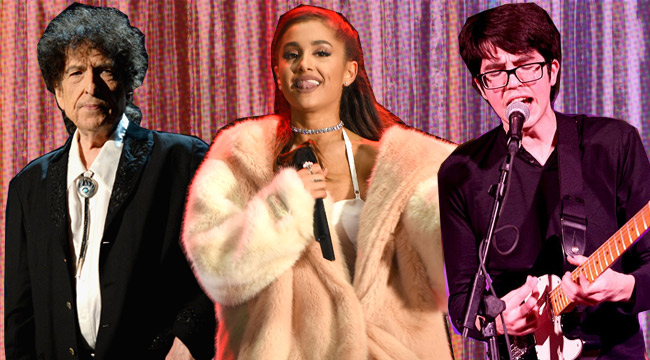 This week, we've got new records for every type of listener you could imagine. Ariana Grande completes her redemptive arc with a fantastic new LP, Bob Dylan has cooked up a covers album, and Car Seat Headrest ignite the spirit of rock 'n' roll in you. And besides that, there's a new pop record from Tim Heidecker (check out our interview with the comedian about going serious), as well as releases from Blake Shelton, Eric Clapton, Webbie, and more. Here are the albums you need to hear this week.
Ariana Grande – Dangerous Woman
It's been quite the winding path for Ariana Grande since 2014's My Everything. The pop star became somewhat of a punchline after a couple of incidents, most notably the strange episode of her licking donuts in a bakery and proclaiming that she hates America. That's the kind of thing that usually will sink a lot of your goodwill, but she managed to take control of her narrative and turn that bad press around. (Also, it doesn't hurt when you're very good at what you do.)
It would be easy to peg Dangerous Woman to closely follow the rubric of a young starlet finding herself and definitively stating "I'm not so young anymore." But that preconception is just rote nonsense: Ignore it. Ariana Grande has always been good, and Dangerous Woman continues to build upon her powerful pop/R&B catalog. "Be Alright" is a sweet slice of soulful pop house, "Side to Side" featuring Nicki Minaj is a reggae-tinged bad gal anthem, and the title track is part ode to love, part self-empowerment mantra. Dangerous Woman serves not as a young woman finding her strength, but as an already battle-tested warrior sharpening her sword and slicing all who cross her.
Bob Dylan – Fallen Angels
With the 50th anniversary of Bob Dylan's historic album Blonde on Blonde passing this week, it's only fitting for the folk rock hero to still be plugging in (possibly still to some fans' disdain) with Fallen Angels. A covers record of tracks from Frank Sinatra's songbook, Dylan puts his signature rootsy spin on several of these classic tracks you've got buried in the back of your mind like "Young at Heart," "All the Way" and "It Had to Be You," as well as some deeper cuts. To listen to Bob Dylan at his 37th album is to truly love him — it's not a place a new fan should start by any means — but if you've ever been touched by the Freewheelin' star before, it's hard not to be charmed by what's here.
Listen to Bob Dylan's Fallen Angels on Apple Music
Car Seat Headrest – Teens of Denial
There's an indescribable moment when you put on an album and you absolutely feel the electricity of it. You feel the amps being kicked on, the mics being tapped, and the first strums of a guitar. Teens of Denial kicks off with the lyrics of "I'm so sick of / Fill in the blank"; and you just understand it right from the get-go. What follows is a sludgy, melodic masterpiece which takes its cues from '80s power pop to '90s indie rock to '00s post-punk revival. Car Seat Headrest manage to capture the essence of what can make rock 'n' roll so great: when a song can seem so familiar it's almost tangible. If you like rock music, you're doing a disservice by not listening to this record.
Here are the rest of the week's releases:
Tim Heidecker – In Glendale
Eric Clapton – I Still Do
Webbie – Savage Life V
Die Antwoord – Suck on This (mixtape)
Various Artists – Day of the Dead (Grateful Dead tribute) [The War on Drugs, The National, Kurt Vile, Mumford & Sons, Courtney Barnett, more]
Blake Shelton – If I'm Honest
Marissa Nadler – Strangers
Krewella – Ammunition
Braids – Companion EP
Yuna – Chapters
Kate Jackson – British Road Movies
Ziggy Marley – Ziggy Marley
Saosin – Along the Shadow
Tiger Army – V •••–
The So So Glos – Kamikaze
Nu Shooz – Bagtown