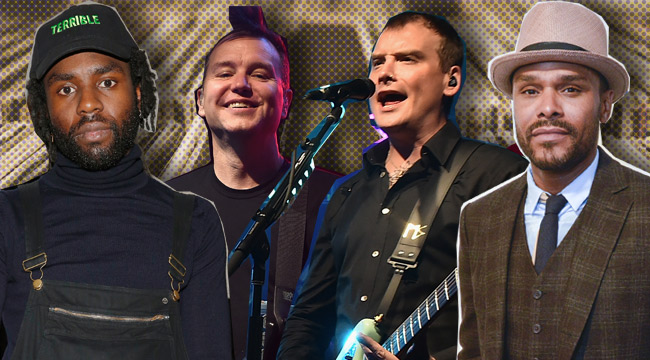 Just because it's about to be a three day weekend for most Americans (sorry, folks who have to work and other countries), doesn't mean that musicians are slacking on their job. This weekend has a ton of high profile albums dropping, whether it's the hijinks of the rebuilt Blink-182, the introspective, dizzying funk of Blood Orange, or the bare soul of Maxwell, there's a lot to choose from. And that's not even including Desiigner's first official tape, Logic's surprise album, Snoop Dogg's latest, and more from Bat for Lashes and American Authors. Here are the albums you need to hear this week.
Blood Orange – Freetown Sound
Cupid Deluxe, Blood Orange's second studio effort, was one of 2011's best albums and served as a powerful document of emotion and heartbreak drenched in '80s jangle and soul. But that was five years ago; where we are as a country has wildly shifted (or perhaps just become more open, depending on who you're talking to.)
Freetown Sound addresses this sense of humanity and striving for dignity in a place that won't seem to grant it. Tracks like "Hands Up" and "Love Ya" touch on this push and pull of Blackness in a place that loves black culture, but not necessarily the people who create those things. Though the subject matter is harrowing, the listen is inviting; Dev Hynes is one of the very few artists who can thrive on that tightrope.
Blink-182 – California
It's hard to come back from the dead twice, but Blink-182 are doing their damndest to punch through the wooden casket. This time around, Tom DeLonge isn't along for the ride — he's been replaced by Alkaline Trio's Matt Skiba — but the pop punk legends are out to prove that they still have something (juvenile) to say.
"Bored to Death," the band's first single in this iteration, has a prescient chorus which speaks to the state of the band in 2016. "And it's a long way back from seventeen/ The whispers turn into a scream/ And I'm… I'm not coming home." That sort of says it all, doesn't it?
Maxwell – blackSUMMERS'night
What is it about R&B singers and withholding what everyone wants from them (…Frank…)? Maxwell came out with the soulful BLACKsummers'night in 2009, which was an oasis in an eight year drought. Now seven years after that, we are finally getting its followup blackSUMMERS'night. Luckily for us, it was absolutely worth the wait, again.
"Lake By the Ocean" is the flawless kind of ballad only certain singers are capable of, Maxwell being one of the very few, and "Hostage" is a jubilant celebration of what love can bring. Yeah, we waited a while, but Maxwell is off the hook for his tardiness. Frank, though… you're next.
Here are the rest of the week's new releases:
Desiigner – New English
Logic – Bobby Tarantino
Snoop Dogg – Coolaid
Bat for Lashes – The Bride
American Authors – What We Live For
Roy Woods – Waking at Dawn
Grace – FMA