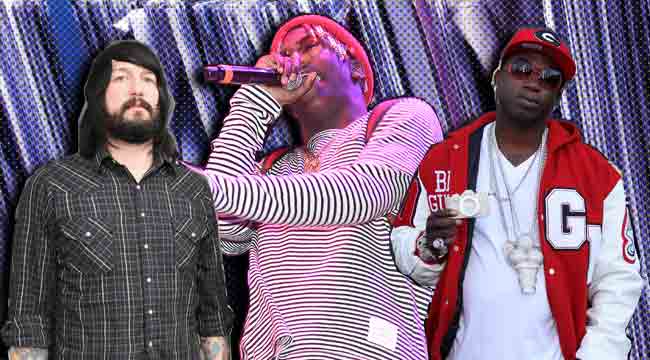 While the most popular and famous recordings this week came from the likes of Kanye West and Taylor Swift, there is actual music dropping this week as well. Gucci Mane has released his first official project since coming home, MSTRKRFT return to the dance scene after nearly a decade, and viral upstart Lil Yachty has released a new tape to keep the momentum going. Plus we've got new stuff from Lil Durk, DJ Drama, Reliant K and more. Here are the albums you need to hear this week.
Gucci Mane – Everybody Looking
Gucci is free! That is good enough to bring some smiles to fans' faces, but thankfully he immediately went back into the studio and now nearly a month later, we've got Everybody Looking. And despite being away from the game for a few years, he picked right back up like he never left.
Mostly rapping over tight, kinetic Mike WiLL Made-It and Zaytoven beats, Guwop sounds as fresh as ever on tracks like "Back On Road" featuring Drake and "Waybach." And the message is clear throughout the 14-track LP, just like Michael Jordan wearing #45: "I'm back."
MSTRKRFT – Operator
Jesse F. Keeler has a habit of keeping his fans ravenous with long layovers between adored projects. His dance-punk outfit Death From Above 1979 were beloved in the mid-2000s with their classic record You're A Woman, I'm A Machine, only to break up in 2006, but then officially reunite in 2014. Following the (first) demise of DFA1979, he formed electro outfit MSTRKRFT with Al-P and released two amazing records in 2006's The Looks and 2009's Fist of God, only to disappear by the turn of the new decade.
Well now it appears they have triumphantly returned as well with Operator, their third LP. And just as they did nearly a decade ago, JFK and Al-P are going entirely against the grain of what's currently popular, this time around with harsher, aggressive pitch-shifting sounds. This is still a party for sure, but definitely one where you'd want your eye on the exits in case anything would go down.
Lil Yachty – Summer Songs 2
Lil Yachty may have just released his breakthrough tape, Lil Boat, in March 2016, but in this short three to four months, he's managed to become this other worldly meme-type figure in hip-hop. Now, some might disagree with how his ascendance started — Hot 97's Ebro Darden is one off top — but if his songs hit a certain way, sometimes those conversations seem to matter less and less.
The most important question is "does this song go?" If the answer is yes, what else is there to say? Frequent Yachty collaborators like Burberry Perry and Byou are found here on Summer Songs 2 as well as Atlanta royalty Offset from Migos and Chicago hitta Lil Herb.
[protected-iframe id="10fc0a7a2af2e5e4beb33b7a5a9a7aad-60970621-23283947″ info="//tools.applemusic.com/embed/v1/album/1135625314?country=us?at=10lM5B" width="100%" height="500px" frameborder="0″]