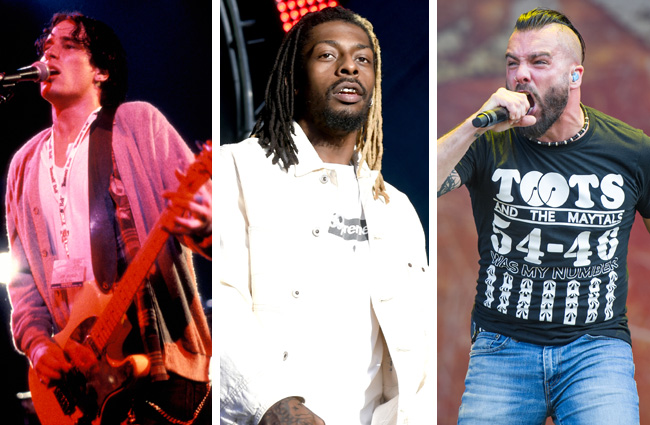 This week brings us strange bedfellows in music releases; no major drops but still a lot of great new music. The incomparable and gone-too-soon Jeff Buckley has a new compilation out, Flatbush Zombies finally unleash their studio debut on the world, and Killswitch Engage return with a record inspired by our divisive times. Plus, we've got new material from SBTRKT, Into It. Over It., Brian Fallon of the Gaslight Anthem and more. Here are the albums you need to hear this week.
Jeff Buckley – You And I
The tragic death of Jeff Buckley cut a life short far too soon at the age of 30. He was a magnificent singer and musician with unlimited potential, and his sole studio album, Grace, still resonates so strongly to this day. You And I, the latest compilation from the late singer, is full of covers from Sly Stone, Bob Dylan, The Smiths, and Led Zeppelin. While it's not any new material (aside from an outtake from Grace), it's so refreshing to hear his ethereal voice reinterpreting these classics.
Flatbush Zombies – 3001: A Laced Odyssey
They've been in our collective presence for so long, it almost seems crazy that Flatbush Zombies are just now releasing their studio debut. "Thug Waffle," the track that launched them, was more than four years ago, but the Brooklyn collective are far beyond that now. Tracks like "Bounce" and "This Is It" still enrich the same themes as when they first emerged, but with so much more punch and precision. That's the kind of thing that only comes with time.
Killswitch Engage – Incarnate
There's no denying that the state of politics and just things in general in this country are sort of crazy right now. Music has always been an avenue to express these things, but typically certain genres skew certain ways. Metalcore vets Killswitch Engage have returned from a three-year hiatus to a different America with their seventh studio album, Incarnate, and wanted to say something about it. Lead vocalist Jesse Leach recently explained in an interview: "I wanted to be able to speak on current events — stuff that is relevant to us today, stuff that's in the headlines — but I wanted to do it in such a way where it's ambiguous enough where people can sort of draw their own conclusion. I just wanted to strike people to think."
And Incarnate aims to do that. Along with the blistering riffs and heart pulsing drums, tracks like "Hate By Design" and "The Great Deceit" don't necessarily judge or make definitive statements, but rather try to make sense of the world that's around us. Coming up on one of the most important election years in recent memory and recalling the dark history we've experienced in the past few years, it's a powerful statement to make a record like this.
Here are the rest of the week's album:
Brian Fallon – Painkiller
SBTRKT – Transititions
Into It. Over It. – Standards
Lil Yachty – Lil Boat: The Mixtape
3 Doors Down – Us And The Night
Parachute – Wide Awake
Emmy The Great – Second Love
Information Society – Orders Of Magnitude