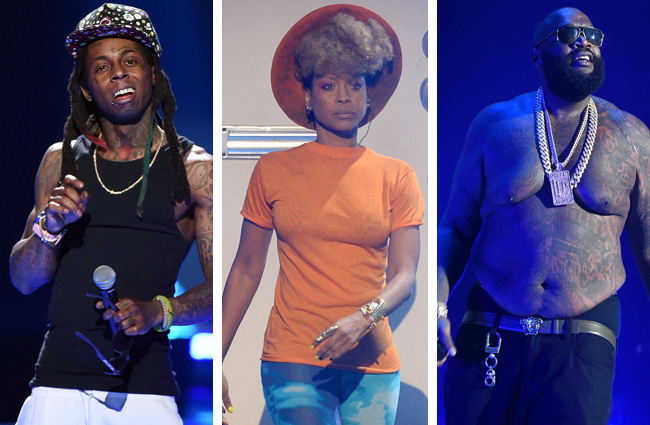 The post-Turkey Day drop is usually one that's light and without any real substance, at least in terms of music anyway. But thankfully for us, there are some pretty high profile releases this week. Lil Wayne released another entry in his famous mixtape series, PC Music creation/fabrication Sophie dropped an official album, Erykah Badu made a Drake-themed release, and even Pope Francis dropped a tape! And we've also got new stuff from Parquet Courts, The Vamps, Danzig, Rick Ross, and more.
Here's what you need to listen to this week.
Lil Wayne – No Ceilings 2
Honestly, 2015 has been a busy year for Lil Wayne, but it probably hasn't felt that way to the general public. While Tha Carter V languishes on the shelf in legal limbo, the Young Money boss has released three albums in 2015: Sorry 4 The Wait 2, Free Weezy Album, and now No Ceilings 2. The first of those releases came and went pretty quickly despite positive reviews; the second of the group remains in obscurity as a TIDAL exclusive; and all of that brings us to No Ceilings 2.
Here, Wayne hopes to bring back the fire that everyone loved in Mixtape Weezy. And if his beat selection is any indication, he's attempting to do so with his partner Drake in mind. Nearly the entirety of What A Time To Be Alive's beats are on No Ceilings 2, along with beats from The Weeknd, Fetty Wap, and even Eminem's classic "My Name Is." While all of these releases probably won't measure up to the mythical creature that is Tha Carter V, if Weezy can still produce some fire, hopefully it can still hold over true fans.
[protected-iframe id="aaa72ba15d14daf2499f2fc4b490495c-60970621-23283947″ info="http://www.datpiff.com/embed/m347863a/" width="525″ height="270″ frameborder="0″]

Sophie – Product
Producers "creating" singers by pitching up vocals is nothing new. Ray Charles did it. Positive K's "I Got A Man" did it. But doing so and then creating an entire woman based on these vocals is definitely different. PC Music, Sophie's label, has made a habit of being shrouded in secrecy, creating characters to fit a narrative of futurist pop and a stable of phony pop stars to accompany them — plastic celebrities for inauthentic times. But all of this is immaterial; what matters is if the music is good or not. Lucky for us, it's a perfect slice of glitchy, catchy pop influenced by bubblegum of the '90s, K-pop, and J-pop. While the idea of Product may seem haughty and clever to a fault, sometimes things aren't that complicated. It's good, just listen.
Erykah Badu – But You Caint Use My Phone
It's nearly a ratified law at this point that everyone likes and must record a remix of Drake's "Hotline Bling." There isn't enough time to even list the versions that only we have covered. But the forever funky and soulful Erykah Badu has upped the ante with her new release, But You Caint Use My Phone, a mixtape completely inspired by the mournful smash hit. And don't be fooled, this isn't some throwaway run of songs. The new album from Ms. Badu hosts a feature from GOAT rapper and her ex Andre 3000, in addition to the tracks we already heard like "Phone Down." We're not entirely sure how "Hotline Bling" got Erykah to release her first album in nearly four years, but then again, it's inspired so many people to do crazier things. So why not?
You can download/stream But You Caint Use My Phone on Apple Music or stream below.

[protected-iframe id="46716b08132e653c30b91fb72806d05a-60970621-23283947″ info="http://www.datpiff.com/embed/mdac2270/" width="525″ height="270″ frameborder="0″]
Here Are The Rest Of The Week's Albums:
Parquet Courts – Monastic Living
Rick Ross – Renzel Remixes Disc 1/Disc 2
The Vamps – Wake Up
Danzig – Skeletons
Waka Flocka Flame – Flockaveli 1.5
Jon Benjamin – …I Should Have
Rich The Kid & I Love Makonnen – Whip It
Fabolous – Summertime Shootout
Major Lazer – Peace Is The Mission (Extended)
David Guetta – Listen Again
B.o.B – NASA
Pope Francis – Wake Up!