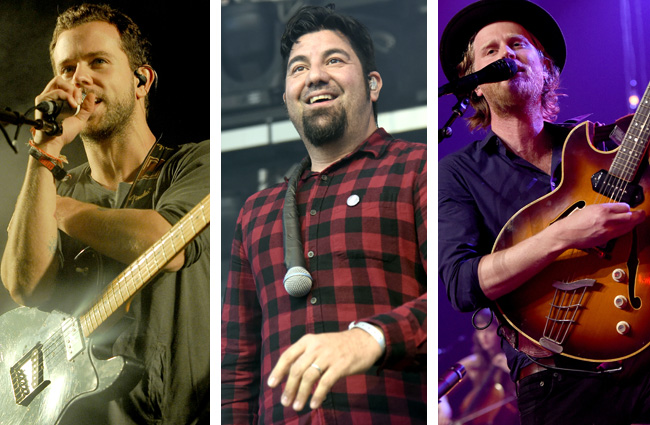 This week, Deftones returns to glory with their latest effort, M83 wraps itself in the warm, day glo sweater of the past, and Lumineers are back with a new slate of songs that you will have no escape from (which is not necessarily a bad thing). We've also got a soaring debut from Gallant, another tight set from Parquet Courts, a fire new tape from Dej Loaf and so much more. Here are the albums you need to hear this week.
M83 – Junk
A great deal has changed for Anthony Gonzalez since his last record with M83. Hurry Up, We're Dreaming was the group's major crossover with the incredibly enduring single "Midnight City." Nearly five years later, we find him with Junk, a retro tribute to italo-house, skeevy guitar solos, '80s-informed Bowie funk, and everything you could love from the decade of excess. There is no escaping that the sounds here are old, but they don't seem dated, in that every piano stab, sexy sax, and breathy vocal is a perfectly placed choice. Junk is something that could seem too precious or tongue-in-cheek to some, but albums like this are meant to be indulged, not overly scrutinized. Junk is too fun to pass up.
Deftones – Gore
Perhaps one of Deftones' most enduring qualities is the band's ability to sound timeless, despite whatever genre they're lumped with. Are they nu-metal? Are they shoegaze? Are they alt-rockers? It really doesn't matter: no one sounds like Deftones. No one. Gore sees the group's return after four years of solitude, and it honestly feels like their most potent effort in a decade. Album opener and first single "Prayers/Triangle" sets the exact tone: swimming in a sea of spacious guitars and confusion, Chino Moreno sings out into the void, "There's a new strange godless demon awake inside me/ There's a force divine terrorizing the angels I keep, while we dream."
The Lumineers – Cleopatra
What do you do when your first at-bat is a walk-off grand slam? Well, in the case of The Lumineers, you step up to the plate and try to top the massive success of "Ho Hey" and their self-titled 2012 debut. Let's be honest: that's a task that may be too much to topple, but you can't fault the folk-rockers for trying with their new record, Cleopatra. It would be easy to criticize them for seemingly capitalizing on a movement which has seemed to have gone by, but they've got a certain knack for Americana earworms that stay with you (or manage to get played in movie and TV trailers ad-nauseum) — first single "Ophelia" is a prime example of their uncanny talents. When you master a sound like The Lumineers, it's hard to not marvel at it.
Here are the rest of the week's releases:
Gallant – Ology
Parquet Courts – Human Performance
Dej Loaf – All Jokes Aside
Deakin (Animal Collective) – Sleep Cycle
Twenty88 (Big Sean & Jhene Aiko) – Twenty88 [wide release]
Frightened Rabbit – Painting of a Panic Attack
Mayer Hawthorne – Man About Town
The Dandy Warhols – Distortland
Tim Hecker – Love Streams
Woods – City Sun Eater in the River of Light
Moving Units – Damage With Care
Future of the Left – The Peace and Truce of Future of the Left
The Ready Set – I Will Be Nothing Without Your Love
All Saints – Red Flag
Zakk Wylde – Book of Shadows II
Ben Harper and The Innocent Criminals – Call It What It Is