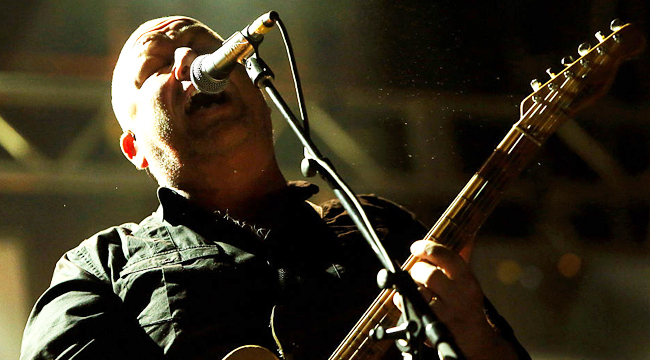 When the Pixies released Indie Cindy in 2014, it was a bit of a case of "be careful what you wish for." Fans had been clamoring for a new Pixies album for years, especially after the band reunited in 2004. However, the result was rather underwhelming, and lacked the edge and power that made the Pixies so beloved. At that point, it was understandable to wonder if the Pixies were best left to history. Luckily, their new album Head Carrier dispels that notion once and for all. This album recaptures the Pixies' rock 'n roll spirit in a tremendous way, and can't help but feel like their true comeback.
The album begins with the title track, which sounds a bit like a cross between Neil Young and surf music, which is another way of saying it sounds like the Pixies. Later, "Classic Masher" has some of Black Francis' most clever lyrics in years, as he rhymes the title phrase with "tete a tete with a haberdasher." Witty, seemingly random lyrics were always a key element of the Pixies' repertoire in their heyday, and that aspect of their style is brought back gloriously here. Chances are, "Talent" is the only song you'll hear in 2016 that name-checks Jack Palance on the first line.
When talking about the modern incarnation of the Pixies, it's hard to avoid discussing the absence of bassist Kim Deal, who was a huge part of what made the band so memorable to begin with. Luckily, new bassist Paz Lenchantin proves more than capable of filling her shoes, and actually contributes vocals to "All I Think About Now," which is one of the album's most poignant moments. The song symbolically borrows the riff from "Where Is My Mind?" and the lyrics discuss the fractured relationship between Francis and Deal. It's a reminder that even as the band moves forward without Deal, they haven't forgotten how much she mattered to them. It's hard not to read the song as a thank you note.
Head Carrier thrives for one simple reason: it sounds like a Pixies album. There are bits of enthralling guitar throughout, and the album as a whole feels like a combination of the catchiness of "Here Comes Your Man" and the futurism of Bossanova. If the letdown of Indie Cindy caused you to lose faith in the Pixies, let Head Carrier bring you back to the flock. It's one of the best albums of 2016, and an incredible return to form for an all-time great band.
Head Carrier will be released on September 30, but it's already available for streaming via NPR.