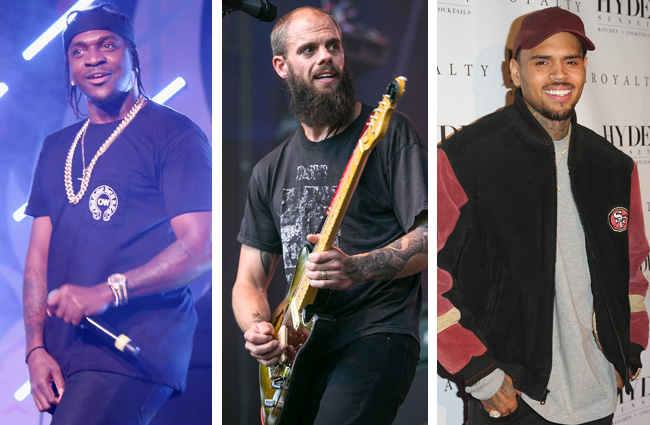 It may almost be Christmas, but that doesn't mean the slate of new albums has tapered off just yet. Before everyone heads back home to their parents' house and sleeps in their childhood bed, there's still music to stock up on from the likes of rap kingpin Pusha T, metal gods Baroness, R&B superstar Chris Brown, as well as soundtracks from Star Wars: The Force Awakens and The Hateful Eight. Here are the new albums you need to hear this week.
Pusha T – Darkest Before Dawn: The Prelude
Essentially, every project that Pusha T has touched since his early days rhyming with his brother in the Clipse has been absolute gold. It's pretty rare someone could be in the game for the better part of 15 years and never have anything even below a B- project. Darkest Before Dawn was originally slated to be a stop-gap product to satisfy fans before the release of the highly-anticipated King Push, due in 2016, but the record was so strong, it eventually became his second studio album.
And the tracklist should show that the dope rap don did not pull any punches for this strong effort. With features from artists like Kanye West, A$AP Rocky, The-Dream, Beanie Sigel, and Kehlani, there's nothing about this effort that suggests it isn't the main-event.
Baroness – Purple
The Southern-fried sludge from the dudes in Baroness is back for another serving on Purple. The effort is their first in three years and most recent since their tragic 2012 bus accident which left nine people injured including two now-departed members of the group. The album perhaps has the most melody and directness the band has ever had, but it's still no less devastating in its heavyness.
Chris Brown – Royalty
Just a year after the incredibly successful X, Chris Brown returns with his new album, Royalty. An attempt to soften the rough edges around his public persona — the title, as well as the cover art is inspired by his daughter — the R&B superstar's seventh studio album is a more polished R&B effort than last year's more rap-influenced LP or his duet album with Tyga earlier this year.
"Fine By Me" is perfectly coiffed, Michael Jackson-esque disco pop, and "Picture Me Rollin'" interpolates the well-worn territory of Warren G's "Regulate." For those who still aren't a fan of Brown's because of his prior bad acts, there is at least a bit of good news from this album: $1 from every album sold until Christmas Day will be donated to the Children's Miracle Network Hospital, according to Brown.
Here are the rest of the week's releases:
John Williams – Star Wars: The Force Awakens (Original Motion Picture Soundtrack)
Ariana Grande – Christmas & Chill EP
Cage The Elephant – Tell Me I'm Pretty
Monica – Code Red
Various Artists – The Hateful Eight (Original Motion Picture Soundtrack)