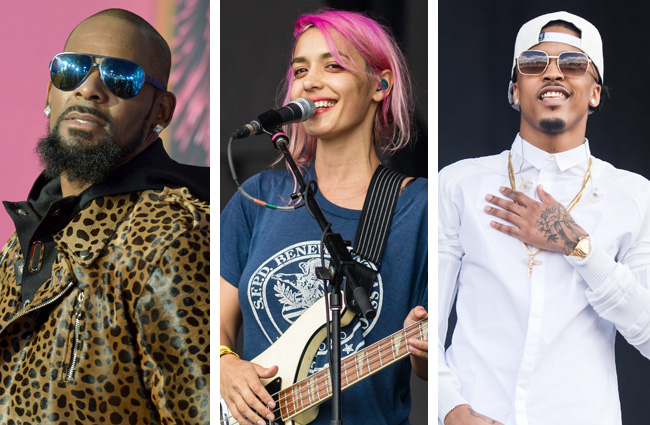 The holidays may be drawing near (so, too, the end of the year), but that doesn't mean the music release season is dead just yet. This week boasts a big release from the Pied Piper of R&B, R. Kelly, as well as new stuff from August Alsina, jennylee, Archy Marshall (also known as King Krule), a label compilation from J. Cole, and more. Here are the new albums you need to hear this week.
R. Kelly – The Buffet
Everything to say about R. Kelly has probably already been said and written. If you love him, you do so with a dose of reality about his past; if you hate him, it's still with the acknowledgment of his prowess as a songwriter, performer, and weirdo genius. The Buffet, his 11th studio album, brings yet another serving of the absurdly hypersexual theater we're used to; there are tracks named "Sextime," "Poetic Sex," and "Wake Up, Everybody."
The album is filled with collabos from his musical disciples like Jeremih and Ty Dolla Sign, as well as Jhene Aiko, Juicy J, Tinashe, and Kelly's own daughter Ariirayé on a meâ culpa duet for not being there enough. It definitely seems to be a huge grab bag of strange emotions, which is exactly what's to be expected from the R.
August Alsina – This Thing Called Life
One of the newest success stories to grab for the R&B crown, as everything sort of merges together with a more hip-hop sound, is August Alsina. He exploded onto the scene a few years ago with "I Love This Sh*t" and since then has been in somewhat of a battle with his label. In fact, there was a little hiccup with this album, too, but now it's thankfully out for everyone to hear. Lil Wayne, Chris Brown, and Jadakiss, to name a few, make appearances on what could finally be the breakthrough many of his fans hoped for just a couple years ago.
jennylee – right on!
Now, jennylee may not be a name that you know right off the bat, but she's definitely someone you've heard before. As the current co-vocalist and bassist for psych rockers Warpaint, Jenny Lee Lindberg wanted to strike out on her own to make a solo record of new wave-influenced dream pop. Her debut single with the act, "Never," is a warm, delightfully claustrophobic track straight out of a post-punk dive bar, and right on!, thankfully, has more of the same.
Here are the rest of the week's releases:
Various Artists – Revenge of the Dreamers II
Archy Marshall – A New Place 2 Drown
Cam – Untamed
Wiki – Lil Me
Various Artists – The Wiz: Music from the NBC Television Event
Cass McCombs – A Folk Set Apart
Lizzo – Big Grrrl Small World
Willow Smith – Ardipithecus
Charles Hamilton – The Black Box EP
SECRETS – Everything That Got Us Here