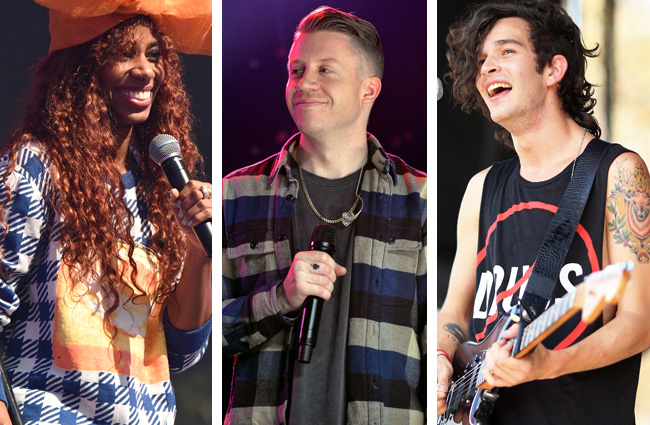 This week, the main tale of album releases to tell has to do with redemption. The 1975, previously viewed as one of the many Brit buzz bands to never break free from the pack, reinvented themselves entirely for their new album. Macklemore & Ryan Lewis look to atone for all of America's sins on their latest album, in between some cheesiness, of course. And we've got great new stuff from Santigold, Anthrax, School of Seven Bells, Yuck and more. Here are the albums you need to hear this week.
The 1975 – I Like It When You Sleep, for You Are So Beautiful Yet So Unaware of It
When The 1975 debuted three years ago with their self-titled first effort, there were touchstones of expanding beyond musical borders into different genres, but for the most part, it felt like they were merely dipping a toe into the pool. It seemed as if they would be yet another hype band that would have their run and slowly back into the twilight. But then, something interesting happened in late 2015: The band returned with "Love Me" and fully dove into the '80s influences they had been teasing for years before. By the time the pleasure-filled "Ugh!" had arrived, it was clear; Matt Healy and company decided to embrace the strange void and make the music they were meant to.
That brings us to the cheekily long-winded titled, I Like It When You Sleep, For You Are So Beautiful Yet So Unaware of It. So often, alt-rock bands will toe the line or regress to the mean, and make largely forgettable music. The 1975 decidedly made a choice to be funky, sexy, emotional, obnoxious, dirty, and most of all, fun. Lucky for them, it truly pays off.
You can listen to The 1975's I Like It When You Sleep on Apple Music, Tidal, and Google Play Music.

Macklemore & Ryan Lewis – This Unruly Mess I've Made
A lot has happened for Macklemore & Ryan Lewis since their "Thrift Shop" breakthrough four years ago. Yes, Macklemore became a meme of being a bit of an embarrassing try-hard following his "robbery" of Kendrick Lamar at the 2014 Grammys, among many other racial and social miscues, but also, our lives in general have been affected by current political events. Macklemore himself has gone through a metamorphosis of sorts following a stint in rehab, and decided to lay all his cards on the table with This Unruly Mess I've Made.
And the album truly feels like, for better or worse, he's laying it all out there. Whether it's fear for the world his newborn daughter is inheriting on "Growing Up (Sloane's Song)" featuring Ed Sheeran, an ode to the friend he lost to drugs on "Kevin" featuring Leon Bridges, or the much debated part about white guilt, part "woke" "White Privilege II," it's all out there. To be fair, it's not all heavy stuff, the impossible to deny "Downtown" is here, too, but Mess could not be a more appropriate title for the album, which aims to show the jumbled, conflicted life of Ben Haggerty. Is it enough to shake his reputation? Who knows. But it's enough to earn your attention.
Santigold – 99¢
For the past decade, Santigold has been a pop innovator who effortlessly refined genres like electronica, dub, punk, new wave, hip-hop, and everything in between into one perfect mix. With her knack to reduce and focus all of these sounds into something nearly everyone can enjoy, it's interesting to find her now with her third LP, 99¢. The album seems to be a pushback on the culture of commoditization, as she told Zane Lowe on Beats 1 a few months ago, "everything is a product, including people, relationships, and everything's about marketing products," she says. "And everything's undervalued! So, I thought 99 cents was a good price for me, my life, and my hard work."
"Can't Get Enough of Myself" lampoons our vanity and self-obsessed nature with a fantastic video starring, who else, us (with the help of a webcam), and "Who Be Lovin' Me" featuring I Love Makonnen is a track dedicated to finding the real thing among the many, many admirers Santi has. No matter where you land on these motifs of "selfie" culture and how we live today, which, yes, are important, you're going to enjoy hearing about them here. Santigold is a alt-pop pro above all others.
Here are the rest of the week's releases:
Anthrax – For All Kings
School of Seven Bells – SVIIB
Charli XCX – Vroom Vroom EP
Yuck – Stranger Things
French Montana/Max B – Wave Gods
Miguel – Rogue Waves EP
Anvil – Anvil Is Anvil
The Rocket Summer – Zoetic
Tweet – Charlene
Rome Fortune – Jerome Raheem Fortune
Sarah Neufeld – The Ridge
Bonnie Raitt – Dig in Deep
From Ashes To New – Day One
Brian McKnight – Better
Voivod – Post-Society EP