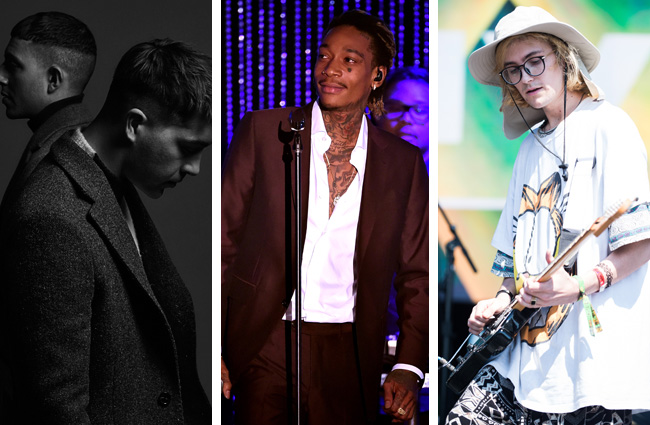 This week is bursting with new albums from all over the map. (It honestly feels a little like everyone is trying to get their record out before Kanye West drops his new album next week, but that's just one opinion.) Big names in hip-hop like Wiz Khalifa, Future, Young Thug, Boosie Badazz, and Trae Tha Truth all have new material, and there are new rock releases from Diiv, Say Anything, Elliott Smith, and The Cult. A few fresh R&B records from Majid Jordan, KING, Lion Babe, SWV, and Rihanna's Anti finally in wide release. And honestly, that's barely even scratching the surface.
Here are the albums you need to hear this week.
Wiz Khalifa – Khalifa
So… some week for Wiz Khalifa. While this wasn't exactly the promo cycle he was hoping for, Wiz has definitely been in the news as of late. His sixth studio album, Khalifa, comes on the heels of his biggest year yet and the smash single, "See You Again." And how else could you follow up such a massive year but to drop a project with some of the hottest artists and producers in the game. "Bake Sale," the first single from the effort, features Travi$ Scott, and some other big names who make appearances are Taylor Gang affiliates like Ty Dolla $ign, Juicy J, and his own son Sebastian (credited as Bash).
Majid Jordan – Majid Jordan
Much has been made of the supposed "boot camp" that OVO affiliates were posted up in to help create songs with Drake, but really, it seems like a mountain out of a molehill. Majid Jordan, the group who revealed the set up, are finally releasing their first full-length album after years in the background. The "Hold on, We're Going Home" singers' debut goes deeper into the downtempo rabbit hole perfected by their label boss with woozy yet smooth production from known OVO entities, 40 and Nineteen85. Drizzy himself even appears on the single, "My Love."
Diiv – Is the Is Are
It's been four long years since Diiv's promising debut, Oshin, and those years have not been easy. Multiple members of the band have struggled with drug addiction, some members quit, and one became a social pariah due to toxic things he was found to say on 4chan. But, despite these hardships, the band has persevered to finally release their sophomore album, Is the Is Are. And the songwriting is not steering away from the controversy with tracks like "Dopamine" dealing directly with struggles that addiction can bring. Hopefully along with being a great album, Is the Is Are can bring some sort of catharsis to its audience, as well as its creator.
Here Are The Rest Of The Week's Releases:
Rihanna – Anti (Wide Release)
Young Thug – I'm Up
Future – EVOL
Elton John – Wonderful Crazy Night
Elliott Smith – Heaven Adores You Soundtrack
Say Anything – I Don't Think It Is
Trae Tha Truth – Tha Truth Pt. 2
Boosie Badazz – Out My Feelings (In My Past)
The Cult – Hidden City
Foxes – All I Need
Sunflower Bean – Human Ceremony
Lion Babe – Begin
Eric Prydz – Opus
SWV – Still
KING – We Are KING
Dr. Dog – The Psychedelic Swamp
Field Music – Commontime
Junior Boys – Big Black Coat
Porches – Pool
Charles Kelley (Lady Antebellum) – The Driver
Breakbot – Still Waters