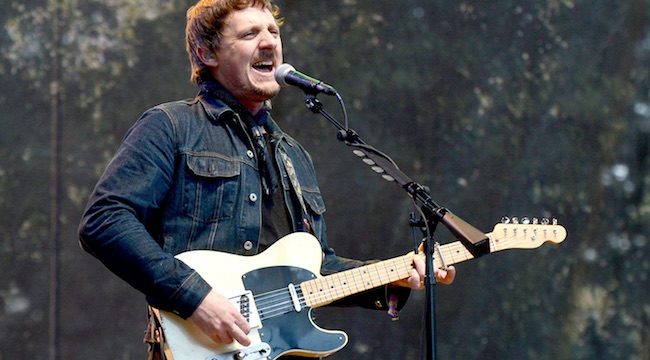 Last year, Sturgill Simpson rather infamously took umbrage with the way the Association of Country Music chose to go about their Merle Haggard Spirit Award, issuing some scathing critiques of mainstream country in general in the process. And, he also (rightly) predicted he wouldn't win any CMAs from the 2016 Country Music Awards due to this outburst.
It certainly didn't hurt him everywhere — at the Grammys Simpson's latest, A Sailor's Guide To Earth was nominated for Best Album Of The Year and Best Country Album Of The Year, winning the latter. Yet, he's never been nominated for a CMA to date, and this year, things aren't any different.
So Simpson decided to take things into his own hands and play some of his music just outside Bridgestone Arena in Nashville where the annual award show was being held. He took to Facebook to let fans know he'd be livestreaming a set of himself busking outside the awards:
[protected-iframe id="aa36b5cf3ab335e876a78553abb06132-60970621-76566046″ info="https://www.facebook.com/plugins/post.php?href=https%3A%2F%2Fwww.facebook.com%2Fsturgillsimpsonmusic%2Fposts%2F1752667194766241&width=650″ width="650″ height="350″ frameborder="0″ style="border: none; overflow: hidden;" scrolling="no"]
"So excited to be playing the #cmaawards tonight!!!" he wrote, sardonic intontation intact. "Gonna be doing a little busking out front.. Come on down and join me!!! Facebook live stream starts at 7pm," he wrote in a post teasing the performance, before going live right outside the arena.
His "busker" sign had a few tongue-in-cheek lines as well: "Struggling' country singer," he wrote. "Anything helps. (All donations go to the ACLU.) God Bless America. I don't take requests, but I take questions about anything you want to talk about because fascism sucks." Fun fact: At one point he notes that he hadn't been recognized once. Then again, given the demographic that would be attending the CMAs in person, that kind of makes sense.
Watch his entire forty-five minute set below, complete with a few requests, his enormously successful hit "Turtles All The Way Down," and plenty of commentary about Nashville, racism, homophobia and gun control.
[protected-iframe id="7b99b3bc0b50f42ec17ac1dea0375f5d-60970621-76566046″ info="https://www.facebook.com/plugins/video.php?href=https%3A%2F%2Fwww.facebook.com%2Fsturgillsimpsonmusic%2Fvideos%2F1752669641432663%2F&show_text=0&width=650″ width="650″ height="350″ frameborder="0″ style="border: none; overflow: hidden;" scrolling="no"]