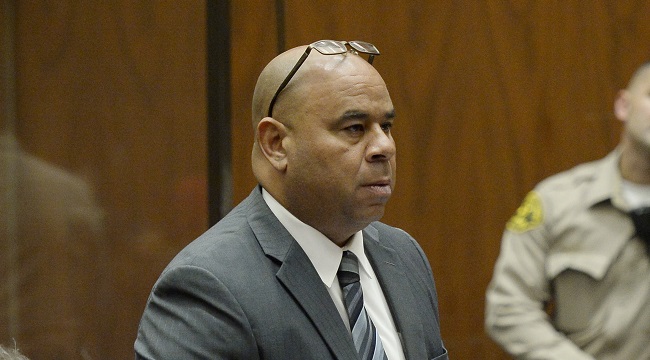 The Los Angeles Times reports that Suge Knigh's former lawyer Matthew Fletcher has been taken into custody and held on a $1 million dollar bail. While no details of his arrest or charges have been made public, it's worth noting that Fletcher and Knight were accused by prosecutors in August of witness tampering — specifically bribery — in the beleaguered former mogul's ongoing murder case.
The 22-page court filing says that Fletcher and others were "going to assist [Knight] in procuring witnesses for his defense, which included payments for fabricated testimony." Fletcher denied the accusations in August, telling the Times that prosecutors took his words out of context and were merely trying to discredit defense witnesses in Knight's upcoming murder trial.
Knight is charged with murder for a fatal hit and run on LA-based entertainment industry figure Terry Carter on the set of the Straight Outta Compton film. Knight says he was retreating in fear for his life, and even accused Dr. Dre of putting a hit on him. Along with the murder case, Knight faces charges for robbery and threatening Straight Outta Compton director F. Gary Gray. Knight has been through a bevy of lawyers while dealing with the case, including former Death Row lawyer David Kenner and Thaddeus Culpepper, who was falsely attributed to an affidavit claiming Knight knows who killed Tupac.