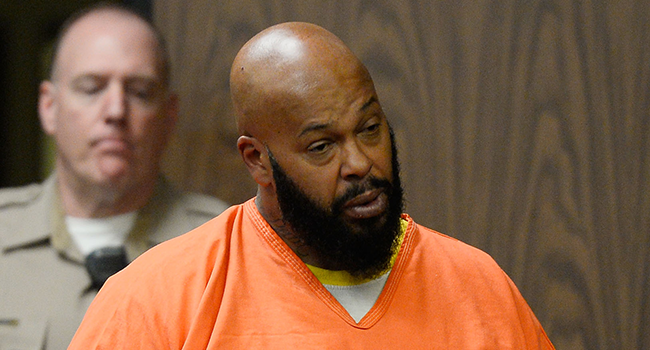 Suge Knight is one of those rare people that any outrageous story he's mentioned in seems true and possibly is true. All of these things are stories that actually happened in the last two years: Suge ran over two guys with a truck, killing one and seriously injuring another, Suge got shot multiple times at a Chris Brown party and survived, Suge showed up to court claiming he was blind, Suge was abducted by two aliens and killed one to escape. Okay, I made up that last one but it's just as believable as the other three, and the other three actually happened. The point is, if the news is absurd and about Suge Knight it's somehow reasonable.
So it's a bit surprising to find out that the latest ridiculous bit of Suge news just might be false, at least according to his son. Jacob Knight took to Instagram to deny the story that Suge revealed who murdered Tupac in a court affidavit. According to that report, Suge named "Reggie Wright Jr. and his ex-wife Sharitha" as the culprits and claimed they were after him, not Pac.
Jacob Knight is calling BS, calling the whole thing a "terrible publicity stunt" and saying that "Tryna Profit Off My Dads life is sick" in a brief Instagram post. Check out the entire statement via Jacob's Instagram account below.
https://www.instagram.com/p/BSeb504g6ZQ/
This is terrible publicity stunt and these are the same ones that want to keep my father locked up. Tryna Profit Off My Dads life is sick and he deserves his rights and freedom! They never mentioned him getting shot back then now they say this?