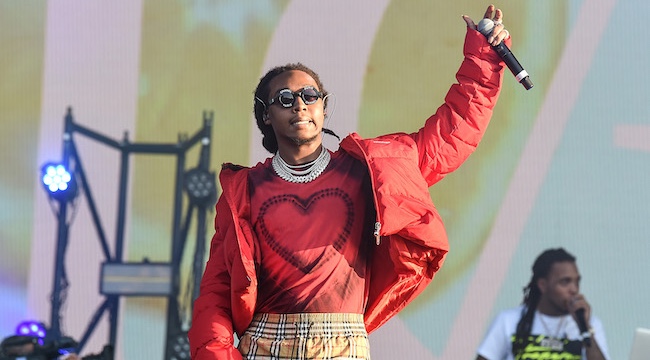 Takeoff announced the title and release date of his solo debut album Tuesday night at a listening in LA. Billboard, which recapped the event, reports that the album's title is The Last Rocket, it will feature at least 10 songs, and it's set to come out in two weeks, on November 2.
The listening was attended by both journalists and industry tastemakers, as well as Takeoff's Quality Control Music bosses Coach K and P. P explained Takeoff's relatively low-key demeanor in comparison to his more visible Migos bandmates Quavo and Offset by saying, "Takeoff is a man of small words, he usually lets the music speak for itself." While it's noted the album wasn't completed in its final form just yet, it appears it will feature at least one beat produced by Migos tour DJ Durel, who is also providing the songs for QC's partnership with ESPN and the NBA.
While that approach has made Takeoff a fan favorite as potentially the most lyrical of the trio, it's also resulted in a running gag online about Takeoff being "left off 'Bad N Boujee,' the 2017 Culture standout with Lil Uzi Vert that helped take Migos from popping rap group out of Atlanta to household name. And while Takeoff and his partners may take exception to the assumption that he's less culturally relevant, that didn't stop fans from noticing that he doesn't even have his own entry on Wikipedia, while the other two do.
Here's hoping The Last Rocket will finally convey the most mysterious Migo into the spotlight where he belongs. It arrives via Quality Control/Capitol/Motown November 2.