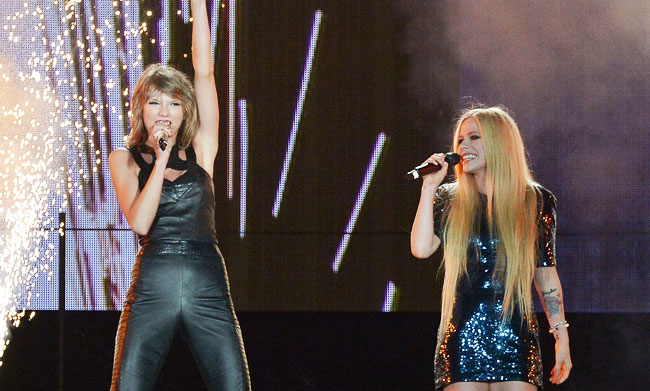 Taylor Swift has been inviting countless guests on stage during her 1989 World Tour, be it Lorde for a duet of "Royals" or Lisa Kudrow for a rendition of "Smelly Cat." Tay Tay Swizzle is getting everybody involved on her fun trip towards mainstream dominance. The latest guests at her San Diego performance were Avril Lavigne and breakout star OMI.
Lavigne obviously broke out her hit "Complicated" alongside Swift, a sad note for all those "Sk8er Boi" fans out there. Lavigne seems to be in good shape despite the presence of Nickelback in her life and her battle with lyme disease, holding her own with the powerhouse that is Taylor Swift. It's also noteworthy since they've had Twitter "beef" in the past over whatever silly junk was being passed around on social media at the time. It's all dead and buried.
Swift thanked Lavigne on Twitter after the show and then I assume stole her life force in the backstage area. This is the pure reason why these guest events have been happening, right? I'm not going crazy, am I?
The other surprise visit came from OMI to perform his hit song "Cheerleader" for the San Diego crowd. If you haven't heard the song yet, you clearly don't have a radio in your car. It had pretty much been everywhere and Swift wanted it at her show. No one defies what the pop queen wants, so OMI was there and all were gracious on Twitter.
I would like to see the Vegas odds on who Swift will have as guests on her future shows. There can't be many more and I bet the action could be pretty sweet. It's been a mixed bag so far and anything could happen. Imagine the crater if Beyonce shows up? We won't be able to survive the fierce display, that's why it can't happen.
(Via Taylor Swift)