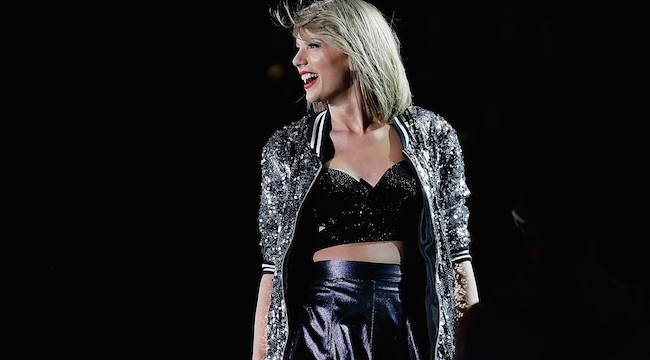 Traditionally, Taylor Swift releases an album in the fall every two years. It's been that way since her debut self-titled came out in 2006, and has continued like clockwork all the way up until the release of her world-stopping pop album 1989 in 2014. It's a long-standing tradition that she broke for the first time last year, when no album came. Of course, most fans knew that her 1989 tour had taken up almost all of her time, and there was no way she'd had time to work on an album as well, but still, her absence was felt.
In the meantime, there was that VMAs drama with Nicki Minaj, and then Kim and Kanye, which made Taylor duck out of the spotlight for a bit. Well, that, and a bunch of drama with break ups from her most recent boyfriends. Last week, her high-profile testimony against a radio host who groped her also put Taylor back in the headlines, but still, no music came.
Today is the first hint we have gotten that all that silence is about to coalesce in a deafening roar. Across all her social platforms — Twitter, Tumblr, Instagram — and her website, Taylor has wiped the slate clean. There are currently no posts showing up in any of these places, and this kind of social media blackout can only mean one thing: She's about to drop an album. This has already been a rumor, so I think her action today helps confirm that's true.
Hey, Kendrick did it before DAMN., and social media is a great way to single to fans that something new is coming. Today also marks the three-year anniversary of her announcement of 1989 and the release of "Shake It Off." So stay tuned, there's guaranteed to be something filling up those empty spaces soon. Even if we had to wait an extra year this time. Plus, Direct TV is now listing her appearance on Good Morning America on 8/31.