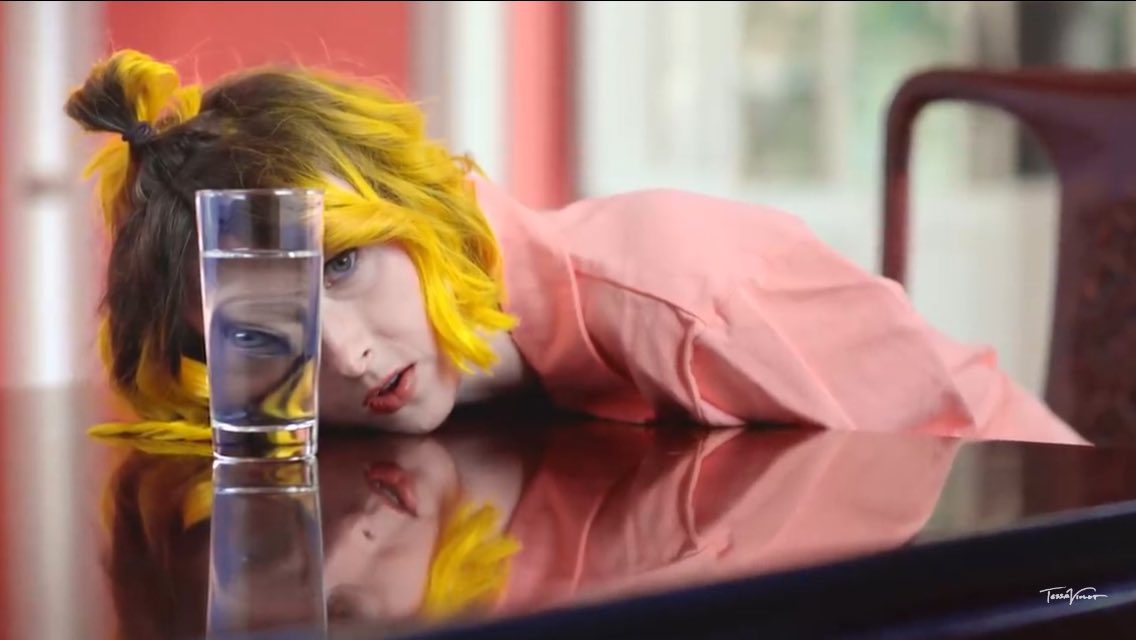 "I like to share about my feelings," Tessa Violet says, sitting with her legs up in the corner of a wooden booth in the green room at The Ritz in Raleigh. "I think just by nature I'm an over-sharer, but also I think there is so much value in using your platform to share what you've learned about life, and I feel like I've learned a lot about how to process feelings."
In the world of pop music — especially indie pop, especially indie pop on the Internet — "processing feelings" can be a hindrance. This is the world where videos of people talking, Tessa Violet included, need to have all the pauses, spaces between sentences, and air breathed cut and cropped out of every conversation. It's a world where the artificial facade becomes reality; the acceptance that the image we present is closer to the common "truth" than the fiction of real life. It's what Bo Burnham's exceptional Eighth Grade wrote with lightning, and the tightrope Violet walks between the sincerity of manning a behind the scenes vlog and becoming the kind of fire-born pop star whose hit single, the hip-hop-by-way-of-a-child's toy "Crush," currently has over 25 million views on Youtube.
"When you can put words to emotions, they have less power over you," Violet explained. "And that's what I think songwriting is, too. It's giving people words for feelings, feelings are big and scary, but understanding it is better."
In the video, Violet expresses the innocence of a crush by wandering around in a grocery store and climbing on everything. Comments on the clip have described her as, "cute Pikachu plus my English teacher," and, "if yellow was a person," and the clip itself is described as, "four minutes of Tessa Violet being relatable." A lot of people mention how they clicked on the video by mistake and stayed, or found the song by accident and couldn't get it out of their head.
My story is a little different. On an especially low day in my life, I typed "depression" and "creativity" into Youtube. Those are the two words I'd use to describe myself. As a kid, I loved to draw. I stopped somewhere during my freshman year of college, when an art teacher who thought they were motivating me crushed my spirit; I wrote a book at age 22, and was heartbroken by the experience, and the two people I wrote it for were the two who rejected it; I made a few feature films, and now I can't even watch them; I have a finished feature sitting on a cold Vimeo link.
I write on the internet for a living. That one doesn't need an explanation. Depression and creativity are the same for me. They're a single ouroboros, starting off creative and looping back around to depressingly eat their own tail. But that day, at the top of my search, was a woman with faded pink hair in a beautifully lit room, explaining the difference between human beings and human doings. "My Depression + Creativity" by Tessa Violet was the video in question. Though, I didn't know her past as "Meekakitty," a Youtube celebrity who sometimes made songs, the warmly decorated video that I searched for on a whim… helped. Nothing helps when you're truly depressed, but yeah, it helped.
"The labels become tricky when you don't realize you might also subconsciously be asking the question, why do I have value?" Violet says in that video. "What is my worth, who am I? What is my identity? If you're answering that question with, I have worth because I'm an artist, I have value because of what I make … you see how that can land you in a tricky spot, because if you are what you make, who are you when you're not making anything?"
When I bring up that quote, her response surprises me. "I haven't seen that video probably since I posted it, so I'm like, 'Yeah, cool, I do agree with that. That's good advice,'" she said.
Part of me is shocked that she doesn't remember an insight that hit me as powerfully as that one, but then I remember how quickly I try to forget everything I make. I just finish and put it out there. I might torture myself by reading the comments, but generally the feeling is, welp, there it goes. The Violet I'm sitting with in Raleigh is the same Violet from the depression plus creativity clip, but it's Tessa Violet without the jump cuts. Without the lighting, without the makeup, with a "Bad Ideas" dad hat pulled down just above her eyes. She's opening for another Youtube success story, Walk Off The Moon, on their tour. She loses focus a lot, squinting and asking me to repeat questions, but when she answers, she answers at length. It's the depression behind the creativity, and creativity being too powerful for depression to keep it inside.
"First and foremost, I guess, I think, with art, you have to enjoy the process, because success is completely out of your hands," she says. "So just as much as you can, lean into loving what you do. And I do love what I do. My favorite part of music is getting to record and produce the sets with Earnest, shout out to him [Seth Earnest, her producer]. It's a really wonderful partnership, and I value that. And that was an amazing experience, getting to make this album with him."
"My second favorite part is touring," she says. "Touring is very much dependent on how successful the music is, you know? So, in that sense, it is, such good news, so exciting if the song is resonating with people, because that opens more doors to tour. And it's like, 'Yes, this feels so good.' And then in some sense, nothing ever is fulfilling unless you make a conscious effort to be grateful and excited for it. Just because "Crush" has done so well, does not therefore mean I am fulfilled. I need to make a conscious effort to be like, 'Wow, this is very cool that this has taken off.' Any success is a mix of talent, hard work, and luck, and it's so great that I hit all three for this one."
She hesitates, and continues: "Then at the same time, I really want to play more shows and headline and have people know every word to every song, and that's not my reality now, so it's really easy to get overly focused on that." I recognize the hesitation. She mentioned that the song had done well and that she had talent, then buffered it with a note about how she's not where she wants to be. It's never being satisfied. It's never being enough. She has her first-ever headlining shows in Los Angeles on tonight and New York on Friday, and speaks about them with an intermingling of hope and tension.
It's a recurring theme as we talk. She'll mention something about herself, then lean in and remind me not to print that. She'll open up about her concerns and fears for the headlining shows, then take it back. Inside my brain, I start wishing everyone who stumbled onto "Crush" and saw its infectious, muted optimism could see the human being that exists when the video has been blocked and framed, filmed and edited. To see someone who can make a hit song know that if this is what they're going to do with their life, their truest and most honest passion, they're going to have to keep making hit songs.
We spent about thirty minutes in that cramped green room talking about art and the sadness it brings, and the conversation always comes back to finding love in what you do, and doing it no matter what your brain tells you when it's misfiring.
"Being on camera is always awkward at first," she says. "In some sense you either like it or you don't, or you learn to like it. So you just have to… like, learning guitar is terrible. It's not fun until you're good at it. You just have to be okay with I'm learning how to get good at something. Because it feels good to be good at things."
That night after our interview, I ended up working the merch table at the Raleigh show to help out. From that vantage, I saw a few faces like mine — excited people in the middle of North Carolina who'd found her online and gotten to the show early to make sure they could buy merch and say hello. She opened her set with "Crush" for the people who got there in time to see her, and closed with the same song, for the people who'd just shown up and had no idea who she was. She told me that nobody has recognized her yet on this tour. But, when her set was over, people came over to the table to tell me, a person who ostensibly has nothing to do with Tessa Violet's career, how instantly connected they felt to her, and how they wanted to give me twenty or forty or sixty dollars to grab a shirt and pass that feeling along. "Is she going to come out later?" most of them asked.
She did. She stood at the table and greeted every single person who'd waited until Walk Off The Earth finished to see her; people who had come back to the table and awkwardly walked by to see if she'd be out any earlier. The person nobody had recognized? She had a line. Little kids in fedoras who liked Walk Off The Earth's Youtube covers now had a new favorite; teenagers took photos with her and hopped away holding hands. he Tessa Violet they met was the one from the videos, the one who'd practiced so hard to realize she's good at things and put on a brave face for herself, and for me, when the storms came in.
Tessa Violet is headlining The Troubadour in LA, get tickets here. She also plays the Mercury Lounge in New York on Friday, get tickets here.