"I'm having so much fun with the poisonous people
Spreading rumors and lies and stories they made up"
A quarter of what you read about any celebrity on the Internet is probably fake. For instance, I strongly doubt Bob Dylan had sex with a burrito while Bruce Springsteen, Tiny Tim, and Joan Jett egged him on (I just started this rumor). That percentage is even higher for David Bowie, who, after his and Iman's morning tradition of staring at themselves in the mirror for a solid hour, should thank the Diamond Gods that cell phones weren't around in the 1970s. There's no one, man or woman, he didn't have sex with, no pile of cocaine too tall for his nose.
If you go by mostly unverified rumors, that is. Here are seven of the most memorable.
7. He nearly missed his own wedding to participate in a threesome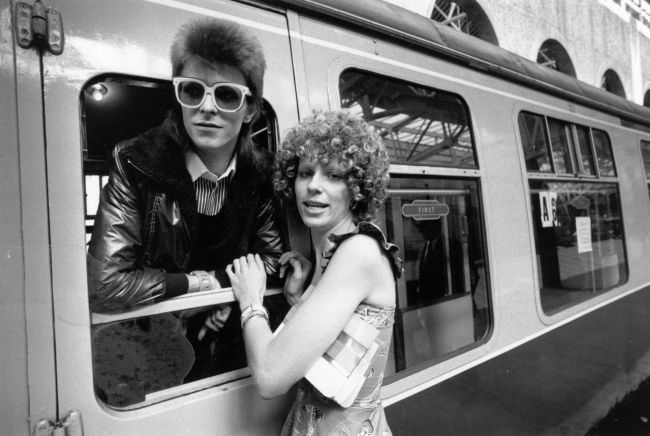 Before Iman, there was Angela, a model and actress (and mom of Duncan) who in the mid-1970s, bought the television rights to Marvel characters Black Widow and Daredevil; there are even photos of her as the pre-ScarJo character floating around the Internet. She met Bowie when she was 19, and they got married a year later. They had an eventful wedding day.
Speaking to The Sun Sunday newspaper, she said:

"The night before our wedding it was a mutual friend of ours. We went out for dinner, back to her place and had plenty of lively sex. We had a very late night and didn't go to bed until 3 a.m. or 4 a.m. Then we woke up late in north London and had to be in Bromley by 10 a.m. to get married. We just about got there in time and staggered in. We saw David's mother Peggy and I thought, Oh boy, this is not good." (Via)
They divorced in 1980.
6. He had an affair with a German transvestite
Bowie's time in Berlin produced three of his greatest albums: Low, Heroes, and Lodger. He also made some good friends while staying there.