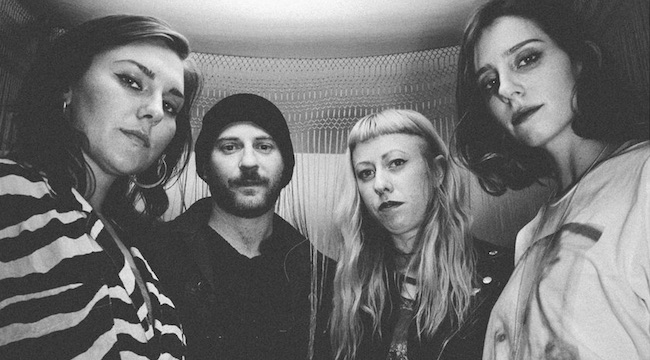 If you check out the Instagram bio for up and coming LA rock band the Feels, you'll learn everything you need to know: "Psych punk future rock+roll post-everything melody music," goes the effusive run-on sentence, "from LA." it closes. Even as someone paid to write about how music sounds, feels, and fits into the grand scheme of things, I can't think of any better way to describe Feels, so I'm going to go with that.
Fronted by Laena Geronimo — previously of the band Raw Geronimo — Feels' self-titled debut came out in 2016 on Castle Face Records and was produced by Ty Segall. The rest of the band is made up of Shannon Lay (backup vocals, guitar), Amy Allen (bass), and Michael Rudes (drums), to compose a formidable four-piece who play the kind of garage rock that makes talk of rock being "dead" sound downright ridiculous. The record is just nine songs and twenty-nine minutes long, but it's still impressive enough to cement them as one of LA's best new bands. Given their last record came out two years ago, the band is ripe to release new music.
Later this month, Feels are playing a free show at Resident in downtown Los Angeles on July 28 as part of their Resident Roundup summer series, and Uproxx Music is co-hosting the show. Check out the flyer below and get more info on how to RSVP here. Note that this is an early show, and doors open at 3 PM. While you're at it, check out Feels' debut album below to get a taste.