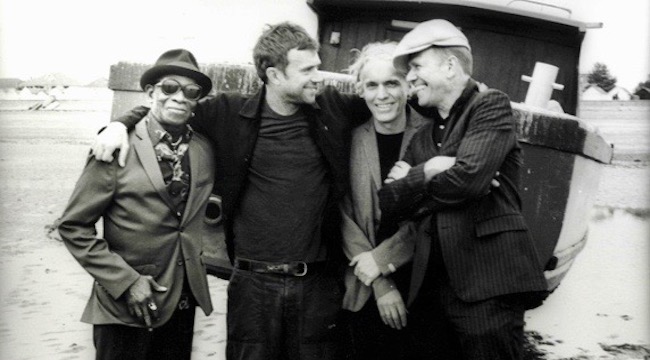 You've really got to hand it to Damon Albarn, the man stays busy. Over the last three years he's put out one album with his beloved Britpop band Blur, one album with the Africa Express collective, two different Gorillaz albums, and now he's gotten back together with The Good, The Bad, & The Queen for that group's first full-length project in over a decade. Titled Merrie Land, the new full-length project is set to drop next month on November 16.
Today, the group decided to give their fans a peek into what they've been working on by sharing the title track from that project, along with a truly unsettling video featuring a full-sized ventriloquist dummy crooning the words to the song.
Produced by the legendary Tony Visconti, who is most well-known for his many years collaborating with David Bowie, Merrie Land is a work that reflects the present attitude within Great Britain as it prepares to bid adieu to the large European Union.
The Good, The Bad & The Queen's latest album Merrie Land is set to drop on November 16 via Studio 13 and is available for pre-order here. Check out the title track above, and the album artwork and tracklist below.
1. "Gun to the Head"
2. "Nineteen Seventeen"
3. "The Great Fire"
4. "Lady Boston"
5. "Drifters & Trawlers"
6. "The Truce of Twilight"
7. "Ribbons"
8. "The Last Man to Leave"
9. "The Poison Tree"