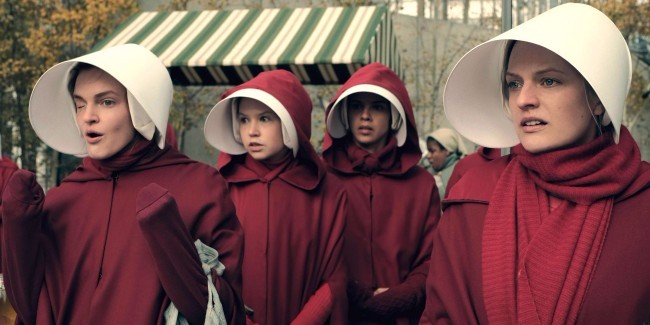 A few months ago while being interviewed for the Boston Review, Margaret Atwood teased the idea of having fellow Canadian visionary Drake appear on the critically acclaimed The Handmaid's Tale — an adapted version of her dystopian novel of the same name. Her reasoning was simple: Drake is an iconic Canadian from Toronto, she is from Toronto, and the show itself is filmed in Toronto. It's kismet.
I haven't met Drake, but I have of course met people who have met Drake. But you have to realize how old I am. I'm not likely to go to the same parties. Or many parties at all, to be frank.. Wouldn't it be fun for him to have a cameo in season two of The Handmaid's Tale? There you have it. I'll drop that notion into the ear of Bruce Miller, the showrunner, and see what he can do with that, because of course the show is filmed in Toronto. Maybe Drake could help smuggle someone?
This seed of an idea eventually blossomed to the point where now — months later — stars of the show are publicly pitching their own ideas for how Drake could fit in to the show and who exactly he could play. At last Sunday's Paley Fest in Los Angeles star Samira Wiley was the first to comment to Vulture on the idea.
"Who would he play? Maybe Offred's third baby daddy… They would [make cute babies]!" But co-star O.T. Fagbenle immediately shot down Wiley's suggestion. "She has to watch her mouth, I'll tell you that right now… that's not happening. My wife has been shared enough, thank you very much." He then pitched his own concept: "He's gonna play my brother, what are you talking about?! Isn't that obvious? Luke's brother, the singer, comes into Toronto. I mean, it writes itself."
Meanwhile, star Madeline Brewer suggests Drake as one of the bad guys. Perhaps someone who partakes in an illicit romance with her character.
"I think Drake could be an Eye or a Commander or something. I'd be into that.. I mean, Janine's always trying to run away with somebody, why not Drake? Why not?!" As of now there has been no official word from newly out as vegetarian Drake, or showrunner Bruce Miller, on whether Drake will actually appear — but that can't stop fans, creators, and the cast themselves from dreaming up their own slash fiction crossovers.