Archie comics have been around forever, and in the minds of many, they are probably viewed as being pretty staid. Those people are wrong. Afterlife with Archie is about a zombie apocalypse. One time, Archie met The Punisher, in one of the most delightful comic book crossovers ever. Next year, Archie, Jughead, Betty, Veronica, and the rest will all be meeting up with some pop cultural icons less violent than Frank Castle. The Ramones will be stopping by Riverdale in 2016's Archie Meets Ramones.
Now, while Archie may still be going strong, the Ramones aren't exactly contemporary, as all four original Ramones are dead. However, they are still one of the most iconic punk bands of all-time and a beloved group harkening to a bygone era, much like Archie and crew. Talking with Comics Alliance, co-writer Matthew Rosenberg said:
"It might seem strange to some people to combine these things, but there's really no divide for me… Archie is what got me into comics, the Ramones are what got me into punk rock, and those two things have always been connected for me. The Ramones are my punk rock heroes, they're really very comic booky, and Archie has a long history of being connected to music, and being willing to try new things and do cool new stuff, so to me, this makes perfect sense."
That cover art alone makes this project worthwhile. Watch out, Josie and the Pussycats. There's a new band in town.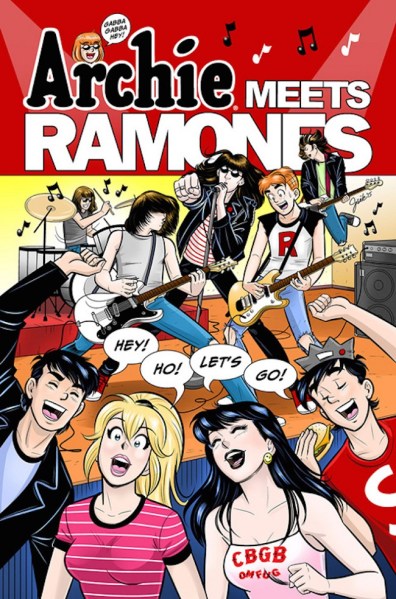 (Via Pitchfork)