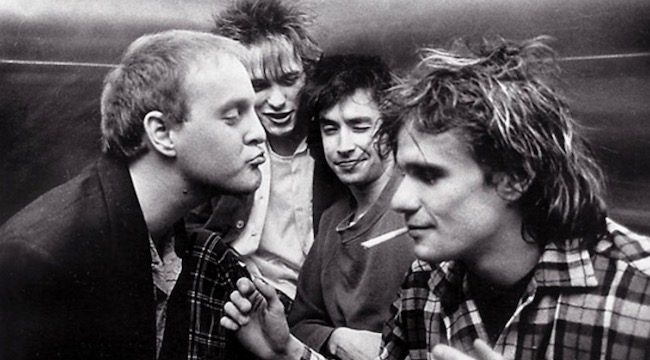 After spending more than 30 years sitting in a vault, Minnesota punk rock legends The Replacements have announced plans to official release a live recording from a concert they performed at Maxwell's in Hoboken, NJ in February, 1986. Titled For Sale: Live At Maxwell's 1986, the new album was put together using tapes made by a 24-track mobile recording studio that was on hand to document the band at the glorious, chaotic peak of their career. You can listen to a rendition of one of the band's standout singles "Can't Hardly Wait" below.
For Sale: Live At Maxwell's 1986 joins an earlier recording, The Sh*t Hits The Fans that was released in 1985, as the only official live document that the Replacements have ever released. The new record finds the band at their bombastic best, careening between explosive takes on their own material, songs like "Unsatisfied," "Favorite Thing," and "Bastards of Young," with explosive covers of Kiss' "Black Diamond" and the Beatles' "Nowhere Man." This performance in New Jersey marks one of the last shows ever performed by the classic lineup of the group. Guitarist Bon Stinson departed the band not too long after this gig.
As the band's biographer Bob Mehr writes in the liner notes, "More than thirty years after the original concert, Replacements For Sale finally offers high-fidelity proof of the peculiar alchemy and unadulterated majesty of one of rock and roll's greatest bands."
For Sale: Live At Maxwell's 1986 is set to debut in just a few months on October 6, on Rhino. Check out the full track list below.
Disc One
1. "Hayday"
2. "Color Me Impressed"
3. "Dose Of Thunder"
4. "Fox On The Run"
5. "Hold My Life"
6. "I Will Dare"
7. "Favorite Thing"
8. "Unsatisfied"
9. "Can't Hardly Wait"
10. "Tommy Gets His Tonsils Out"
11. "Takin' A Ride"
12. "Bastards Of Young"
13. "Kiss Me On The Bus"
14. "Black Diamond"
Disc Two
1. "Johnny's Gonna Die"
2. "Otto"
3. "I'm In Trouble"
4. "Left Of The Dial"
5. "God Damn Job"
6. "Answering Machine"
7. "Waitress In The Sky"
8. "Take Me Down To The Hospital"
9. "Gary's Got A Boner"
10. "If Only You Were Lonely"
11. "Baby Strange"
12. "Hitchin' A Ride"
13. "Nowhere Man"
14. "Go"
15. "F*ck School"