If you found yourself in downtown Austin on Saturday night for the penultimate evening of South By Southwest, and weren't one of the hundreds of people wrapped around the block trying to get into 800 Congress Avenue, you truly messed up. It was in those intimate confines that the legendary Roots crew hosted their second annual Bud Light Jam Session, and turned in a set that people will no doubt be talking about for years to come.
The showcase was billed enticingly as The Roots And Friends, and the crowd just knew the Philly legends would bust out some surprises, but no one could have expected the sheer level of star power that hit the stage across the nearly four-hour long set. From up-and-comers to honest to God legends, everyone was well-represented.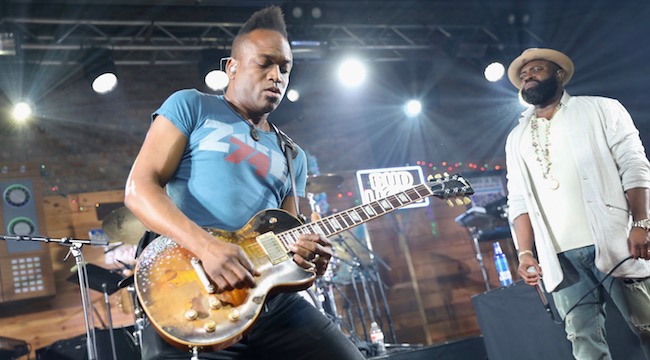 The theme of the night was friendship, and it's one the band took to heart…kind of. "It's like the Olive Garden in this b*tch," Black Thought said at the opening of the show. "When you're here, you're family." Earlier backstage, while Questlove was running rehearsals with the rest of the band, smacking his snare with one hand, while drinking a cup of coffee with another, Black Thought expounded on what it meant for the group to play SXSW.
"It's always a really tangible energy out here," he said. "I mean, Austin is already a great place for music, but it's something different when South By Southwest kind of descends upon the city." He added, "The Roots we're a band of brothers, first and foremost. We go on stage, we are friends and family. We tend to collaborate only with people that we have some, sort of deeper connection with, it's always something beyond what's trending."
If they were shooting to go beyond what was trending, then they missed the mark with their first guest. After a short delay, Rae Sremmurd hit the stage, fresh off a flight from Las Vegas, with a plane ready to whisk them off to South Padre Island as soon as they were done. Despite the lingering effects travel fatigue — Swae Lee was literally in Uganda just a few days earlier — the duo got the crowd turnt, running through a four-song set including their latest single "Swang," along with their biggest hit to-date, "Black Beatles."
Once the brothers Sremmurd departed, the Roots tore into some of their own material before inviting CyHi The Prince up for "Nu Africa," followed by Jidenna who ran through three songs of his own, including "Classic Man." He was followed by Shakey Graves and then incredibly, De La Soul. It only got better from there.
Around 11:30, Black Thought called up T.I., who exploded onto the stage with a hoodie pulled low over his head and tore into "What You Know About It." It seemed like everyone in the room knew every word and relished rapping it back at nearly twice the volume. A little while before Tip went on, and after making the grave mistake of referring to him as "one of" the inventors of Trap – "THE inventor," he sternly corrected — he told me what it's like to share the stage with the Roots.
"It's a different energy," he explained. "It's cleaner. You know, music from a DJ provides an energy, but you got people actually moving and generating motion and sound. It provides a different energy to the stage." He also gave an update on his next album The Dime Trap which may or may not feature production from Dr. Dre, Swiss Beatz, Just Blaze, London on da Track, and Anderson .Paak. "It's coming," he promised.
After T.I., the Roots conjured up an even bigger surprise by introducing Brandy. The audience was stunned as the R&B singer walked out and took hold of a microphone. She admitted to being a little bit nervous, but about thirty seconds into "What About Us," her nerves were vanished. She was all smiles and swagger while regaling the room with classics like "The Boy Is Mine," and "I Wanna Be Down."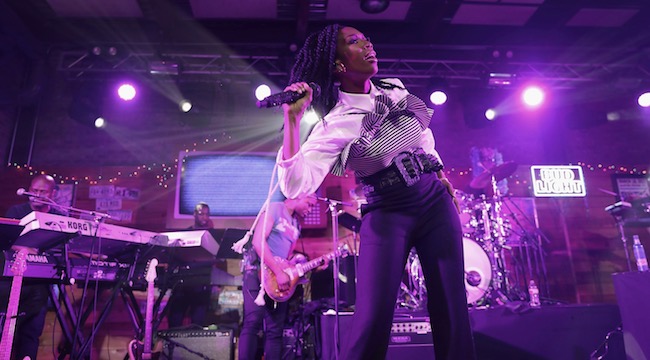 Near the end of the night, as everyone expected, or maybe just hoped they would, The Roots busted out a cover "Johnny B. Goode," as a tribute to Chuck Berry who had died earlier that day. This was no staid affair either. They played it loud and nasty, just like Chuck himself would've wanted. Near the end, Captain Kirk was down on his knees, ripping off high velocity licks, his body bent all the way back toward his feet. Hail! Hail! Rock n' Roll!
For the big finale, Method Man and Redman made their way out and gave maybe the best pure performance of the night. The duo were all energy, rapping with abandon, jumping up and down, splashing the front row with bottles of water. The joy was palpable, and the love they got back from the grateful audience was very real. By the way, you haven't heard "Method Man" or "Rockwilder" until you've heard it backed by live drums. "It's always a great f**king energy to be onstage with The Roots," Redman said after the gig. "I just wanted to give a good performance."
The Roots and Friends Bud Light Jam Session this year was nothing short of a triumph, but if you think that Philly's finest are about to rest on their laurels, think again. "We're already thinking about the third one," Black Thought said.