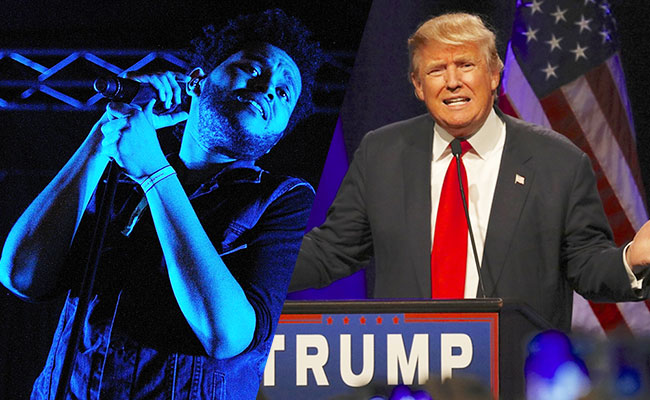 Republican presidential hopeful Donald Trump has ruffled more than a few feathers over the span of his campaign thus far, some even claiming that he's lost the support of the party that he's running in with his broad, sweeping condemnation of scores of Americans. His rallies have protesters making scenes at them, while his own supporters go out of their way to make themselves look bad.  Needless to say, the Donald can be quite divisive.
How divisive can he be? Performers don't want to be on the same stage as the Republican candidate. Stereogum reports that The Weeknd and rapper Belly were set to perform on Jimmy Kimmel Live! tonight until the news that they'd be sharing the stage with Trump made them reconsider performing, ultimately pulling out of the show. Rapper Belly commented on the decision not to perform on the show, citing Trump being Trump as the main reason, really.
"I create songs people go to sleep and wake up to, songs that they fall in love to. For me, being Muslim and being somebody that appreciates my access here in America, I love the fact that I'm able to be here. To play my part in this business is a privilege and a beautiful thing. The fact that I could lose that ability through the actions of someone such as Donald Trump isn't right to me. At all."
Jimmy Kimmel Live! was able to find a replacement in Greg Porter. For musicians to refuse a publicity appearance that could have garnered them some solid press on national television, you know that they are serious. Then again, a power play like this might have generated more buzz for the two.
(Via Sterogum)