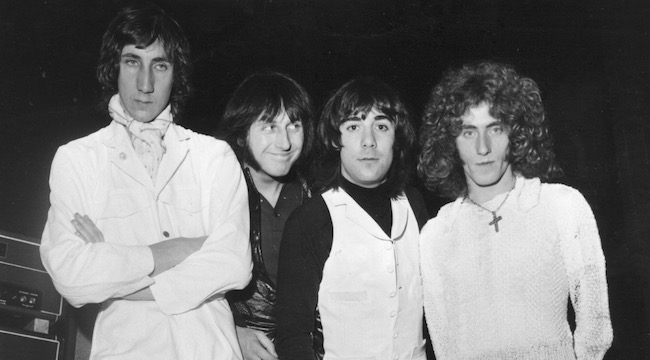 One of The Who's more well-known, and oft-bootlegged concerts is finally set to receive an official release. On April 20th, the British rockers will unveil a brand new live recording of their show at Bill Graham's legendary New York City venue the Fillmore East from the Spring of 1968.
The gig that night was mostly comprised of song's from the Who's two most recent albums The Who Sell Out and A Quick One, and includes three tremendous covers by rockabilly singer Eddie Cochran, "Summertime Blues," "C'mon Everybody" and "My Way." The centerpiece of the show however, is a 33-minute rendition of the band's classic single "My Generation," that ended with a furious smashing of guitars and drums.
Though The Who performed over two nights, April 5th and 6th, at the Fillmore East that year — the first rock band to play the place after Graham changed the name from the Village Vanguard — the new album is comprised of the second evening's performance. The band's manager Kit Lambert had the show recorded in hopes of releasing a live record at some point down the line, but due to some technical snafu, he failed to capture the first evening's performance and quietly abandoned his plans.
You can check out the full Live At The Fillmore East 1968 set list below.

1. "Summertime Blues"
2. "Fortune Teller"
3. "Tattoo"
4. "Little Billy"
5. "I Can't Explain"
6. "Happy Jack"
7. "Relax"
8. "I'm A Boy"
9. "A Quick One"
10. "My Way"
11. "C'mon Everybody"
12. "Shakin' All Over"
13. "Boris The Spider"
14. "My Generation"