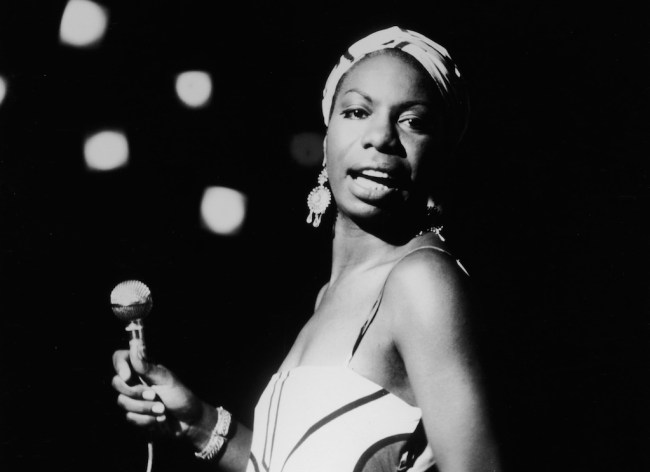 Earlier this week, Joan Jett of the Blackhearts told Billboard that "there should be more women in the Hall of Fame, and more women in rock." Considering only "roughly 8.5 percent of the total number of inductees" are female, it's hard to argue with Jett, who's about to make that percentage slightly higher when she's inducted into the Hall. Let me rephrase that, actually. You shouldn't argue with Jett because she'll probably kick your ass.
It's not as if there aren't any worthy choices. Here are five female-led bands or artists who belong in the Rock Hall. (In case you're wondering: the likes of Sleater-Kinney, PJ Harvey, Tori Amos, Fiona Apple, and Bikini Kill aren't eligible for induction yet. But don't worry, the Hall will pay more attention to Right Said Fred than Kathleen Hanna next year.)
1. Nina Simone
Nina Simone's sultry, husky voice, which was somehow both powerful and vulnerable, is one of the greatest in pop music history, and she's not in the Hall? She fits every criteria — culturally important (she's still very relevant), stunningly prolific, and she even has a cool nickname, the High Priestess of Soul — except the only one that matters, apparently: not being a dude.
2. The Slits
The Rock and Roll Hall of Fame loves Kurt Cobain, right? So, why not listen to Kurt, and induct one of his favorite bands ever, the Slits. The lineup for the British dub-punk band dramatically changed over the years, but their powerful debut album, Cut, didn't come from any "typical girls." It was pioneering then, and remains influential to this day.
3. Sonic Youth
Technically, Sonic Youth is dominated by dudes. But without Kim Gordon's impossibly cool, f*ck-off voice and underrated bass playing, they probably wouldn't have been able to separate themselves from the dozens of others experimental rock groups to come out of New York in the 1980s. Sonic Youth "doesn't sound half-bad," and Kim's a big reason why.
4. Kate Bush
There's an entire website dedicated to musicians and athletes who aren't in their respective halls of fame. Here's what the aptly-titled Not In Hall of Fame has to say about Kate Bush: "She was an unlikely superstar whose literary references and broad themes seemed even more unique considering the young age in which she created them." Bush, who's been tagged with the "recluse" label, has only released three albums since 1994. That, coupled with her being more successful in the UK than in the States, means she won't make it, but deserves a nod.
5. Siouxsie and the Banshees
Siouxsie and the Banshees have little to no chance of making the Hall. They're far too weird, too outsider-art, too unique to appeal to the same governing body that still listens to Donovan in the 21st century. Siouxsie Sioux has an unmistakable presence, but I think she's okay with bypassing adulation in Cleveland in favor of influencing generations of punks and goths to come.