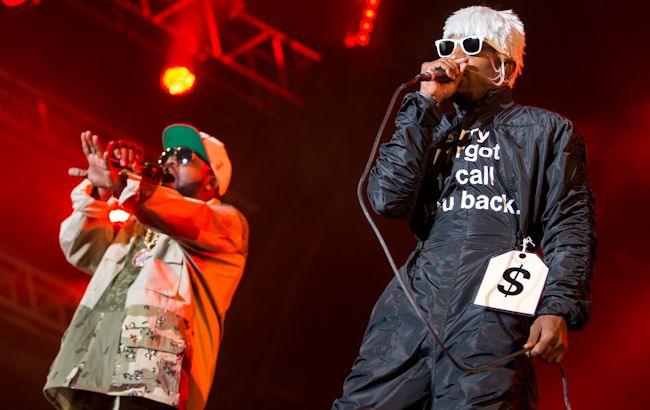 Sometimes, a band's final album will go down as their masterpiece. Abbey Road was the last album The Beatles recorded (although Let It Be was released later), and many consider it to be their finest effort. Likewise, some swan songs are best forgotten, like the two albums The Doors made without Jim Morrison, or The Velvet Underground's Lou Reed-less Squeeze. But what about final albums that rank among the band's best work, but aren't respected as such? These final albums that deserve a lot more love than they currently get.
The Replacements – All Shook Down
The case against this album? It's not really a Replacements album, but actually a Paul Westerberg solo album. The case for it? It's a really, really good Westerberg solo album. Indeed, All Shook Down was originally intended to be Westerberg's solo debut, and Tommy Stinson, Slim Dunlap, and Chris Mars only play on a few tracks each. But regardless of where you place it in the 'Mats' canon, it's a fantastic record. "Merry Go Round" is one of the catchiest songs Westerberg ever wrote, and it was a well-deserved No. 1 on Billboard's Alternative Rock charts. Elsewhere, "One Wink A Time" is one of many Westerberg compositions that should have been enormous hits. Even if this is only a Replacements album in the nominal sense, it was still a great way to go out.
Led Zeppelin – In Through The Out Door
This album, along with Presence and the B-sides compilation Coda, was recently re-issued, completing the series of Zeppelin re-issues that began last year. Now that we can get re-acquainted with ITTOD, it reveals itself as one of the more fascinating efforts in the Zeppelin catalog. The band was quite willing to experiment, which meant that it wasn't as Zeppelin-y as fans of, say, Led Zeppelin II, might have hoped, but it also features some of the band's most rewarding tracks. "All My Love" is one of the more enduring radio hits from this album, and if the idea of Zeppelin using synths doesn't horrify you, it's actually a lovely ballad. Elsewhere, "Fool In The Rain" rides one of the best riffs Jimmy Page ever wrote throughout its 6-minute runtime, save for a brief salsa breakdown in the middle. Fans were a bit shocked when Spin ranked it as the fifth best Zeppelin song ever, but I'll go on the record as saying that ranking is perfectly fine, and may even be too low. This album might not fit everyone's platonic ideal of what a Zeppelin album should be, but it's an enthralling listen nonetheless.
Pixies – Trompe Le Monde
Okay, I know the Pixies released another album (2014's Indie Cindy), but hear me out:
A. There's a 23-year gap between Trompe Le Monde and Indie Cindy, which means that for over two decades, we viewed the former as though it was the last Pixies album.
B. Indie Cindy comprises tracks from three EPs the band released in late 2013/early 2014, so isn't it technically a compilation?
C. Is a Pixies album without Kim Deal really a Pixies album? I think not.
So, there's my case for still considering Trompe Le Monde to be the Pixies' swan song. Now, onto why it's such a great record. First of all, their brilliant, sugar-rush take on "Head On" easily outpaces The Jesus And Mary Chain's original. Secondly, there's some surprisingly ambitious songwriting here. "Bird Dream Of The Olympus Mons" and "Motorway To Roswell" rank among the most beautiful songs Black Francis has ever written. This album was never as beloved as Surfer Rosa or Doolittle, but it could match either one in terms of undeniable classics.
Talking Heads – Naked
The mere presence of "(Nothing But) Flowers" makes this album worth talking about. It's one of the best songs the Heads ever wrote, with a fascinating lyrical theme in which environmentalism and consumerism are both mocked, as David Byrne sings of a dystopian future where all the Pizza Huts, Dairy Queens and 7/11s have been torn down and the landscape is covered with daisies. While that's easily the standout track here, there's plenty of other worthwhile moments. "Blind" is fun little rave-up that gets better the longer you listen to it, while "The Democratic Circus" is another intriguing bit of political satire. Naked is widely considered to be the worst Talking Heads album, but it's an underrated, surprisingly experimental effort that makes you wonder what the band might have done if they'd stayed together.
Outkast – Idlewild
The lack of love for Idlewild seems to be the product of exceedingly high expectations. It came on the heels of Stankonia and Speakerboxx/The Love Below, so anything less than an absolute masterpiece would be looked at as a disappointment. Idlewild wasn't the instant classic we might have hoped for, but that doesn't mean it's not an intriguing record. First off, the marching band-infected "Morris Brown" is a way better single than you probably remember, while "Idlewild Blue (Don'Chu Worry 'Bout Me)" is a jubilant singalong that might have made more of an impact had it appeared on an earlier album. What really makes this record worth your time, though, is the sense of wonder and experimentation that made Outkast so beloved. "Chronomentrophobia" and "Makes No Sense At All" feature Andre 3000 at his joyfully weird best. Call this album a noble failure, or an overlooked success, but either way, it certainly shouldn't be ignored.