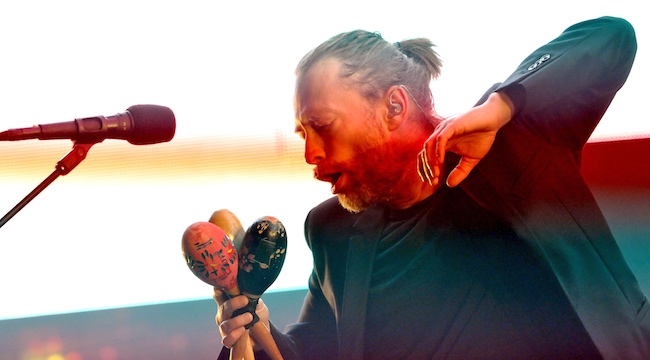 It doesn't seem likely that Thom Yorke will be performing at Spotify's next corporate event: Back in 2013, the Radiohead frontman referred to the streaming service as "the last desperate fart of a dying corpse." This came a few months after he and Nigel Godrich pulled their supergroup Atoms For Peace's music from the platform, and Godrich wrote at the time, "The reason is that new artists get paid f-ck all with this model. It's an equation that just doesn't work."
It seems that perhaps the tide has shifted, however, because now, Atoms For Peace's 2013 album AMOK has found its way onto Spotify, along with Yorke's two solo albums, 2006's The Eraser and 2014's Tomorrow's Modern Boxes. This is all in time for a new run of Thom Yorke solo tour dates, set to start next week.
It's doubtful that Yorke's albums hitting Spotify are part of any sort of Rock And Roll Hall Of Fame campaigning, because it seems like the band really couldn't care any less about the whole thing. They are somewhat optimistic about the latest developments in the investigation of their stage collapse in 2012, though: A new investigation has been opened, and the band responded, "While this is welcomed, it does not bring those responsible for Scott's death to account, and it provides no justice for Scott and his family."
Listen to the newly streaming albums below.