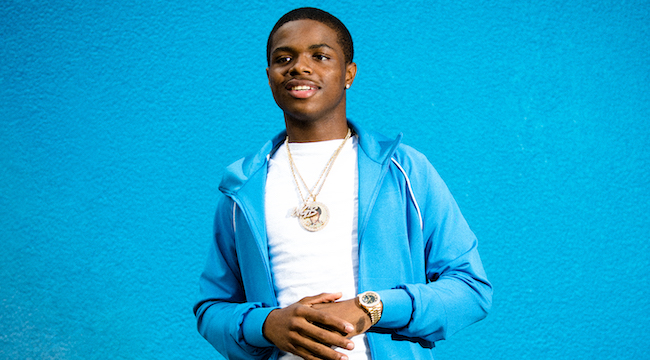 In this era where the line between mixtapes and albums has grown hazy to the point of nonexistence, calling a project your debut album still holds significant weight for a new, emerging artist. The pressure that fans, labels, and even the artists themselves can put on the success of a debut album can make or break a career. First impressions still matter, even when a follow-up might be only six months away — especially considering the near-non stop flow of new music that can leave an undistinguished project lost in the lurch.
TJ Porter doesn't seem bothered by any of that, though. With his debut album, Voice Of The Trenches, releasing soon via Def Jam Recordings, the 19-year-old Harlem rapper comes across more cocksure than anxious, more excited than worried, and more hungry than he ever will unsure. Porter is one of Def Jam's new prized artists, fresh off his appearance on the Undisputed compilation and its accompanying, vaunted "rap camp" recording sessions in LA, where I first encountered the upstart rapper in a crowded room at the studio after he wrapped up laying vocals.
The compilation was well-received, introducing the world to such emerging talents as Porter and his new labelmates Bernard Jabs, Nimic Revenue, and YK Osiris. But the show must go on and now it's time for TJ to distinguish himself from the wave after wave of rap acts bubbling up from the shadowy corners of Soundcloud and Spotify. He hopes to do just that with Voice Of The Trenches, an album that does its best to bridge generations between the melodic impulses of youth, and the grittier direction of the classic hip-hop that dropped when Porter himself was still just a baby — and even earlier than that.
During a phone interview to discuss the new project, TJ drops references to The Notorious B.I.G.'s "Ten Crack Commandments" and an old-school work ethic that emphasizes having fun doing the work. "The thing I love about recording is I get to let my emotions out," he says. He has plenty to speak on; one of the largest motivating factors for his move into rap from basketball — he was on the track to becoming a highly touted college player, profiled in Slam magazine and he loves boasting of his on-court duels with other well-known New York players — was the death of his close friend, Juwan Tavarez, to gun violence.
Taverez's death, combined with an ankle injury that sidelined TJ from his typical hoops activities, prompted him to "lock in" on music. Voice Of The Trenches is the end result of a year of recording, building his resume with standout tracks like "Tricky" and "Glowin' Up," which showcase a flow and style comparable to another New York standout: A Boogie Wit Da Hoodie. Like A Boogie, TJ is more than capable of flexing an early-00s-era sing-song flow full of wit and wordplay, but prefers to eschew a bar-heavy approach in favor of autotuned melodies.
That doesn't mean he can't spit, though. On the project's lead single, "Harlem," he goes for broke representing his hometown, his cadence a canny balance between the suaveness of his Uptown countrymen Big L, Cam'ron, and Mase and a slightly more aggressive posture reminiscent of one of his other biggest inspirations: 50 Cent. Another track, "Do U Care?" showcases his gift for singalong-ready tunes, as he swaps the aggression for a more soft-spoken vulnerability, crooning to a lost crush. "Do U Care?" demonstrates TJ is just as gifted at penning relatable, mainstream-friendly tracks sure to wind up on the Bluetooth speakers of sensitive, heartbroken teens — one of the most powerful demographics in pushing a new artist to stardom.
Of course, in hip-hop, appealing to one often means losing the respect of the other. The internet is rife with comments sections full of surly rap fans who want more assertive, stereotypically masculine fare. When I ask TJ if he feels any pressure to perform for those types of fans, he shrugs off the potential pressure, saying: "I just do my music." He says he'd rather focus on the process of crafting the best project, writing two or three songs about a given topic, then choosing from among them for the best fit. One of those songs sure to catch the ears of rap purists is "Eight Laws," his own, post-millennial take on Biggie's "Ten Crack Commandments."
That TJ is able to walk both sides of the line so confidently is evidence of a surefire star in the making. Voice Of The Trenches introduces rap fans to an artist that is far more polished than his years suggest, who is firmly rooted in now seemingly ancient rap traditions even as he translates them for a modern audience accustomed to friendlier faces. That versatility, along with his work ethic and unwavering, cocksure swagger ensure that TJ Porter's first impression will be an impressive one, the first step toward a long-lasting career as one of rap's premier young talents.
Voice Of The Trenches is out soon via Def Jam Recordings. Look for it here.