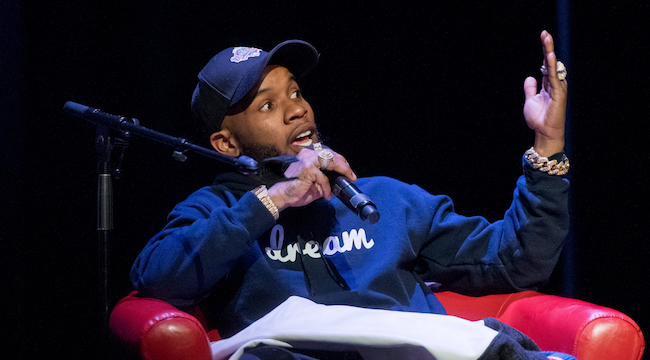 After a week of complaining about rappers and singers stealing his style, Tory Lanez may have some explaining to do after being accused of stealing the beat for "Hate To Say" from his recently released album, Memories Don't Die.
In a super viral tweet dated March 6, the producer or a friend going by @LarsTheLegend_ posted a video taken from Snapchat of a producer named Andy Ortiz, aka Young Andy playing a beat from his phone to his car's speakers and loudly proclaiming that the beat in question was made when he was 17 years old. He holds up his phone screen to show the date on an email he had apparently sent to himself containing the finished product. He then plays "Hate To Say" and the same sample definitely plays.
While sampling is a staple of hip-hop production and the same sample can often be used by two different producers, it's very rare that the exact same portion of the sampled song is flipped (cut, manipulated) in such a similar way. To the untrained ear, Young Andy's beat can sound remarkably similar to Tory's production on "Hate To Say," which is credited to Christian Lou, Bobby Made The Beat, and Play Picasso.
Tory himself had previously taken to his Instagram story to address accusations that he was sneaking lyrics from less exposed rappers on the low, emphatically denying the charges. "If I'm gonna take something, I'm not gonna take something off some sly sh*t," he insists. "I won't steal some sly sh*t that is on some n—-s mixtape or a song. I'm not gonna do that. I care about my music too much, in general."
However, his insistence on dropping this defense before anyone actually accused him of anything is… suspicious, to say the least. It's not enough to say whether or not the accusations are true, but it does ring a bit of The Telltale Heart. He does have a bit of a defense in form of this Reddit post from a user who claims that he originally rapped to the Bobby Made The Beat track in 2015, but didn't have the funds to pay for the beat up front.
Meanwhile, the track in question has already been compared to Drake's "Pound Cake" from Nothing Was The Same in its approach (along with a sizable portion of Tory's catalog already sounding a lot like his fellow Toronto rapper), so Tory was already skating on pretty thin ice there. He has yet to address the latest accusations.