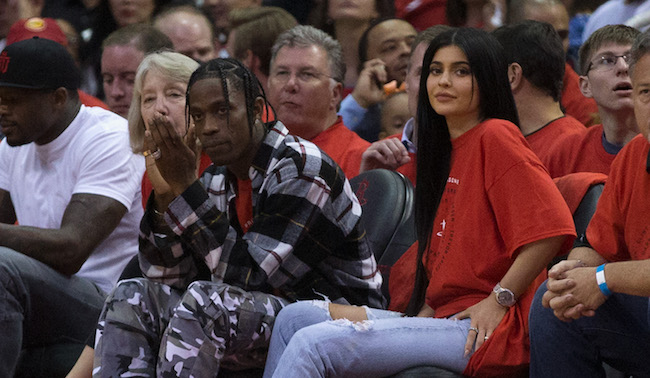 Apparently, Travis Scott and Kylie Jenner have went from secretly dating, to more overtly dating to the $60,000 birthday gift phase because Travis went all out for his rumored girlfriend's 20th birthday this week. According to TMZ, Travis dropped a cool 60 grand on a sparkling necklace for Kylie, which includes a large butterfly pendant and several more butterflies along the links of the chain.
The butterfly is clearly a symbol that has some sort of significance for the couple as they got matching butterfly tattoos recently, and Travis released a song called "Butterfly Effect" shortly after the couple were spotted together at a Rockets game earlier this year.
As for the necklace and pendant, TMZ says it features 28 karats of VVS diamonds, and the jeweler who made the piece Elliot Avianne shared a photo of it on his Instagram for the world to see.
Travis was also rumored to have purchased a cake with a risqué message for Kylie as well, but she eventually confirmed it was her friend Jordyn Woods who bought the cake in a since-deleted tweet. Either way it seems that Kylie had quite the birthday, and whenever she's spotted out in public with her nice new necklace, we'll know it's just more butterfly symbolism from the new couple.