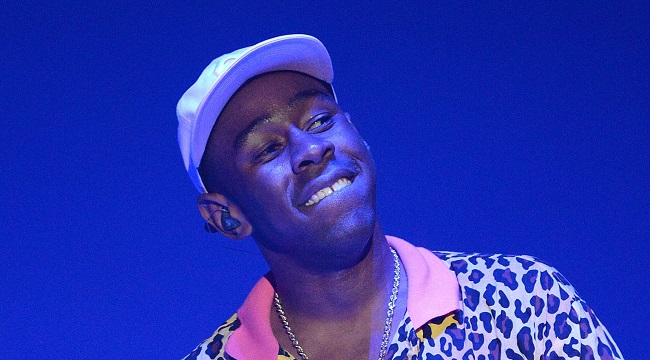 Tyler The Creator's fourth studio album is on the way. He dropped a countdown clock last week that many thought was a lead up to a new project of some sort, but it was just the video for his "Who Dat Boy" collaboration with A$AP Rocky. Today however, he saved his fans much suspense, simply announcing the so-Tyler titled Scum F*ck Flower Boy for July 21st.
Along with the release date, Tyler dropped the artwork for the project. Tyler created one, while Eric White designed the other.
One surrealist piece depicts Tyler amidst a field of sunflowers, with bees headed west. The other one emulates a cassette tape (remember those?) which showcases a two-sided tracklist. Who knows if there's a conceptual meaning behind the split tracklist, but we'll be excited to hear regardless.
Not only did Tyler recently drop "Who Dat Boy," a gag of a video which featured him cavorting around with a white man's face sewn on his skull, he offered "9/11/Mr. Lonely" featuring Frank Ocean. For what it's worth, the singles occupy different sides of the tracklist. Both tracks have their own specific appeal, and bode well for what the gifted Tyler may have in store for us in a few weeks.