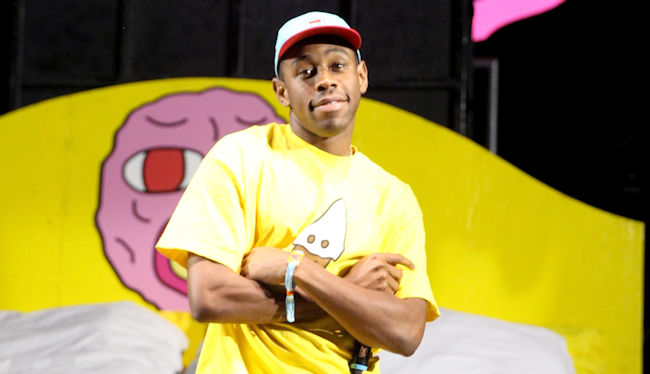 Frank Ocean has recently been making waves (pun intended) within the modern musical landscape with his recent release of both a new record, Blonde, a visual album in Endless, and the accompanying magazine Boys Don't Cry. All of these have caused quite the media frenzy with the latter with its rare (as of now) quantity, avant garde nature, and A-list driven contributions clearly piquing the most interest.
The 28-year-old Grammy winner turned publisher has employed the talents of his famous friends, garnering already iconic pieces of literature from mainstream celebrities. However, Kanye West's legendary poem about McDonald's isn't the only rhyming ballad made by an illustrious rapper in the zine.
Hip hop powerhouse Tyler, The Creator also contributed a poetic work to Boys Don't Cry entitled, "Tricolor". The short poem is a poignant piece highlighting the raw talent of the 25-year-old "Yonkers" artist.
Upon Ocean's album drop only a few days ago, Tyler, The Creator took to Twitter to thank his "big bro" for allowing him to be a part of it.
Check out his full contribution to Boys Don't Cry below and listen to Blonde here.
Tricolor
Los Angeles, California
Text by Tyler the Creator

the early chapters of my book included bus passes
now its tire traction off like fuck crashes, ask him how?
insurance higher than the lease bill, run flats when the feet peel
fish tail, the boy eats meals, tummy ache from my cheap thrills
granny hug the way the seat feel, on the left turn, leave the neck burned
from the frost bit links, size of an earth worm, wasted on last check earned
i'm, expecting this so it aint odd, two 5's on the paint job, lactose, wide body, fat ghost
grannys watch over me when i act slow, rev till i plateau
keys sorted on the hip, jeff gordon is his mind, life's forza on the strip
switch gears like i take breaths, wish i had 8
left 6 got skipped, went to 7th from the 5th
more advance than your average,
i like coupes, two shit
when my friends pull up, stops turn into a pageant
but until i get that enzo, its chapter uno
but i know what that bus pass turned into, its magic