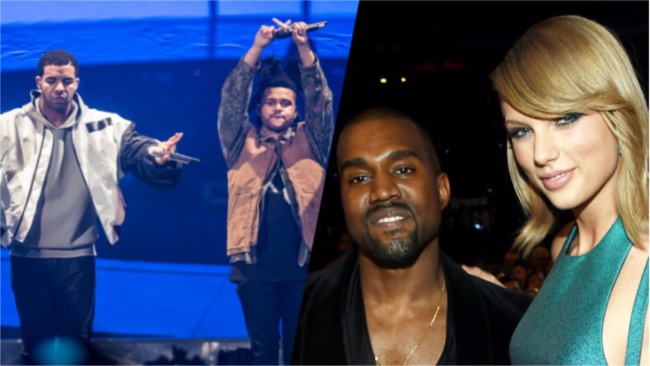 Streaming services like Apple Music, Spotify and Tidal have spent the past few years gradually gobbling up shares of the music market, essentially changing the way music is consumed and released, so much so that Billboard eventually changed their calculations for charting music sales. It's been an adjustment, and labels have stood by idly watching the climate change under their noses, but now Universal Music Group may be implementing a drastic policy and changing the entire process in one fell swoop.
According to High Snobiety, UMG sent out a company-wide email Monday essentially banning exclusive streaming rights for all of their releases going forward. The alleged ban comes on the first business day after one of UMG's artists, Frank Ocean, released two albums exclusively on Apple Music, the visual album Endless and the traditional album Blonde.
The move is a game changer as UMG is home to nearly 80 record labels including Interscope, Capitol, Def Jam, Motown, Priority, Republic and artist-ran subsidiaries like Kanye West's GOOD Music, Cash Money, Dr. Dre's Aftermath, Eminem's Shady, J. Cole's Dreamville and more. UMG is also home to all five of this year's Grammy nominees for Album of the Year — Kendrick Lamar, Taylor Swift, The Weeknd, Chris Stapleton and Alabama Shakes — as well as seven of 2015's 10 best-selling albums and 38.5 percent of the year's recorded music and 2016's biggest selling artist, Drake.
The ban would strip streaming services of some of the power they've obtained as the market has changed and streaming music has become more prevalent than actually purchasing music. The removal of exclusivity would increase the potential reach of any given album, but more importantly it should stop streaming services from acting as de-facto record labels and securing artists on their roster like Apple has done with Chance The Rapper or Tidal has with Beyoncé and Lil Wayne, allowing the artist to release music independently, sans label, at their leisure.
With a roster as large as UMG's, the move is sure to make a dent but may not become the industry standard just yet. Exclusive rights are never truly exclusive, and mostly serve to allow one streaming service to have the album and or songs from a particular artist first and works two-fold for the artist: first, by releasing the music digitally first it prevents leaks that are customary with physical product and second, it allows them an extra revenue stream as record sales continue to plummet. Securing a deal with Apple, for example, often lands that artist's music in playlists that are pushed by Apple, essentially giving the artist and their album a sales boost by placing the music onto consumers playlists even if they don't choose to listen to that artist themselves. This practice may have been the cause of Drake's astronomical sales of his album Views, and with all the special Frank Ocean playlists throughout the weekend it assuredly helped pad his sales of Blonde as well.
It's just a rumor for now, and practices within the company aren't certain to become public knowledge, but their next big release from the Universal group will be telling. But what would be more telling is if another music conglomerate follows suit, and that could be the death knell for streaming exclusivity entirety.