What actually decides the Song of the Summer isn't an exact science — it seems like a real mixture of things. It has to be a track you can't avoid no matter where you go, which also captures the vibe and mood of the season, and can somehow cross over to all different kinds of people. Predicting this alone, as you can imagine, can be tough, so it's much easier to put it in the hands of the people rather than dictating it from on high.
Another week passes and another round of brutal cuts in our hunt for the Song of the Summer. Now that the individual brackets are done, we are down to three familiar faces and one very deserving newcomer.
Both Chance The Rapper and Justin Timberlake are no strangers to feel-good summer anthems, and Fitz & the Tantrums have been making catchy earworms for years. Anderson .Paak is the newest of the bunch, but if his strong showing so far has been any indication, he could wind up stealing the whole thing. You know what to do at this point: Vote early and often. Voting for this round ends on Monday, July 11 at 9 a.m.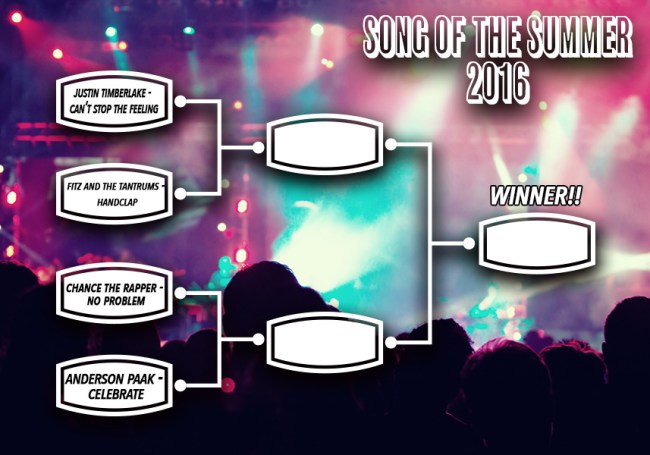 Justin Timberlake – "Can't Stop The Feeling"

You'll hear this song more this summer than any other song in the running. You'll hear it at your cousin's wedding, at the bar or club, at the gas station. It'll be playing where you buy new flip-flops, where you get coffee, where you get delicious fish tacos. Your neighbor will be listening to it during a cookout; the people next to you at the beach will be listening to it. And every time you hear it, you'll be totally okay with it, if not super okay with it because it's a near perfect pop song. Actually, it might be a perfect pop song. JT strikes again!
– Ryan O'Connell
Fitz & the Tantrums – "Handclap"

"Handclap" has all the makings of being a stealthy favorite for Song of the Summer. It's perfectly positioned to sneak up from the middle of the pack like a precocious Kentucky Derby colt and snatch the title from someone like Rihanna or Drake. For one, the beat on the song is almost exactly calibrated for skilled and dorky dancers alike to feel comfortably getting down to the rhythm without embarrassing themselves or others. It is also by Fitz and the Tantrums, a band that has already had enough radio success that "Handclap" can be on every summer playlist and radio rotation within earshot, yet it doesn't seem like a one-hit wonder situation.
Beyond the societal reasons for this song to be in Song of the Summer contention, there is also the simple fact that it is an incredibly catchy song which incorporates solid vocals, a catchy bridge, just the right amount of synth, and a groovy sax underneath it all. Plus, you can organically clap along while you dance. Which more than anything is a key ingredient for songs that wish to remain completely inescapable from June to September.
– Whitney McIntosh
WINNER: Fitz & The Tantrums – "Handclap"
Chance The Rapper – "No Problem"

Chance The Rapper is the best rapper who can adapt to rappers on their own turf. He Jay Elec-Hanukkahed all over "How Great" with prophetic sounding bars, and "No Problem" is Chance taking on 2 Chainz and Lil Wayne's specialty: crazy big party music. Chance building a banger out of his beloved choir snippets and ad-libs is noteworthy enough, but what makes "Problem" the SotS is the fact that Tity Boi and Wayne refused to be shown up. Weezy delivers one of the best verses we've heard from him in years and Chainz' dad jokes are in peak form. If you can listen to this contender without bouncing on your toes or laughing at the idea of dapping up God, then I don't want to know you.
– Alex Galbraith
Anderson .Paak – "Celebrate"

"Celebrate" is truly a song for any occasion. If there's any knock against Anderson .Paak's perfect track being Song of the Summer, it's that it doesn't sound disposable enough. Summer songs are typically of their time and don't have much life beyond that. This track from Malibu sounds like it's always existed, to the point that it almost feels like a cover song on first listen. It's just hard to believe that no one has captured the spot-on summertime theme of "You're doing well, I mean you're not dead/ so let's celebrate while we still can" on wax before now.
– Alex Galbraith
WINNER: Chance The Rapper – "No Problem"
Voting for this round ends on Monday, July 11 at 9 a.m.