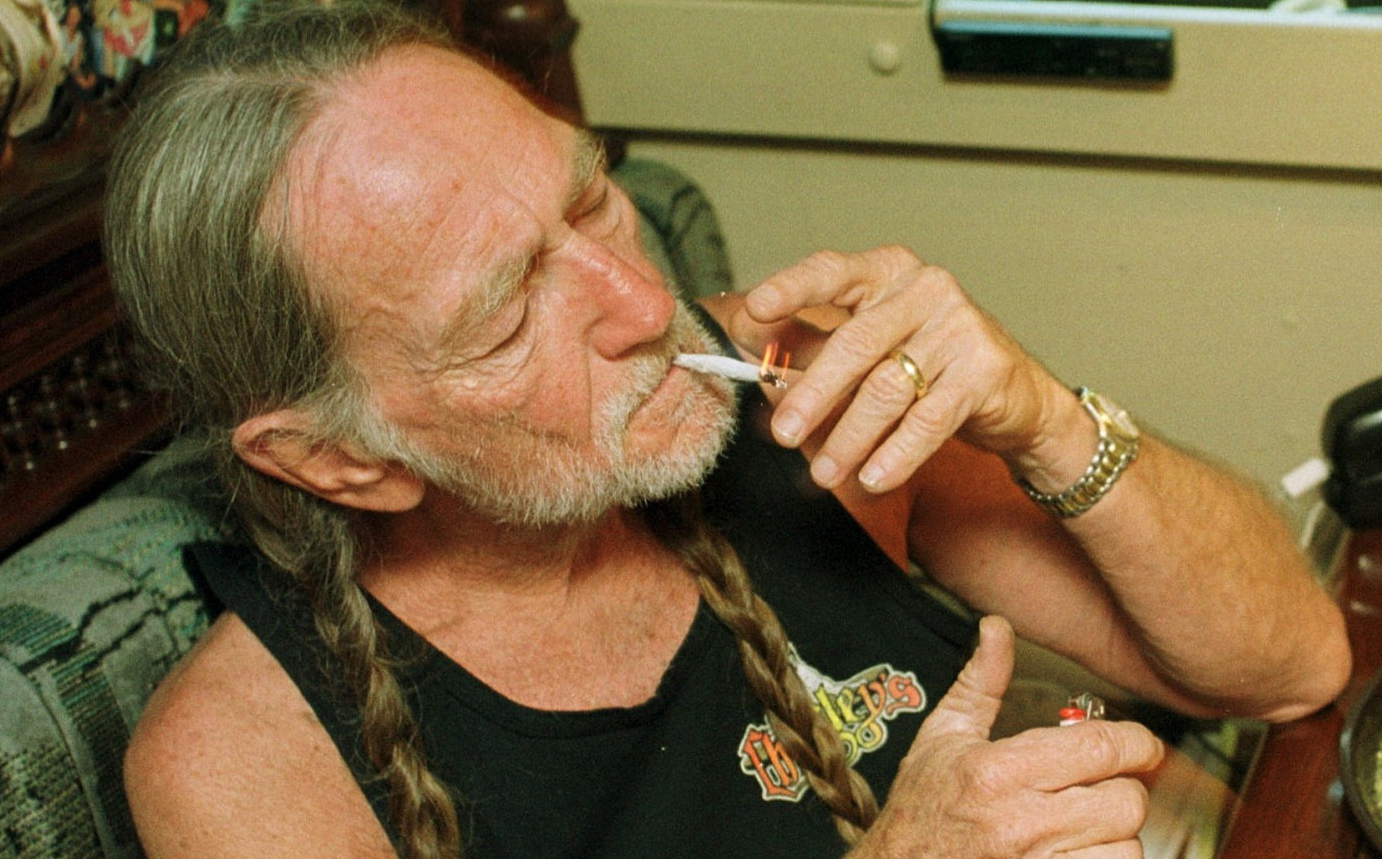 South by Southwest Festival (SXSW) headliner Willie Nelson is best known for two things; making and performing some of the country's most enduring music, and weed. Lots and lots of weed. Millions of fans annually flock to his performances to enjoy both, including other famous marijuana enthusiasts, occasional smokers, and first-time potheads.
After participating in the Dripping Springs Reunion of 1972, Nelson started his own Austin-based music festival the following year. Playfully called "Country Woodstock," Willie Nelson's Fourth of July Picnic quickly became a staple of the Texas music scene. It also provided a public platform for the musician's then-unorthodox stance on marijuana.
Nelson opts for vaporizers instead of joints these days, but this hasn't dampened his support of numerous state and nationwide legalization campaigns. Nor has it lessened how often he smokes, gets arrested, and who he smokes with. What follows are some great stories from musicians about getting high with Willie.
Snoop Dogg (or Snoop Lion?)
While promoting his collaborative album Heroes in 2012, Nelson talked to GQ about the recording process, a recent vacation he took to Amsterdam, and his good ol' pal Snoop Dogg, who went by the moniker "Snoop Lion" at the time. The two musicians joined each other in the Netherlands capital for some "coffee:"
GQ: Speaking of Snoop, I hear you shared some time together in Amsterdam.
Willie Nelson: Yah. I was in Amsterdam and I got a call from Snoop and he was, I think, in New York or somewhere and didn't have anything to do. So he just flew over and we hung out for a few days.
GQ: I assume you two frequented a few of Amsterdam's famous coffee shops?
Willie Nelson: We had a cup of coffee or two [laughs]. We got to be good buddies.
Both men told the same story on CNN, along with a little elaboration from Snoop in the above interview with Piers Morgan.
Dave Matthews
Rolling Stone garnered all sorts of extras for its September 2014 issue dedicated to Nelson. One of the funniest entries came from fellow singer-songwriter Dave Matthews, whose own live show closely models Willie's own (many audience members light up, and the stands better resemble the stars.) Of course, Matthews told stories about getting stoned with his friend:
I remember the first time that I met him, the band and I got on his bus and he started rolling joints and passing them around the bus. And at some point, I got this sort of warm dull hum in my head I think everybody was sharing. We'd been chattering, and I don't know how many joints had been going around the bus, but he raised his hand and said, "Is everybody high?" And then everyone laughed. It was a great moment.
An even greater moment came when Matthews gave his mother, a longtime fan of Nelson, a photo of Willie with the members of the Dave Matthews Band:
Every time I go to visit my mom, who is a huge Willie Nelson fan – as much for the person as for his music – there's a photograph that we took on the bus and he just looks as bright-eyed as ever, but the rest of us just look as if we are so fucking high. But my mom proudly displays this photo of me cross-eyed on Willie's bus.
Like any good parent, Matthews's mom overlooked her son's poor photographic preferences and kept the photo up. Then again, because she's such a Nelson fan, she probably forgot Dave was in the picture.

Toby Keith
Back in 2002, country music superstar Toby Keith released the album Unleashed. It featured prominent radio hits like "Courtesy of the Red, White and Blue" and "Who's Your Daddy?" Yet, the album's biggest contribution was "Beer for My Horses," a collaboration Keith did with Nelson.
Around the same time, Keith — who's not much of a smoker — partook in Nelson's preferred pre-show, during, and post-show activity while in Las Vegas:
I go over and see Willie, I get up and do a couple of songs with him, I get ready to leave, and he hollers back stage and says, "Stay after the show a little bit. I want to talk to you."

So I meet him out on his bus. Of course everybody knows Willie's a big weed guy. Willie's got some real chronic, medicinal stuff. I've never smoked much pot in my life. It's not my high.

We sit down and he rolls one up, just me and him. So when in Rome. We burned one, and I couldn't even function. It was the most hardcore weed I'd ever smoked, and I only hit it three or four times.
Keith had originally planned to party with Charles Barkley later that night, but Willie's weed knocked him out for the remainder of the evening. The following day, Keith thought to himself, "I'm never, ever smoking with Willie again."
The experience sparked a song idea, so Keith and his songwriting partner Scotty Emerick quickly wrote the lyrics and the music to accompany them. "Weed with Willie" was released as a bonus track on Keith's followup to Unleashed, Shock'n Y'all.
Robert Earl Keen
Another country musician shares a similar "Weed and Willie" experience, but his stems from the famous Fourth of July Picnic. Robert Earl Keen, a "Texas Country" singer-songwriter best known in and around his home state, used to frequent Willie's picnic in its early days. That's when living in the "Willie way" caused his car to be destroyed by a fire.
Keen has told this story before, but he recently shared it with the host and panelists of NPR's Wait Wait… Don't Tell Me:
SAGAL: As I was listening to your catalog, I came across this picture on your album cover "Picnic." And it's two cars and one of them, it seems, is on fire. And I found out that was not staged.

KEEN: No, no. I went to a Willie Nelson second picnic and my – I was there doing the Willie thing, you know, in the Willie way, as we all know. And I over did it and I took a nap in the afternoon. And I woke up to the emcees hollering out names and license plate numbers. And he said, "And the next winner is RHP997." And I said, "That's my car, man." And everybody around me who was, you know, they hardly any clothes on. They said, "Wow, that's awesome." And they were clapping. And so I ran out there and there was my car. It was burnt to a crisp.
How did getting high at Nelson's picnic lead to an obliterated car? Turns out, a fellow attendee (who was also "in the Willie way") took a nap in his own car with the engine on. When someone tapped on his window, he spooked and hit the gas. The sudden exhaust kick sent sparks all over the dry grass, which caught fire.
Despite the destruction, Keen was treated by the event staff to a brief meeting with the picnic's headliner:
Somebody from the festival came to me and said, "You know, the least we could do is let you meet Willie." So I said, "OK, that's cool." So I went and met Willie and he said, "Sorry about your car. I got to go jam with Leon Russell. I'll see you next time."
Keen has since befriended and performed with Nelson numerous times.