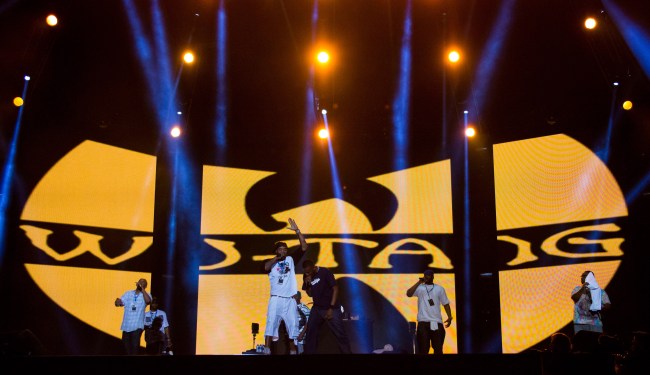 A handful of hip-hop collectives are untouchable when they're together. Some even have members that are constantly in the discussion of being the best MCs out there. But only one group is considered one of the best ever and includes multiple rappers that have been in the "best ever" discussion. Of course, I'm talking about the Wu-Tang Clan.
The group of New York rappers hit the scene in the early 1990s with gritty classics such as "C.R.E.A.M." and "Protect Ya Neck." After that initial success, members branched off to get their own many accolades with critically acclaimed solo albums, a handful of memorable acting credits and more.
Given that the Wu-Tang Clan first hit the scene back in 1993, it wouldn't be surprising if fans either didn't know much about the group or forgot some things. So, to serve as a crash course into all things Wu, here's a list of fascinating facts straight from the slums of Shaolin. (Shaolin = Staten Island. If you didn't know that, you're in the right place.)

The Masked Men of Wu

If keeping up with nine people on one album wasn't already hard enough, the cover art for Enter the Wu-Tang (36 Chambers) didn't help. If you check the cover of the debut album of the Wu-Tang Clan, you can clearly see that there are only six members present and they're all wearing masks. Photographer Daniel Hastings came up with the idea on the spot after Method Man, U-God, and Masta Killa missed the shoot for mysterious reasons.
The funny thing is, the whole idea was a callback to a concert that Hastings attended where the members covered their faces in stocking masks and ran another group off of the stage while chanting "WU-TANG CLAN AIN'T NOTHING TO F*CK WITH!"
Paid for Studio Time in Hard Cash
No matter how fast you work, you can't make a classic album without studio time; which costs money. It's actually one of the many things that makes it hard to have a successful rap career. But, according to Yoram Vazan, an engineer who used to work with the group, Wu literally rubbed some coins together and put together $300 to record "Protect Ya Neck."

Enter the Wu-Tang (36 Chambers) Was Almost a Flop
Okay, maybe the word "flop" is a bit strong. But for a platinum album, Enter the Wu-Tang didn't pick up steam for a couple years. To be fair, the world was still weary of rap music – especially gangsta rap – in the early 1990s. Wu-Tang Clan's album only peaked at number 41 on the Billboard 200, and it's highest charting singles were "C.R.E.A.M.," at 60 and "Method Man," at 69. Just think, if the album didn't reach the masses, hip-hop would be vastly different with the lack of Wu-Tang's influence.
Multiple Close Calls
It takes a lot of things to go right in order for a group such as Wu-Tang to be formed. If any of the nine original members were missing, there's a chance they wouldn't have gotten together and it wouldn't have been the same. Especially with an absence of RZA or Method Man. In his memoir, The Tao of Wu, RZA spoke about how Method Man was a few steps away from being a victim in a drive-by shooting before the group even formed. If that isn't bad enough, RZA himself was acquitted of an attempted murder charge in 1993 that would've given him eight years.

A lot of Aliases All Around