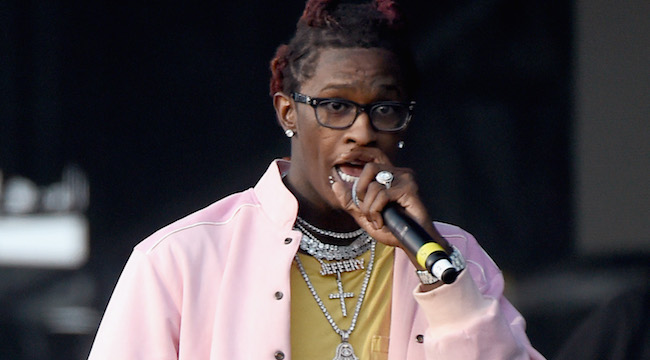 Atlanta trap rapper Young Thug was jailed today after failing a mandatory drug test. Reported by The Blast and confirmed by Pitchfork, Thug was booked on felony gun and drug charges stemming from an arrest over a year ago after taking the test at his arraignment for the September 2017 arrest.
At the time of that arrest, Thug was alleged to be found in possession of marijuana, methamphetamine, codeine (two counts), a firearm, alprazolam (aka Xanax), and hydrocodone with intent to distribute. He initially turned himself in this September 11 and was released on bond September 13. That bond has since been revoked, as one of the conditions was for him to remain clean until his arraignment.
It's a pretty bad time for the word-bending, genre-defying rapper to find himself on the wrong side of a cell door. He was in the middle of recording for his next album and promoting the Slime Language compilation for his YSL label, which includes standouts like Gunna, who has take Thug's formula and run with it all the way to a successful collaboration with fellow breakout star Lil Baby on Drip Harder. Thug was also campaigning to be included on Kanye West's upcoming album Yandhi. He might not get that chance now, but even worse, he's facing charges that could seriously derail his impending big year before he even gets a chance to get started.