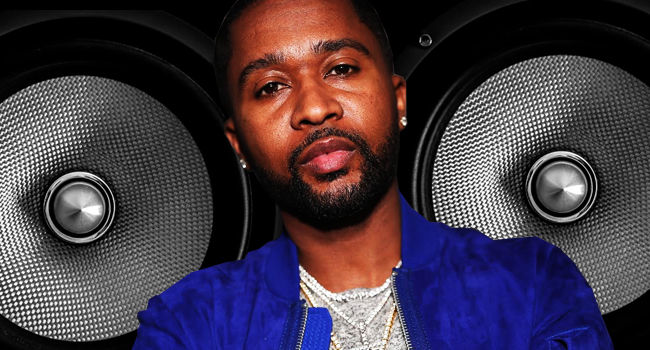 Trap rap may have originated in Atlanta, but its become as ubiquitous a sound as any in hip-hop, taking over radio stations from coast to coast at the behest of some of the South's most recognizable rappers: Gucci Mane, 2 Chainz, Migos, Young Thug, and Future, among others. At the forefront of the unstoppable tidal wave of rumbling bass and crackling snare rolls is Zaytoven, whose piano-filled productions have soundtracked the biggest hits that made trap rap so pervasive in America's headphones.
From Migos' "Versace" to Gucci Mane and Jeezy's "Icy," and including hits like "Used To This" from Future and Drake to Nicki Minaj's "Want Some More," Zaytoven's beats are more in demand than almost any other producer in the game today.
Zaytoven himself though, has remained as elusive and mysterious as any other representative of his profession, preferring to remain behind the boards and out of the spotlight — until now. After a prolific 2017 that included placements on projects from 21 Savage, Gucci Mane, Lil Uzi Vert, Migos, Moneybagg Yo, and Yo Gotti, the German-born, Bay Area-raised producer is finally ready to release his own, long-awaited solo album, Trap Holizay, later this month via Motown Records/UMG.
Over the phone, the decorated trap producer broke down the process of creating Trap Holizay, why the time was finally right to strike out on his own, the recently-released Red Bull documentary detailing his life and rise to prominence, his legendarily prolific backlog of projects (including a rumored one with none other than Jay-Z), and his plans for the future of his joint venture with Motown Records.
Why is now the perfect time for you to be releasing an album as opposed to a mixtape?
Well you know, recently I did get in a situation. I did a situation with Capital/Motown, so I've never done this before. The reason I did it, I felt like it was time to kind of spread my wings, strengthen my brand, do some different things I haven't done before. That's really the main reason why I'm doing what I'm doing now. They want to sign me as an artist. I said, 'Okay cool. It's perfect time to put my album together.' We start Zaytoven all over again even though I've been in the game over then years, now let's start all over again.
Why do you think that situation came around now? Why would they want to sign you as an artist now as opposed to say "Versace" or any of the other times that you were really booming on the radio? Why do you think Capital just wanted to do this deal with you now?
I think more so it's kind of a wave now. I think producers mean more now than they ever meant. You know? I see other labels giving other producers deals and everything. So I'm pretty sure that's why they said, 'Wait, hold on. We need somebody to lock down Zaytoven.'
What do you think it is that makes producers so important to hip-hop as opposed to the rappers? Because rappers are the ones in the front, producers you don't usually see as much. Why do you think producers are starting to become more and more important now?
It's because the sound means so much. Like, if you listen to the music of what's going on nowadays, you can almost put any rapper on these beats that we putting out and it can mess around and be a hit. You know? Guys that ain't ever been rappers before, guys that can mumble and it be the beat. It's just so good that it's like, 'Oh well, he ain't really said nothing.' And that's due to the sound. The producers make the sound that make you bounce. Where people have to be like, 'Oh the producer is very important.' You know? 'We need to get producers.'
You have worked with an extensive variety of artists from what most people call the typical "mumble rapper" to some of the best trap rappers in the game. What insights have you gained about hip-hop, about music, about the industry from working with the likes of 2 Chainz, Migos, Gucci Mane and Nicki Minaj that maybe you don't think you would've known about otherwise?
Well the thing about me working with all the people that you just named, I was working when they was not popular. They was nobodies. You know? I think that's what makes me special in the game is because the people that I'm known for working with, I was working with them from ground zero when they really wasn't nobody. There's not a lot of people even now that I've worked with that I haven't been working with from the beginning.
And that was my perspective on the game. I think this person is dope, I'm going to spend my time and talent and energy to show the world that this person is dope and then they end up becoming some of the biggest stars in the world. That's always been my perspective. That's why even now I keep looking at the younger generation or the new guy even if the world don't believe in him yet. I believe in him because I think he's dope and these guys end up blowing up.
So as far as Trap Holizay, where'd that name come from? Because that's a very fun name. Was it just something that you were just joking around or is there a deeper meaning to it?
No, it was more of a joking around. Thinking about Trap Holiday, but the word has already been used and I was like, 'Hold on, day rhymes with Zay.' Holizay and I was like, 'Okay, that's it.' And I never even thought about nothing else. I just rolled with that.
As a writer, I have to say, that's good wordplay. Have you ever considered being a rapper yourself?
Man, I used to try to rap before I was making beats for real. You know, me and brothers and my cousins and had a little karaoke machine at the house and I was rapping all the time. If you look at Gucci early mixtapes, I know Ice Attack and one or two other mixtapes, I was rapping on some of those.
I'm going to go back and check those out because I did not realize that.
One was called "Ice Gang." I forgot which mixtape it was one, but yeah I was trying to rap back then.
As far your production style, how has it evolved and what can we expect from Trap Holizay that's different from what you've done?
The way my production has evolved is everything is so digital now. I'm more of an analog producer. I use a lot of hardware, but now I've been implementing software as well. So it helped me to kind of change the sound and make my sound more futuristic and that's what you can expect from the album. It's classic Zaytoven, but with that new age twist on it.
It's like I want to give them the Zaytoven style, what people know, but then I want to add a little twist to it so they be like, 'Oh, this is Zaytoven, but this is something that I ain't heard before.' When you hear songs like "Too Much Sauce," that's not just a typical Zaytoven beat. It's like Zay added a different flavor and that's what you going to get when you get Trap Holizay.
What kind of different flavors would you say are on the Trap Holizay album? I know we can expect a lot of the keys and a lot of that church band expertise, but what's new? What's different? What have you added?
The only thing that's different, to me, is the collaborations I put on the album. I put Pusha T and Rick Ross and T.I. and Yo Gotti on something that they probably wouldn't usually be on. So I think that's where the twist comes in at or the new flavor comes in at.
As far as the producing, I'm using my typical thing. I'm making hard drum sounds, I'm using pianos, whatever loose sounds I find in the computer as far as making the beat, but I think what adds the twist is just the way I put the artist on the track, which artist I put on which track.
Okay, now when you say Pusha T and Rick Ross and Yo Gotti, did you mean like all on one track or?
All on one track. I put T.I., Yo Gotti, Rick Ross and Pusha T all on one track.
Oh, lord. I'm not ready.
Yeah! So you know what I mean? That's what I'm saying. It's like, those are the things when you get the album like, 'Dang! He put these people together?' And it'll make you be like, 'Oh, okay. This is crazy.'
I'm looking forward to that. So you did a documentary with Red Bull and that was very interesting. How did that come about?
I do a lot of stuff with Red Bull. We have like a working relationship. I remember doing piano nights with Red Bull, me and Gucci. A couple other things I did with Red Bull, so they came to me like, 'You know, we want to do a documentary called The Note on you. I'm like, you know, 'I'm the type of guy to do whatever. Yeah, let's do it.' And it turned out … I didn't know it was going to turn out so good. I didn't know it was going to be amazing like it was, but it turned out real, real good.
What was it like having your progress documented? Is that something that's happened for you before?
Well, there are so many interviews, doing my movie on Netflix [crime drama Birds Of A Feather], recording myself on Instagram, I was prepared for it. I've been doing that really the whole time.
So speaking of documentary and your life story, how is it that a guy from the Bay ends up becoming the defining sound of Atlanta trap? How do you think that happened?
Man, it blows my mind. That's why when I did the documentary I wanted it to be more so about God putting me in position because I don't know, man. I don't know how I got to be the defining sound of trap music coming out of Atlanta, Georgia when it's not even where I'm from. You know? I'm a church musician, what else? I didn't plan on being a producer, none of that stuff. It's just amazing to me to be known as what I'm known as. I can't even tell you. All I can say is that's God's favor on me. That's all I can say.
So when you watch NBA, are you rooting for The Warriors or are you rooting for The Hawks?
Oh, I'm rooting for The Warriors. They're still the home team, so I'll always root for The Warriors.
As far as all those collaborations and projects you've done, you've said in the past that you're sitting on a lot of projects, you're very prolific. What do you think it is about you that makes you so prolific and why are you sitting on all these projects?
Well, a lot of times it's not me holding them back. It's all this stuff has to be done in timing. It has to make sense for me and whoever I did the project with or whatever. So it's just timing man.
I think the reason why I'm able to do so many different projects with so many different people is that I'm a producer and I'm a musician. I can switch it up if I need to. The music I make for Future is different than the music I make for Gucci Mane. The beat that I give Migos is different than the beat that I give to 2 Chainz. It's just they different sounds and all these guys I have good chemistry with. So I think that's a reason why I'm able to do so many different projects with so many different people.
Do you have any favorite projects from over the years? Any beats that you're just like, 'Man I can't believe I made that?'
[Future's] Beast Mode. Beast Mode is like my favorite project, man. That was one of those projects that just stuck with me. Like, this was a work of art.
What's your process like when you're working on music? Do you just go and bang out beats until you get something you like, do you take breaks, what do you do when you get writers' block?
Well, what I try to do is, even when I feel like the music is not good, even when I don't feel like making music, I try to get up and make beats. I get up and take my kids to school and try to make five to ten beats just because. Not that I need to make no beats. I probably got a million beats in storage already, but just to keep that energy flowing, I make beats.
A lot of times I make beats when I don't feel like it or I thought the beat wasn't that good and stuff. Those be the times that the beat ends up being the hit record, so that alone taught me just to produce at any given time and all the time even when you feel like it or not. Even if you think the beat is tight or not, just do it, save it and give it to somebody because that might be somebody's hit record. It's shown that plenty of times for me.
That is fantastic advice. You're going on your first tour with Trap Holizay. What are you looking forward to and what are you not looking forward to?
I knew it was going to be a drag going from city to city and all these different places, but I also knew I was going to enjoy it too, seeing all these different places, meeting all these different people, doing the shows in all these different places. So it's been good. I ain't going to lie, I don't have anything to complain about. I'm a guy who likes to be in the studio a lot and be at home, but this is a different time for me. I'm putting out my first album, I'm doing different things, so it makes me excited to do something different and brand myself in a different way. For the most part man, it's been exciting.
So what's the best possible outcome of your 2018? This time 2019, we have this same conversation, what do you want to be able to look back and say that you did, accomplished or that stood out to you for that last twelve months?
I mean, like what's going on right now. I'm just so proud to be able to say, 'Okay Zaytoven, you did your first tour. They told you to put out your first made album release.' That's like super big for me. I guess a year from now if I could do this all over again and then be putting out one of my own artist's projects and have him on tour. I guess that would be something to look forward to.
Do you have artists?
Well you know, I just got the deal. So I'm just now starting to sign artists. I'm in a position to say, 'You know what, let me sign you. Come be a part of the team.' That's what I've been doing with — when you look at Gucci Mane or Migos or OJ Da Juiceman, guys like that, I didn't have a label so I couldn't sign them to nothing. I was just doing music with them because they were dope. So now I have a position to sign an artist and put him out through my label. So that's the difference.
So what kind of thing are you looking for in an artist that you'll want to sign to your label venture?
It's just an "it" factor. I can't say it's about rapping, I can't say it's about how they look, I can't say it's about how they act. It's just when I meet them and I see them, they give me that feeling like, 'Okay this guy is it.' That's what I thought about with all those guys I just named. When I seen Migos, when I seen Gucci, when I seen these guys, I felt these guys are superstars. That's all I'm looking for.
Trap Holizay is out 5/25 via Motown Records/UMG.