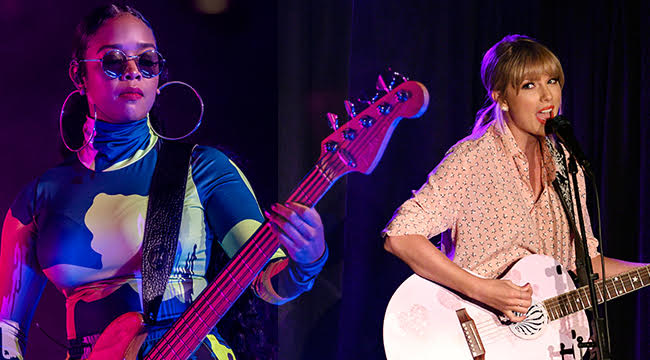 Pop fans, rejoice. This was an especially thrilling week for new releases. Taylor Swift hinted to fans that she'd be making a big announcement, but her surprise release of "The Archer" dialed the Lover hype about a thousand notches up. R&B superstar (and Grammy winner) H.E.R. dropped another fantastic new single. Clairo's new song "Sofia" is a tender dedication to all the girls she's loved before, as Mabel's "Bad Behaviour" is to all the fools who dared cross her. Chance The Rapper's The Big Day is jam-packed with pop anthems. His collab with Shawn Mendes is a delightful surprise — and a total bop.
Every week, Uproxx will round out the best new pop releases of the last seven days. Listen up.
Alessia Cara — "Ready"
On "Ready," Alessia Cara chastises an immature lover who's wishy-washy with his affections. "You start a million fires just to see what they can do / But then you freeze up like winter season in June," she sings over a bouncy beat. "Ready" is the Canadian singer-songwriter's first new release since her 2018 LP, The Pains Of Growing. Cara's new EP, This Summer, is due out September 6, but the singer promised to drop a new track every couple weeks leading to the EP release — so get ready.
Mabel — "Bad Behaviour"
English pop princess Mabel has been steadily building hype for her upcoming debut album. Following her tour alongside Harry Styles in 2018, Mabel has been dropping R&B-pop bop after R&B-pop bop. She's the center of attention and life of the party on "Bad Behaviour." Over a breezy tropical beat, Mabel asserts her independence. "I'm not a people pleaser / No I don't need a reason," she sings, rolling her eyes at anyone who underestimates her power. Mabel's (appropriately titled) debut album High Expectations is due out August 2.
Taylor Swift — "The Archer"
If you follow Taylor Swift lore, you probably know about the mythos of track five. Dating back to her earliest projects, the fifth track of every Swift album is the emotional centerpiece of the whole album. From "Dear John" to "All Too Well," Swift saves her most vulnerable heartbreakers for the fifth track of each album. On the heels of her anthemic singles "Me!" and "You Need To Calm Down," Swift gave fans a peek into the emotional core of Lover. "The Archer" aches like an arrow to the heart. It's a reminder that apart from being one of the biggest pop stars in the world, she's also one of the most uniquely talented songwriters. Lover is out August 23, and if "The Archer" is any indication, it's going to be a truly gorgeous album.
Pabllo Vittar — "Flash Pose" Feat. Charli XCX
Brazilian singer, songwriter and drag performer Pabllo Vittar's latest single is a pump-up-the-club banger. Vittar enlisted friend and frequent collaborator Charli XCX to assist on the track, and both bring their best pop queen energy. "Flash Pose" is all about having fun with your friends, taking pics, and knowing you look good. Vittar will feature on XCX's upcoming album Charli, and Vittar also said she is looking to drop a project of her own soon.
Lykke Li — "Neon"
Swedish electro-pop singer Lykke Li has released several re-imagined versions of songs from her latest album, So Sad So Sexy, over the last couple weeks. The full project they're a part of, the aptly titled Still Sad Still Sexy, is out now. Alongside the remixes, the new EP also includes some great new tracks. "Neon" is euphoric and glittering, as Li sings about pursuing an electric love full of feeling.
H.E.R. — "21"
R&B singer-songwriter H.E.R. (real name Gabi Wilson) has earned some incredible accomplishments in her 22 years. The singer has released five EPs and an album, won two Grammys earlier this year, and has collaborated with everyone from Daniel Caesar to YBN Cordae. All that success could easily go to someone's head, but Wilson stays grounded. "21" is a chronicle of every wild experience fame has brought her, from the afterparties to the masses of people wanting a piece of her "Everybody not made for this life," Wilson sings. Maybe this life isn't for everybody, but it's obvious that Wilson was born to be a star.
Clairo — "Sofia"
Ahead of the release of her debut album, Clairo has already established herself as one of the brightest rising singer-songwriters to watch. Her latest, "Sofia," is a tender love song. Clairo finds beauty in the blurry edges of her affection — "Sofia" isn't one specific love, but rather a fantasy built on a discovery. "'Sofia' is about my first ever crushes on women i saw in the media," the singer wrote on Twitter. "People like Sofia Coppola, Sofia Vergara, etc." Clairo's delicate vocals are the perfect accompaniment to the fuzzed-out, blissed-out synths. "Sofia" is a beautiful dedication to the people who open up new worlds to us.
Chance The Rapper — "Ballin Flossin" Feat. Shawn Mendes
Chance The Rapper's debut album also debuts Chance The Pop Star. The Chicago rapper shares the spotlight on his sprawling, 22-track album, leaning more into pop sounds than he has in his career so far. "Ballin Flossin" is one part Anderson .Paak-style R&B-funk-pop, one part hype anthem. Between "If I Can't Have You" and "Señorita," Shawn Mendes has been pop's most prolific prince this summer. Combine Chance's joy and enthusiasm with Shawn's earnestness, throw them a killer beat, and "Ballin Flossin" is pure summer pop magic.
Some artists covered here are Warner Music artists. Uproxx is an independent subsidiary of Warner Music Group.