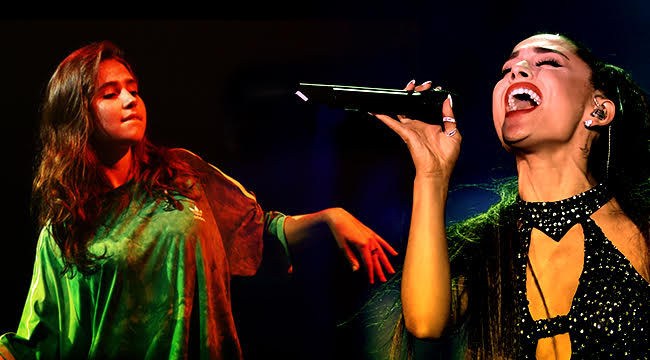 It feels like forever since we've heard new Ariana Grande music. It's technically only been four months since "Monopoly," but that feels like an eternity compared to her usual rapid-fire release schedule, and she's had us spoiled with all those back-to-back releases. But have no fear, Ariana Grande is back and running pop with her new single, "Boyfriend," and it was definitely worth the wait.
Apart from Ari, we've also got the release of Clairo's highly anticipated debut, Immunity. Carly Rae Jepsen teamed with Gryffin for an infectious new track, and Noah Cyrus is coming right for Kacey Musgraves' cowboy hat with her moody, contemplative new country-pop bop "July." Speaking of summer, HAIM's new track "Summer Girl" is the groovy anthem you've been waiting for all season.
Every week, Uproxx will round out the best new pop releases of the last seven days. Listen up.
Gryffin — "OMG" Feat. Carly Rae Jepsen
Is anyone better at singing about love than Carly Rae Jepsen? Whether she's heartbroken, determined, or wildly obsessed, Jepsen's voice is passionate and evocative. Everything she sings sounds like an exclamation point. Her new song with DJ Gryffin, "OMG," is the perfect follow-up to her album Dedicated. Jepsen is overcome by feelings of love and lust in the synth-pop track. Over a dynamic, popping and snapping beat, Jepsen expresses her joy. (The titular "OMG" is her talking to herself, marveling at the fact that she's in love.) "OMG" is the latest track off Gryffin's upcoming album Gravity.
Haim — "Summer Girl"
Now that it's reached 105 degrees on my corner of this hot planet, I was almost ready to call it quits on summer. But Haim swooped through with a fantastic new single, the relaxed, confident "Summer Girl," and all of a sudden summer is cool again. "Summer Girl" borrows a Lou Reed-esque groove as the sisters sing about a love that can conquer anything. "Summer Girl" demands to be listened to on good headphones so you can hear the detail in the production, like the breathy saxophone that comes in when Danielle Haim sings "feel your unconditional love." "Summer Girl" is the first song off Haim's upcoming third studio album.
Noah Cyrus — "July"
Perhaps best known for being Miley's sister and Lil Xan's ex, Noah Cyrus is ready to show the music world that she's got a stunning, singular voice of her own. "July" is Cyrus' first new track in a while, and it demonstrates all the growing and thinking she's been doing in the interim. Over a minimalist, melancholy melody, Cyrus laments the heartbreak that left her shattered and feeling undeserving of anything better. "You remind me every day / I'm not enough, but I still stay," she sings, sounding contemplative and wiser than her 19 years.
Lauv — "F*ck, I'm Lonely" Feat. Anne-Marie
The third single off Lauv's upcoming sophomore studio album, "F*ck, I'm Lonely" makes loneliness sound like a blast. Trading verses over a snappy electro-pop melody, Lauv and Anne-Marie sing about missing the one they love and doing everything they can to hold onto the memory of being together. Despite the drama and sadness of the title, "F*ck, I'm Lonely" is incredibly fun and cathartic. Lauv and Anne-Marie echo each other's sentiments, making loneliness into a communal dance party.
Ariana Grande — "Boyfriend" Feat. Social House
Her first new music of the summer, "Boyfriend" ushers in a new era for Ariana Grande. Following the lovestruck joy of Sweetener and the loving-living-picking-it-up catharsis of Thank U, Next, "Boyfriend" is a snappy R&B-pop bop. Grande enlists her friends (and frequent collaborators) Social House for co-writing and some great verses. Grande and Social House have some mixed messages as they sing about wanting to avoid labels like "boyfriend" and "girlfriend" while still feeling as exclusive and possessive as a boyfriend and girlfriend might. Grande is the queen of making pop anthems out of real stuff — she called "Boyfriend" a "bop with substance," and she nailed the description as always.
Mabel — "OK (Anxiety Anthem)"
Mabel's highly anticipated album, High Expectations, is finally out, and the electro-pop singer's debut doesn't disappoint. The whole album is great, but "OK (Anxiety Anthem)" is High Expectations' vulnerable emotional centerpiece. Over a bouncy, fight-through-anything beat, Mabel gets honest about her experience with anxiety. As she talks herself down, she also lets listeners know they're not alone.
Clairo — "Softly"
Clairo's Immunity is one of the most assured debuts of the year so far. As she dips into every genre under the sun — woozy electro-pop, smooth R&B, guitar-driven indie, and every mix of the above — Clairo uses diverse sounds to soundtrack the self-exploration of the lyrics. Clairo has alluded to being attracted to women before (in her single "Sofia"), but "Softly" is the cautious, overthinking beauty of falling in love for the first time. After singing in circles, when she finally lands on the outro, it's a long-awaited exhale: "And I don't care what they say / Care what they say to me, I'm doing it differently."
Tove Lo — "Bad As The Boys" Feat. Alma
The latest single off Tove Lo's upcoming album Sunshine Kitty, "Bad As The Boys" is a breezy heartbreak anthem. Tove Lo sings about a woman who stepped all over her heart — apparently being cold and mean isn't just for the guys. Finnish pop star Alma features on the song. The idea of women sounding or looking like twins or doubles is so overused, but the similarity in Tove Lo and Alma's voices is used to great effect here. They echo each other, letting each other's heartbreak refract, almost like the electro-pop equivalent of Midsommar.
Some artists covered here are Warner Music artists. Uproxx is an independent subsidiary of Warner Music Group.