The Brian Kendrick and Jack Gallagher vs. Kalisto and Lince Dorado with Gran Metallik
Between the dance-off on SmackDown Live and the shirts the lucha fellows are wearing, I am very excited for the middle-aged white dude on the creative team who recently rediscovered House Party during a Peachtree TV movie marathon and thought 'Yes! Yes that's the way I'll connect with today's youth!' But if we're being really real, if we don't get a Tisha Campbell appearance on WWE television that guy can also rot in hell.
This is a fun match that manages to pack a lot of contextual storytelling into a short period of time. Once sworn enemies, Kendrick and Gallagher now work together after presumably being united by their love of the 'novelty' category of the spandex section of the fabric store. Drew Gulak joins the commentary team armed with pamphlets to remind them of the dangers of lucha libre, as well as the benefits of a grounded, submission-based offense.
Much like Gulak, Kendrick (The Kendrick?) and Gallagher are able to put their skills to good use against the competing members of the Lucha House Party. Where a submission-based style should be a clash with the high-flying, injury-defying lucha style, they actually end up complementing each other. It gives a sense of purpose to the two contrasting elements: the luchadors have to figure out how to maintain their offense while also avoiding getting caught on the mat. Kendrick and Gallagher both have lucha capabilities, but have to do what they can to navigate what's happening both above them as well as around them and try to lock in submissions without putting themselves at risk of being countered. Like, say they want to get Kalisto down from the top rope. They don't want to climb the turnbuckles and leave their necks exposed to a Salida Del Sol, but they also need to be wary when they're on the mat so as not to leave enough separation to set him up for a Del Sol Driver. It's called powerclashing, and they do it because they can!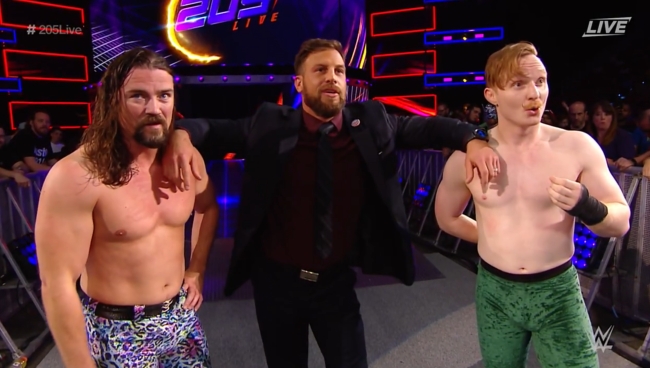 Gulak manages to strengthen his common bond with the other guys who hate fun by knocking "Lindsey Dorito" off of the top turnbuckle while the ref isn't looking. This allows Kendrick to finish him off with a Captain's Hook. The opener is a good use of all six men to start a two-match show off hot, but also further cement Lucha House Party as the kind of pure babyfaces you really want to get behind. I mean sure, it's a little bit…awkward…given the current political climate and WWE's staunch Republican alignment that the white guys want to get rid of the 'unsafe' Latinx style on 'their' show, but…uhh…205 Live! We have fun…here?

Cedric Alexander (c) vs. Buddy Murphy
Where the first match reveled in simplified but referential black and white storytelling to define the heel/face dynamic, the main event goes beyond the past two months of build to present a nuanced, emotional title defense. And I am into it.