8 Great is our extremely original listicle series where we take a break from snark and negativity to focus on the positive, and list eight of our favorite examples of something great from pro wrestling. Matches, performers, shows – whatever is helping us enjoy wrestling in a particular week, that's what this feature is all about.
With WWE's Clash of Champions coming up this Sunday, we thought we'd use WWE Network for a retrospective on Clash of the Champions, the series of televised supercards from the NWA and WCW aired irregularly from March of 1988 until August of 1997.
A lot of NWA/WCW's greatest matches came from these Clashes, such as Ric Flair vs. Sting, Ric Flair vs. Ricky Steamboat, Ric Flair vs. Terry Funk … it's a lot of Ric Flair, really. To make 8 Great a little more creative, we decided to skip the 8 "best" or most notable Clash of the Champions matches in favor of spotlighting 8 of our favorites you might've missed. Flair makes a couple of appearances here, too, because of course he does, but it's a lot of tag team wrestling and Japanese stars popping in to blow little Brandon's mind.
So in celebration of Clash's descendant, here are 8 Great Clash of the Champions matches you might've missed.
1. The Midnight Express Vs. The Fantastics – Clash Of The Champions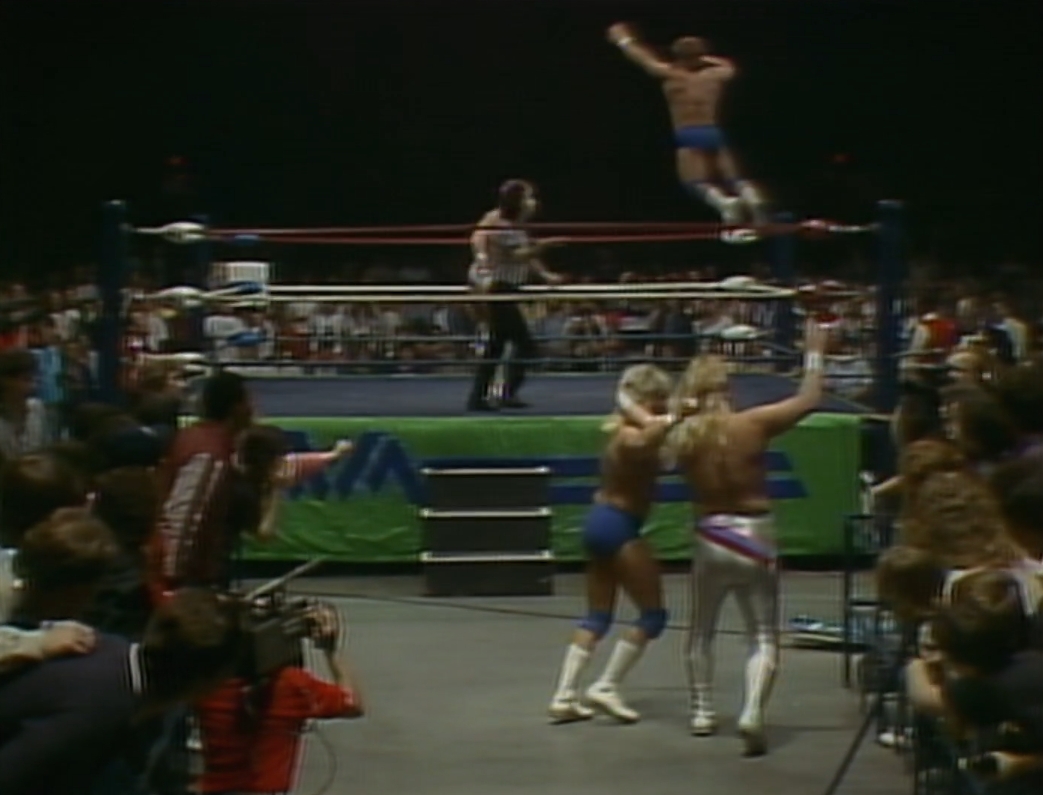 Watch it on WWE Network here.
Every Midnight Express vs. Rock 'n' Roll Express match you can find on the Network is great to really great, but for a look at what would happen if the Midnights battled the mirror universe version of themselves, look no further than the Midnight Express vs. the Fantastics from the first Clash of the Champions, aired on March 27, 1988.
The first Clash is most notable for Ric Flair vs. Sting in a star-making NWA World Heavyweight Championship main event, but if you want to see an arena of wrestling fans lose their goddamn minds for 10 straight minutes, don't skip the Midnights and the Fantastics. It's balls-out action from before the bell until the finish, with Beautiful Bobby, Sweet Stan, Bobby Fulton, and Tommy Rogers fighting in and around the ring, and getting the crowd to do that awesome thing where they chant, "BOOOM" in unison every time the babyfaces land a big strike. That needs to make a comeback. Also needing a comeback: the idea of United States Tag Team Championships. Also also needing to make a comeback: a nationally televised wrestling promotion that loves tag team wrestling.
2. The Midnight Express Vs. Ric Flair and Barry Windham – Clash Of The Champions IV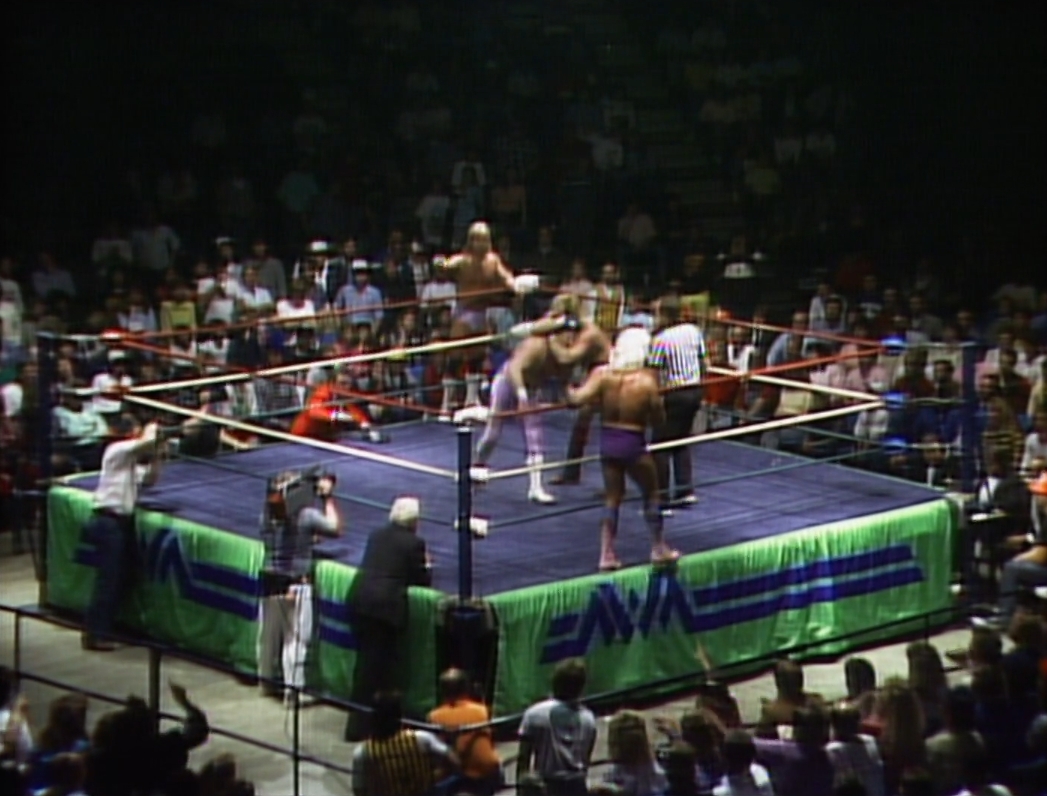 Watch it on WWE Network here.
For more Midnights wrestling someone other than the RNRs glory, jump to December '98's Clash of the Champions IV — hilariously titled SEASON'S BEATINGS — for their almost 18-minute main-event showdown with Ric Flair and the most underrated wrestler of all time, full stop, Barry Windham.
It's a low key Clash of the Champions classic for Flair, but there's a real, palpable joy in watching 6-foot-6 Barry Windham play face in peril and get his ass handed to him by the much smaller Midnight Express. For modern fans, imagine 15 minutes of The Revival beating the dogshit out of Drew McIntyre. Only Drew McIntyre's a lanky cowboy who has thrown in with a villainous corporation that orchestrates gang violence? The Four Horsemen are a lot harder to explain when you get down to what they actually were. But yeah, what isn't hard to explain is four of the best wrestlers of their era going nuts on a Clash, Ric Flair showing he's just as good of a tag team wrestler as a singles star, and Barry Windham being able to have a four-star match with anything that moved.
3. Ricky Steamboat Vs. Terry Funk – Clash Of The Champions VII
Watch it on WWE Network here.
Long before "Tribute to the Troops" was a thing, the National Wrestling Alliance was running Clash of the Champions VII for soldiers and their families at the Ritz-Epps Fitness Center in Fort Bragg, North Carolina. There's even a video package showing the Steiner Brothers and Missy Hyatt going through boot camp. There's also RICKY STEAMBOAT VS. TERRY FUNK, which is a match announcement that should still make wrestling fans stand at attention 30 years later. I remember Scott Keith's write-up of the show featuring the line, "I knew this was a good match back in the day, but OH MY GOD."
Nobody was ever better than Terry Funk in 1989. He was on such a roll that it's hard to even put into words, and you really start noticing it here, in his epic clash with the Steamer. Funk had an unmatched intensity here, and by "unmatched" I mean unmatched by even Terry Funk standards. Guy was operating on another level. Plus, you get (I believe) the first instance of Lex Luger showing up, turning heel on somebody because he's jealous, and then Sting having to run out and make the save. 1989 was the grand transition between how the NWA used to be, and what WCW would become. Check out this show.
4. Ric Flair and Sting Vs. The Great Muta and Dick Slater – Clash Of The Champions VIII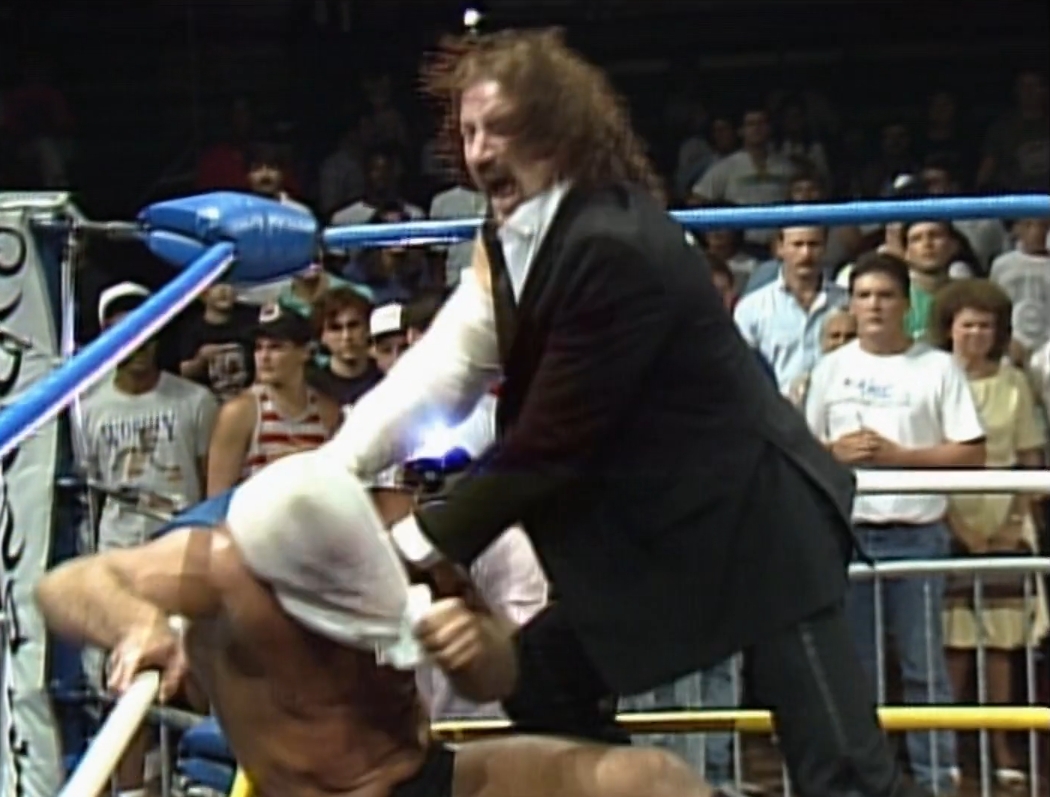 Watch it on WWE Network here.
Speaking of The Funker and his pro wrestling rage, make sure not to miss one of the hottest angles of all time at Clash of Champions VIII: Terry Funk trying to smother Ric Flair to death with a plastic bag. He puts a bag over Flair's head, ties it off at the neck, and then tries to actually murder him in front of everybody. This follows up the Steamboat match and sets up Flair vs. Funk at Clash of Champions IX: New York Knockout in an 'I Quit' match, which is one of the undisputed greatest matches of all time. If you haven't seen it, here, here's a bonus link, go watch it.
But make sure you watch this one first, to set it up. It's Flair teaming with his good friend he'd never betray, a young Sting, against The Great Muta (!!) and 'Dirty' Dick Slater, as in, "we'll be nice to 'em now, but we'll be Dick Slater." Muta in WCW in 1989 was a revelation, and the reason I got into tape trading as a child. Still trying to figure out who let me trade VHS tapes by mail with adult strangers when I was a little kid, but sure, whatever.
5. Jushin Thunder Liger and Flyin' Brian Vs. Chris Benoit and Beef Wellington – Clash Of The Champions XIX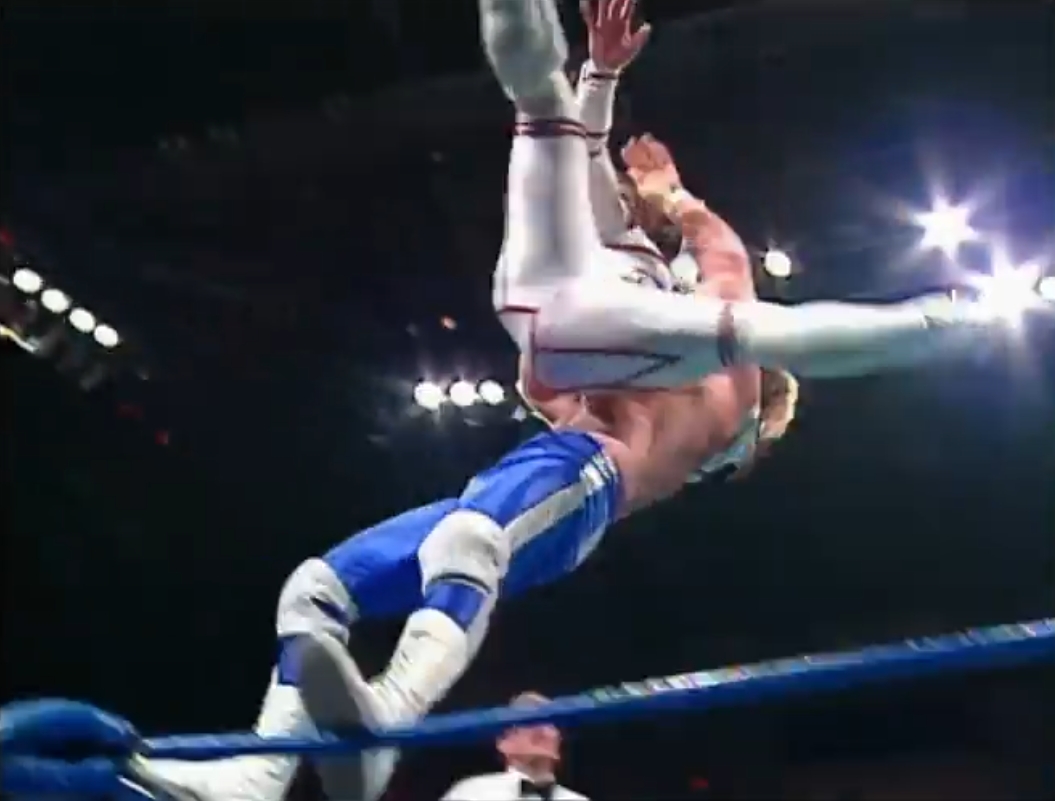 Watch it on WWE Network here.
When it comes to "best match rating average on WWE Network," look no further than Canadian star BEEF WELLINGTON, who looks like somebody put Magnum T.A. and Arn Anderson into that machine from The Fly. His one and only match on the Network is from Clash of the Champions XIX, and it's a banger. He teams with Chris Benoit against Brian Pillman and Jushin Thunder Liger, so, like, you kinda have to expect it to be.
Liger and Pillman might be the best team that was never really a team ever, and Benoit had been wrestling Liger almost non-stop in New Japan Pro Wrestling for three straight years. It's a recipe for success. As a side note, Clash 19 is one of my personal favorite shows ever, as it's the first round matches in an NWA World Tag Team Championship tournament pitting teams from around the world, some of whom you'd never see, against each other. It gave us early WCW appearances for guys like Benoit, Dean Malenko, and Silver King, featured the Dangerous Alliance, and was main-evented by the Steiner Brothers, Terry Gordy, and Steve Williams. Watch this whole thing.
6. Sting Vs. Rick Rude – Clash Of The Champions XXI
Watch it on WWE Network here.
While Clash 19 is my favorite, Clash 21 might be the sneaky best, at least from a "sports entertainment" perspective. What other show can you see Rick Rude vs. Sting, an epic tag team main event with melodramatic southern wrestling pathos (more on that in a second), and Paul Heyman wrestling Madusa? Also, Kevin Nash as a fake New Yorker from Las Vegas hyping us up for a boxing match between Scotty Flamingo (the future Raven) and Johnny B. Badd? It's bonkers.
And yes, Rick Rude vs. Sting is amazing. It's to decide who will move on to the finals of the KING OF CABLE tournament, which I assume was won by Rob Liefeld. That picture is of Rude blowing snot-rockets on Sting's back, if you want to know what we're working with. Sting and Rude were perfectly matched opponents, because if we're being honest about it, Rick Rude and anybody were perfectly matched opponents.
7. Dustin Rhodes and Barry Windham Vs. Ricky Steamboat and Shane Douglas – Clash Of The Champions XXI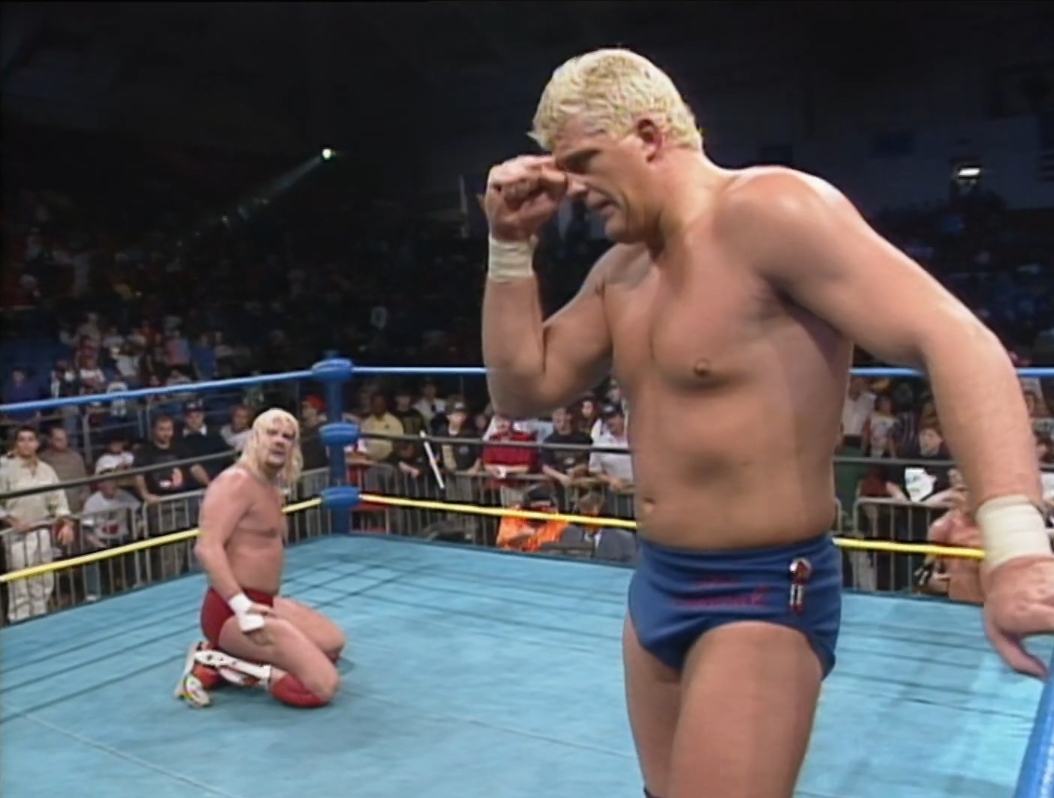 Watch it on WWE Network here.
So I included both main events from Clash of the Champions XXI, sue me. I should've just done 8 Great Dustin Rhodes Clash of the Champions matches, because I could've.
Here, all four men are babyfaces … but Barry Windham's starting to grow a goatee, so you know something bad's going to happen. During the match, Ricky Steamboat tries to leapfrog Dustin and forgets how tall he is, and catches a Rhodes head in the balls. Dustin, being a good dude, doesn't want to capitalize on the accidental injury. Barry FLIPS OUT about it, begging Dustin to follow up. He tags in and starts WORKING THE BALLS with inverted atomic drops, and when he's about to win the match, an indignant Dustin gets back into the ring and drags him off. In the confusion, Shane Douglas tags in, hits a belly-to-belly suplex, and wins the Tag Team Championship for his team.
Dustin angrily stomps away, so Barry gets on the ropes and starts screaming DUSTINNNNN, DUSTINNNNNNN until he returns. When Dustin returns, Barry kicks him in the stomach and DDTs him. TOTAL DIRTBAG. It's everything great about tag team wrestling storytelling, the classic dynamic of good guy who is actually good vs. good guy who secretly isn't, and a set-up for even better things to come. Dustin Rhodes came out of the womb ready to tell great stories in the ring, I think.
8. Dean Malenko Vs. Ultimo Dragon – Clash Of The Champions XXXIV
Watch it on WWE Network here.
Since we only have one spot left, let's jump ahead a few years to one of the final Clashes: January '97's Clash of the Champions XXXIV.
There's not a lot going on in these final Clashes beyond Sting showing up with a vulture to spook the New World Order or whatever — keep up with all of that in our Best and Worst of WCW Monday Nitro column, if you'd like — but Clash 34 opens with a "special return match" for the WCW Cruiserweight Championship between Dean Malenko and the "Ultimate Dragon," and it's a hidden gem. Especially when you compare it to other matches on the show, like members of Harlem Heat vs. Joe Gomez and the Renegade.
Malenko had a special way of connecting with late '90s wrestling crowds, despite being a short, nondescript little guy who did a bunch of wristlocks. He's at his best here, popping the entire arena by leveling Sonny Onoo and shutting Dragon down with the Texas Cloverleaf. Both of these guys did great work on Nitro and pay-per-view, but their Clash encounter saves the first hour and a half of the program. At least up until the point when Benoit and Kevin Sullivan start throwing people down flights of stairs. Give it a watch if you've never seen it. It's boring, but an EXCITING kind of boring. Dean Malenko style!