Previously on the Ins and Outs of AEW Dark: Joey Janela faced Brandon Cutler, Nyla Rose defeated the Librarian Leva Bates, and the Rhodes Brothers and the Young Bucks took on the Strong Hearts and Private Party.
If you'd like to keep up with our ongoing coverage of AEW's YouTube series that showcases the dark matches from the previous week's Dynamite, you can follow the tag here. You should also be keeping up Brandon Stroud's Ins and Outs of AEW Dynamite for recaps of AEW's flagship show.
First of all, you can watch AEW Dark here:
And now let's talk about the Ins and Outs of AEW Dark for October 29, 2019:
All In: A Concrete Legacy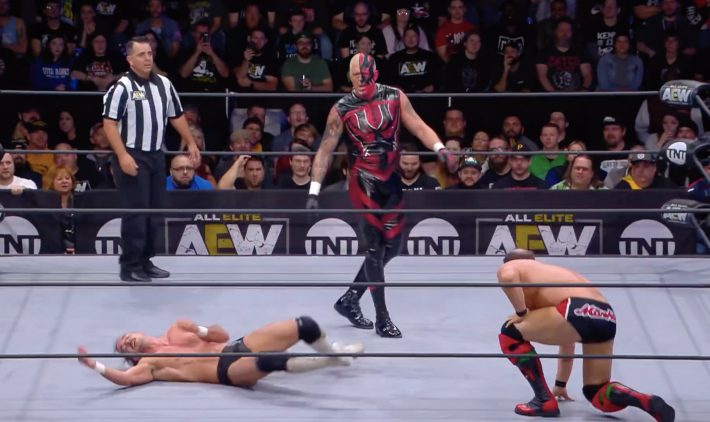 Dustin Rhodes is one of my favorite wrestlers, and Sonny Kiss is one of the AEW up-and-comers I most want to see more of, so you can imagine how excited I was by the mere existence of this match, in which Dustin and Sonny teamed up against the Librarian Peter Avalon and QT Marshall. I know a lot of the tag teams formed for dark matches are random one-offs, but I'd really love to see Kiss and Rhodes stay together as part of the Tag Division. It would give Dustin a role besides being muscle for his brother, but one that wouldn't require the elder statesmen to carry a bunch of singles matches, plus it would help build up Sonny for the future. And yeah, there is something poetic about the man who was Goldust spending the last bit of his career helping make a genuine effeminate gay wrestler into a star.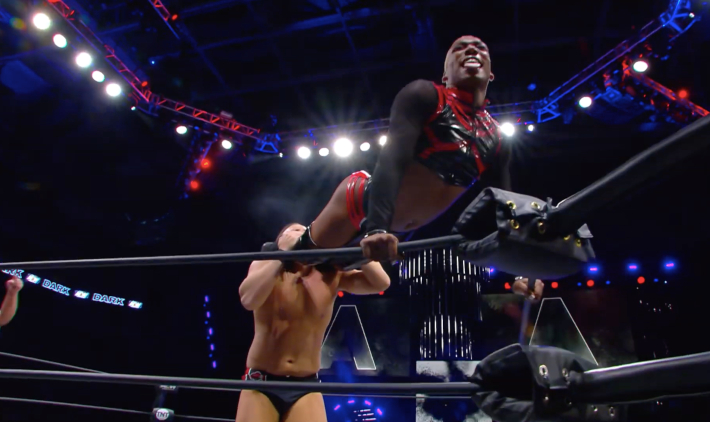 As for this match, Peter Avalon is basically a punching bag, a role he excels at, and AEW trainer/producer QT Marshall is making his wrestling debut for the company, but it's not clear that there are any plans to make him more than enhancement talent. And that's fine, he seems solid in this match. Being a bit of an old-timer himself, it makes sense that he calls out Dustin as his worthy opponent and then immediately regrets it when the Natural gets in the ring.
Still, whether it's deliberate booking or my own bias, this match was all about Dustin and Sonny as a team. Sonny got to play the Face In Peril for a while, but he also got enough offense in that he didn't come off as week. Sometimes you just need your bigger more powerful mentor to save you from an evil librarian and I guy who loves apples. Typing that made me realize how close this is to being a '60s Batman pastiche.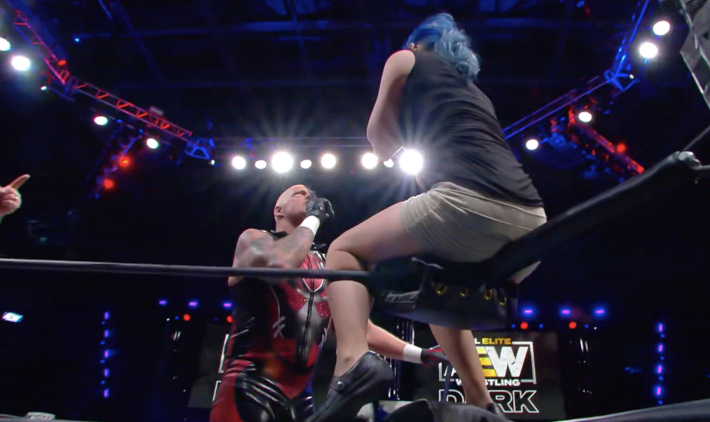 And yeah, let's talk about the Librarians again. As a constant advocate of women's wrestling it pains me to say this, but they work better with Peter Avalon wrestling and Leva Bates as a cheating heel manager. Although if that's her role (which it certainly is throughout this match), it raises the question of why she keeps siding with the audience against him during their pre-match promos. Also it's inescapable at this point that the Librarians have gone from "this must be leading somewhere" to "I guess they're just the villains of AEW Dark." Nevertheless, Dustin catching Leva in midair, sitting her atop the turnbuckle, and then shushing her is a fun little moment.
Mostly In: 75% Blonde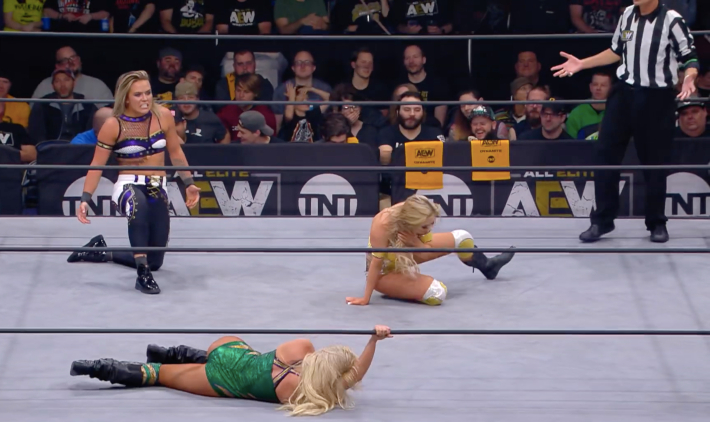 This was a four-way match between Allie, Penelope Ford, Sadie Gibbs, and Emi Sakura. Of these four women, only Sakura has appeared on AEW Dynamite (once, in a tag match). Allie and Ford have each made a previous AEW Dark appearance, and Gibbs' only previous AEW appearance was in the Casino Battle Royal on the All Out Pre-Show. Nevertheless, they're all members of the AEW Women's Roster, so it's nice to see them get to do something, even if it's on YouTube instead of TNT.
At points, this match is a good spotlight for the quartet, with each woman getting a chance to show what she can do. It definitely made me want to see more of a Sadie Gibbs, who's not as muscular as Rhea Ripley but carries herself with a similar appealingly aggressive energy. At other points this felt like such a coordinated spotfest that it was hard to believe anyone involved was trying all that hard to win. There was also some weirdness with the camera work during this match, which isn't really a complaint I've had about AEW before. It almost felt like there was a ringside camera operator missing, so the match only had half-as-many angles.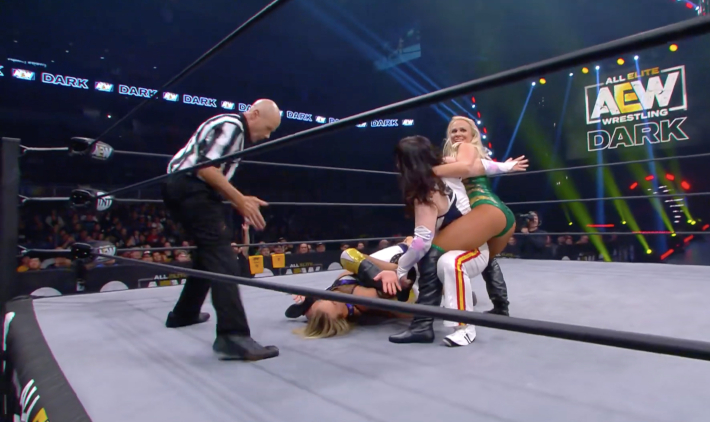 The worst was when those two complaints converged, like when all four women got into this complicated tangle of submission holds, but there was never a shot that captured it straight on. I don't have a problem with these kinds of absurd spots in theory, but if you're going to sell something so silly, the audience (at home, not just in the arena) needs to actually see what it's meant to look like, not just a weird angle of everyone's butts and knees and the backs of their heads.
There have already been rumors than Emi Sakura is facing Riho for the Women's Championship at the next PPV, which sort of spoiled that she'd win this match (wins and losses matter in AEW, after all). Hopefully AEW can also be bothered to feature Emi on TNT and maybe even build a story between her and Riho beyond "It's Emi's turn and she won a four-way match" in the next couple of weeks.
Backstage: Building Character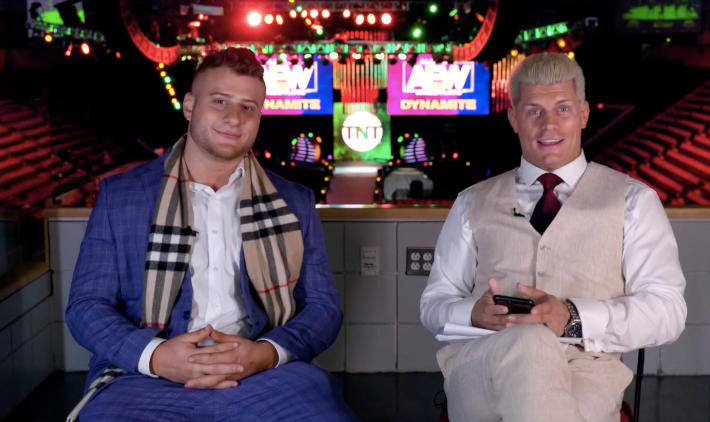 This week's backstage stuff wasn't as rewarding as the past couple of weeks have been, but I did enjoy Cody's interview with Maxwell Jacob Friedman, who told a story about experiencing antisemitic bullying as a football-playing child, and still managed to make himself seem like a jerk by the end. MJF truly has a gift, and the way the Cody friendship keeps him from being a full heel for now only makes him that much more interesting as a character.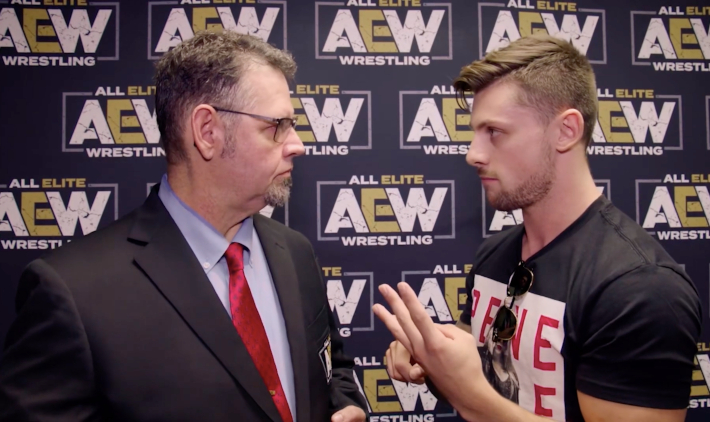 Kip Sabian also cuts a promo about his upcoming match with the Hybrid2 against the Elite. I always forget he's British, but here he comes off as the kind of cocky heel who would fit right in on NXT UK, even though it's pretty weird, storytelling-wise, that proving you're just as good as three guys who call themselves the Elite and literally run the company is somehow a heel thing in AEW.
All In: Tres Angry Boys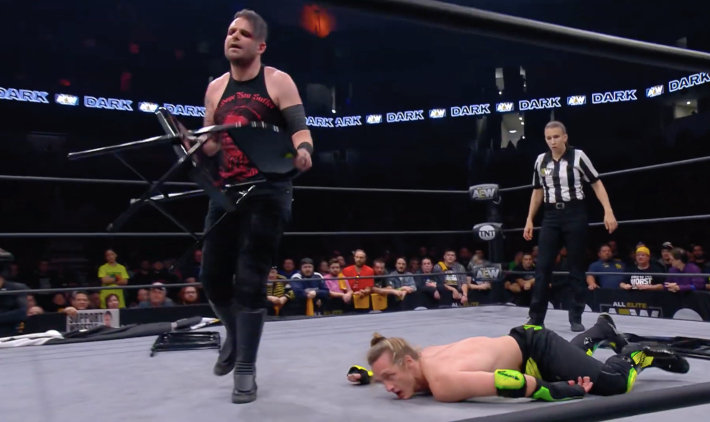 I'm already running out of things to say about hardcore matches in AEW. They sure do a lot of them, huh? This one has the distinction of including Jack Evans alongside skull-faced hardcore mainstays Darby Allin and Jimmy Havoc, thus proving that Evans has singles potential outside of his partnership with Angelico. In fact I briefly wondered if Angelico is injured or something, but then I remembered that they're both teaming with Kip Sabian this week, which Kip was literally just talking about.
Anyway, Jack holds his own with Jimmy and Darby, throwing each other around and through things for a solid 13 minutes before Darby Allin hits a chair-aided Coffin Drop to pin Evans, raising himself back up after his loss to Jericho in that big title match.
Darby really does feel like the biggest new star AEW has built so far, and I'm glad they're keeping him strong in moments like this, even if I kind of wish they'd put him in more regular-rules matches where things are a little less totally gonzo, just to show he can be a winner in that context too. But then what would Jimmy Havoc do, I guess? He seems to live for this kind of stuff, thumbtack-spitting elder goth that he is.
As much as I could live without a hardcore match on AEW Dark every other week, they must be a ton of fun to watch for the live crowd, except for those moments where the participants all end up in some random corner outside the ring where you know the visibility must be terrible. Anyway, as these things go, this one was pretty solid, and I'm always here for a successful pin off of the Coffin Drop.
That's all for this week, join me next time for more wrestling too elite for TV!