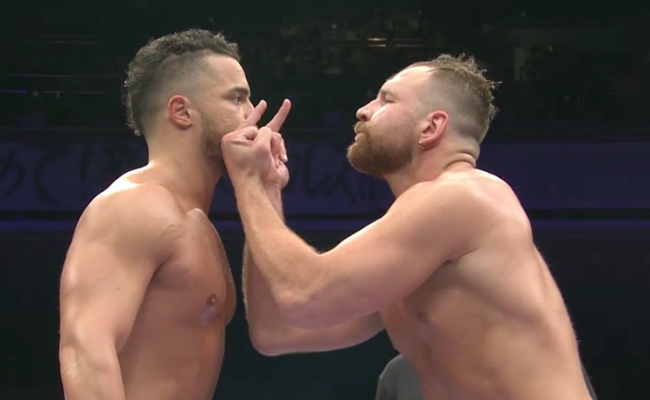 Going into his match for the IWGP United States Championship against Juice Robinson, it seemed like Jon Moxley's post-WWE career couldn't have a more positive buzz. His surprise appearance at Double or Nothing, the first PPV of his new home promotion All Elite Wrestling, was very well received, as was his ethering of the current WWE creative process. When he revealed his first match under his new/old persona would be in New Japan Pro Wrestling on June 5, people were excited to see Moxley in action sooner than they thought and in an environment perceived as more hard-hitting than where he had been working most of this decade.
(Before this article continues, here's a note that it does continue spoilers for NJPW's June 5 show, but only for the U.S title match. It does not mention the results of any other matches.)
Moxley's first New Japan appearance began with some aesthetic changes. He still enters through the crowd like he did in the Shield, but he's a black trunks guy now! No more Jeans Ambrose! It was also revealed that the teaser trailer-type video he tweeted after his time at WWE ended is his new entrance video, at least for NJPW.
Moxley vs. Robinson was reminiscent of the first Kenny Omega vs. Chris Jericho match in that it showed a former WWE wrestler working a much more brawling, hardcore style, and included some brutal-looking spots. Unlike Omega vs. Jericho, it ended with the former WWE guy winning the United States Championship!
AEW and NJPW currently don't have an official partnership and it's likely the start of AEW's TV show this fall will end Moxley being a frequent presence in other companies (a situation Jericho talked about in his recent interview with Uproxx.) However, it's clear that Mox won't be a one-off New Japan guest star. Given that Dominion, one of their biggest shows of the year, is four days away on June 9, a Moxley appearance there seems likely. (Beyond three title matches, the Dominion card has yet to be announced.)
As for fan favorite Juice Robinson, this is the second time the former CJ Parker has lost the U.S. title to a man who was previously more successful than him in WWE. (The first was Cody at September 2018's Fighting Spirit Unleashed, from whom he regained the championship at Wrestle Kingdom 13.) Could a more extended Mox-Juice feud be in the works, or will Robinson's perpetual underdog story take a different route? Also, did we make fun of his dreads for years without knowing they were secretly the source of his power in some kind of Biblical Samson situation? Only time will tell!