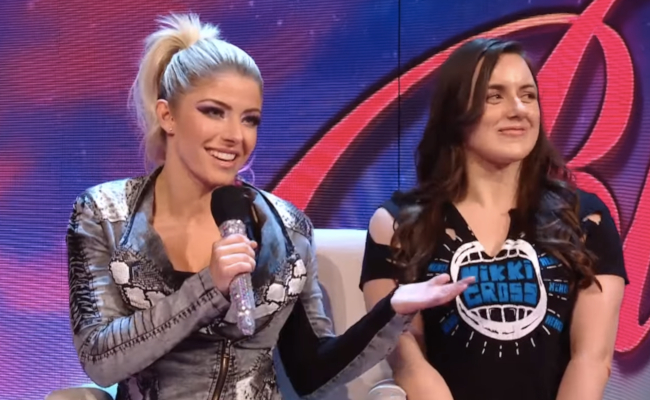 This Sunday, Alexa Bliss faces Bayley for the Smackdown Women's Championship at Stomping Grounds. We all remember a time when she was in the title picture constantly, but this is a bit of a return for her, since she struggled with concussion problems and stayed mostly outside the ring for months, hosting WrestleMania instead of competing, and being pulled out of Money in the Bank at the last minute. She was apparently ready to have a match at Super ShowDown in Saudi Arabia, but that didn't end up happening. Now she's back at the top of the women's division, or at least near it, and she just gave an extensive interview about her recent WWE experiences.

Talking to Scott Fishman at Madison.com, Bliss had a bit to say about her concussion struggles and how much better she feels now:
At first I was very nervous, coming back to the ring because I didn't know exactly what was going on in my head. I knew I had a concussion, but I didn't really research concussions. Then I was sent to a concussion specialist in Pittsburgh who pretty much schooled me on pretty much everything on concussions. It made me feel a lot better about the whole situation. It made me feel I was in charge of my injury. It made me feel like I understood it. I'm definitely not nervous at all being in the ring. I was at first, but now that I'm educated on the topic and know the steps to take to make sure it doesn't happen again. With the brain exercises that I do and eye exercises, I feel like I'm more prepared than ever now.
She also explained how her character's obsession with coffee grew out of her own improvised choice to take her coffee cup to the ring that first time:
That was 100 percent organic. With 'Moment of Bliss' I've had coffee sitting on the table every week. So that was never a new thing. The coffee bits have been there. I knew I was going to be ringside for a particular match and look disinterested, so I just brought my coffee with me. It became a thing after that because I just stood ringside drinking my coffee. Nobody really has stood ringside drinking coffee, so I thought when I go backstage Vince would either like it or fire me. They ended up liking it.
If you remember what Jon Moxley had to say about props in WWE, it actually makes perfect sense that Vince saw her with that coffee cup and suddenly coffee became her new main thing. Her other big thing at the moment is working with Nikki Cross, a former NXT star whose current partnership with Bliss has finally given her something to do after months of floundering on the Main Roster:
I love working with characters who are new and haven't been in the title picture. We are just having fun with it. That's the best part of it. Everything we are doing, interacting, is just us. I think us having reads nice on camera with our natural chemistry. We've been traveling together. It's always fun when you get along with the person you work with. That can help. We haven't seen her too much on WWE TV, so if this helps build her character while having fun at the same time, it's a good situation to be in.

I don't know about you, but I'd love to see a Bliss/Cross episode of Ride Along as soon as WWE can give it to us. Bliss also had nice things to say about her current onscreen rival, Bayley:
I'm happy to see the different kind of Bayley. I feel like for a while we lost Bayley a little bit in the Boss 'n' Hug Connection just because Sasha's personality is so big. I feel like sometimes you need to hear from Bayley a little bit more. The fact that she is able to show this more aggressive side just helps the character so much more and the people as well. It's just a lot of fun to be a character and see it change over time. The fact she is reinventing herself is awesome.
And as far as Saudi Arabia goes, Alexa says that she and Natalya were treated very well there, and that she believes a women's match in that country is "within reach." In time we'll find out if that comes to pass, but in the meantime let's see how things go on Sunday.