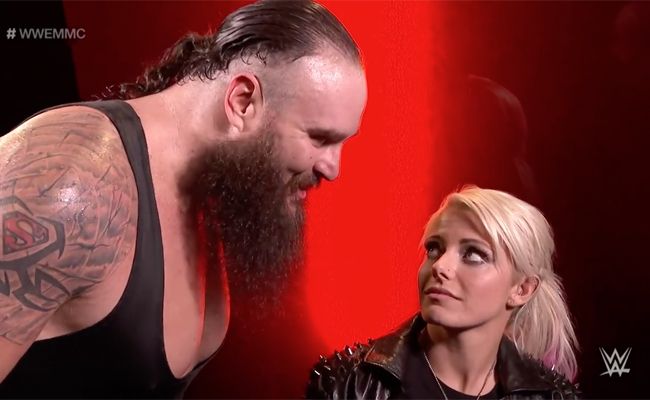 The WWE Mixed Match Challenge starts next week, and all the teams have been officially announced.
If you haven't heard, the MMC is a mixed tag tournament that will air as its own show on Facebook Watch every Tuesday after Smackdown Live. 12 intergender tag teams — six from Raw and six from Smackdown — will compete for $100,000, which will be awarded to the charity of the winning team's choice.
Over the past couple of weeks, WWE has released videos announcing which women will team with which men. Now that they're all out, let's take a look at the teams.
Alexa Bliss and Braun Strowman
The Team to Beat. Braun and Alexa standing next to each other, let alone touching, legitimately looks like a special effect. They're like a mountain troll and a particularly glamorous hobbit, able to appear on screen together thanks to Peter Jackson's clever use of forced perspective, but in fact these are two real humans who exist and actually differ this much in size. But more importantly, they're both quite good at winning wrestling matches, and everyone else in the tournament is going to have to fight pretty hard to take them down.
Charlotte Flair and Bobby Roode
The Heirs of Flair. Obviously these two go well together, because one of them is Ric Flair's daughter and the other one dresses like he's Ric Flair's son. The subtext, however, is that Charlotte is a top star on Smackdown, and Bobby is … not there yet. So maybe teaming with her can elevate him a bit. I also hope they really do get matching robes, because that would be some glorious flair. In multiple senses!

Sasha Banks and Finn Bálor
NXT Stars of 2015. I'm not exactly sure what the connective tissue is between Sasha and Finn, but I like both of them a lot, so I'm up for it. It would be cool if they dress up in each other's gear like Finn and Bayley used to do, or at least trade their particular hands-raised poses.
Lana and Rusev
Ravishing Rusev Day. Honestly, this one makes me a little uncomfortable, because I watch Total Divas, where Rusev has not been particularly in favor of his wife wrestling. Even in this video, when he finds out his partner is Lana, there's an uncomfortably long moment before he starts to look excited about it. I'm almost certainly being worked here, but my feelings remain. Maybe their story in the tournament will be about Rusev learning to respect Lana as a wrestler. That could actually be pretty cool.

Naomi and Jimmy Uso
Glowing Since Day One Ish. Here, on the other hand, is a couple that's undeniably supportive of each other in and out of the ring. It's a little ridiculous that everyone pretended this pairing was a surprise. From the moment Jimmy (the Uso who's married to a fellow Superstar) was announced for the Mixed Match Challenge, and Jey (the Uso for whom that's not true) wasn't, I think we all knew who his partner would be.
I'm not mad at it, though. Much like John and Nikki at WrestleMania last year, it's exciting to see a real-life couple finally get to work together.
Nia Jax and Apollo Crews
Nia versus the Machine. This is the only one of these videos where one of the competitors is blatantly unhappy about their partner. It doesn't seem to be Apollo himself that bothers Nia, so much as the whole Titus Worldwide thing, which is admittedly a lot to deal with. Hopefully there will be more drama between Nia and the Titus Brand, and if it leads to her giving Titus himself a Samoan drop, well, that would be a hell of a thing to see.

Asuka and The Miz
The Empress and the A-Lister. A strange team at first glance, but when you think about it, it makes all the sense in the world to pair an amazing talker with someone who barely speaks English. Plus, when they get eliminated, Miz can take the pin to keep Asuka protected, and then he can probably also take a boot to the face from an angry Empress.
Alicia Fox and Goldust
The Weirdo Veterans. This team just makes me happy. Foxy and Goldust are defined by being crazy and bizarre, respectively, so we can at least count on them to be entertaining (until they go out in the first round, presumably). Foxy also loves to dress up, so I wouldn't be surprised if she paints herself gold for the occasion.

Bayley and Elias
The Hug and Drift Connection. It's a shame about Samoa Joe, who was originally supposed to be Bayley's partner before he was injured on Raw. Elias and Bayley should be fun, although the dynamic between a heel who's getting more and more popular and a babyface who people seem to be giving up on seems loaded in a way that I'm not sure is intentional. Still, if we get an unplugged cover of "Turn It Up" out of this, it'll all be worth it.
Natalya and Shinsuke Nakamura
The Monarchs of Harts and Strong Style. I don't even know what to say about this team. No offense to Natalya, but it just seems like the latest example of Smackdown's attitude being "Stick Shinsuke in there, he's not busy," and Shinsuke's attitude being "I'll do whatever; I'm not that invested."
Of course, this could be the moment when Shinsuke's apathy becomes part of a storyline, with control freak Nattie telling him what to do and him not really caring. That's probably a lot of character work to expect from a 20-minute WWE show on Facebook, but I'm doing my best to stay optimistic here.

Becky Lynch and Sami Zayn
The Redheaded Stepchildren. Strangely, as of this writing, this video hasn't officially appeared on YouTube, but at least we can watch the Twitter version!
There are several teams in the MMC that pair a face and a heel, but these two are the only ones who specifically call it out, with Becky wanting Sami to be "the old Sami, the good Sami," and Sami countering that he'll bring out "the Becky I know you can be." Considering that Sami being a heel is central to the top storyline on Smackdown, and Becky's one of three outnumbered babyfaces in their women's division, it's unlikely that either will actually turn the other to their way of thinking, but that tension should still make for a very interesting team.
Carmella and Big E
Fabulous Booty. This is going to be such a fun team. There will be dancing, there will be rhyming, there will be pancakes and golden briefcases and unicorns and leopard print and maybe even some subtextual kink. I don't know how they'll do in the actual tournament, but they'll have such a blast just entering that I hope they get to stick around a while. If WWE really wants people to start paying attention to Facebook Watch, Carmella could potentially even cash in on Charlotte during the tournament. It probably won't happen, but it would be exciting if it did.
(Check out our must-listen McMahonsplaining podcast with WWE superstar Big Show. Subscribe on iTunes or Google.)