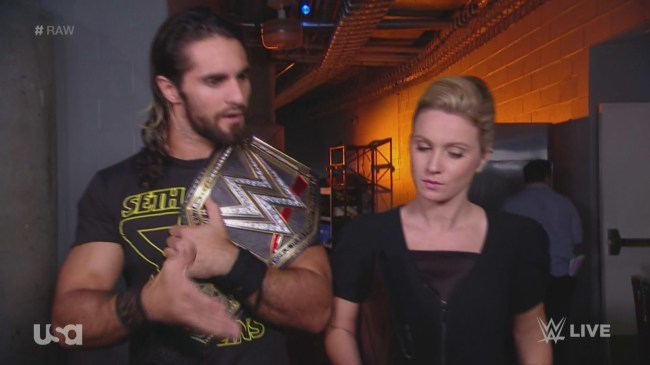 … Because for once, the simplest answer is the correct one.
Despite a history of using independently contracted pro wrestlers as NPCs — "Crazy" Mary Dobson as The Miz's makeup artist and Concessions Kane's boss, and "One Man" Mike Dell as Dean Ambrose's psychologist as examples — the woman who identified herself as "Ashley from Human Resources" on Monday's episode of Raw was exactly what she claimed to be: Ashley from HR.
While she doesn't normally hold bronze Seth Rollins heads or cut in-ring promos, Ashley (full name Ashley Osterrieder) is the actual director of Human Resources at WWE Headquarters in Stamford, Connecticut. She's a Florida State University graduate — shout-out to fellow FSU grad Lana — with a degree in Entrepreneurship and Small Business Management, and has been with the company since 2013. So, you won't find any cool indie matches where Ashley Osterrieder takes on Madison Eagles or whatever, but +1 to WWE for injecting a small does of reality into the absurd idea of a pro wrestling company that's featured murders, kidnappings, arson and millions of non-sanctioned assaults suddenly having a crack human resources team.
Now to figure out the second most important question from Monday's Raw: Who got to keep the head?